News
News
Food Evolution Forum UCC - May 27th 2021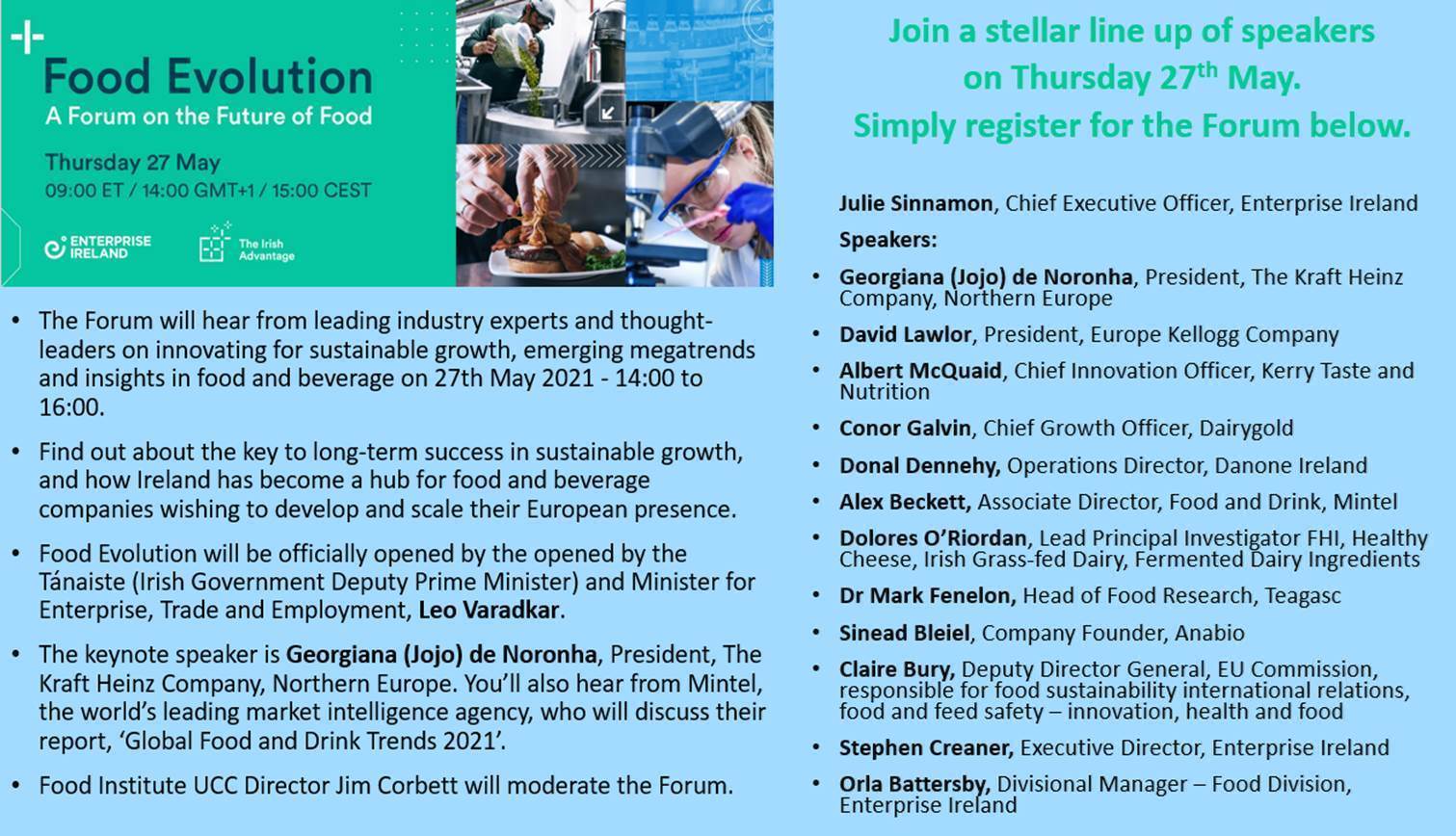 The Forum will hear from leading industry experts and thought­ leaders on innovating for sustainable growth, emerging megatrends and insights in food and beverage on 27th May 2021 - 14:00 to 16:00.
Find out about the key to long-term success in sustainable growth, and how Ireland has become a hub for food and beverage companies wishing to develop and scale their European presence.
Food Evolution will be officially opened by the opened by the Tanaiste (Irish Government Deputy Prime Minister) and Minister for Enterprise, Trade and Employment, Leo Varadkar.
The keynote speaker is Georgiana (Jojo) de Noronha, President, The Kraft Heinz Company, Northern Europe. You'll also hear from Mintel, the world's leading market intelligence agency, who will discuss their report, 'Global Food and Drink Trends 2021'.
Food Institute UCC Director Jim Corbett will moderate the Forum.
Julie Sinnamon, Chief Executive Officer, Enterprise Ireland
Speakers:
Georgiana (Jojo) de Noronha, President, The Kraft Heinz Company, Northern Europe
David Lawlor, President, Europe Kellogg Company
Albert McQuaid, Chief Innovation Officer, Kerry Taste and Nutrition
Conor Galvin, Chief Growth Officer, Dairygold
Donal Dennehy, Operations Director, Danone Ireland
Alex Beckett, Associate Director, Food and Drink, Mintel
Dolores O' Riordan, Lead Principal Investigator FHI, Healthy Cheese, Irish Grass-fed Dairy, Fermented Dairy Ingredients
Dr Mark Fenelon, Head of Food Research, Teagasc
Sinead Bleiel, Company Founder, Anabio
Claire Bury, Deputy Director General, EU Commission, responsible for food sustainability international relations, food and feed safety - innovation, health and food
Stephen Creaner, Executive Director, Enterprise Ireland
Orla Battersby, Divisional Manager - Food Division, Enterprise lreland