News & Updates
News & Updates
Student Voice - UCC Fighting World Hunger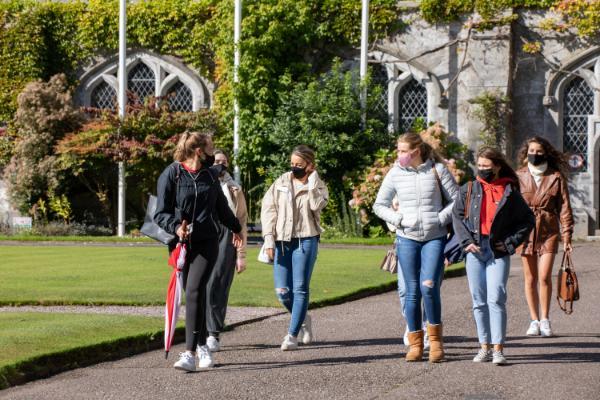 UCC students have launched the UCC Fighting World Hunger Coalition, an initiative to raise awareness and create action around access to affordable, nutritious food on campus. Keynote speaker Interim President Prof. John O'Halloran underscored the importance of food security and achieving zero hunger at the online event held on the 11th of March 2021.
The event brought together five panellists of students, who are creating change in food insecurity on University campuses, and professionals in the field of global food security. It is evident from the launch event that students need more affordable, nutritious food on UCC campus. The event was moderated by Treasa Cadogan and Mair Kelly, both UCC International Development and Food Policy students and supported by Development Studies Association Ireland.
Eilís Cooney, chair of St. Vincent DePaul Society, voiced the hardships students face in sourcing their next meal. She stressed that "Nobody should have to sacrifice meals for their university education". A continuous lack of nutritious food causes a ripple effect on mental health, physical health and therefore, a deterioration in university grades. Ireland needs to move away from the stereotype that students' diets only consist of pasta and noodles.
Covid19 has further impacted on students' access to nutritious food, as food banks have been halted due to restrictions. To counter this and to continue to provide this valuable service, the UCC Students Union is setting up a Hardship Fund worth €200,000.
Jamie Fraser, Students Union Welfare Officer said, "We must ensure that not only are these gaps plugged but that there is not a need for them". Food insecurity transcends students of all backgrounds. Therefore, to truly overcome barriers in accessing nutritious food we must engage with multi-disciplinary representatives. Skylar Biedenharm, Coordinator of Universities Fighting World Hunger in Auburn University, USA, at the event said, "Hunger will only be solved through the collective action of students from all backgrounds".
Actions must be taken to address the universal issue of food insecurity, which is being experienced in our own community. In order to fully tackle the issue, we must incorporate every stakeholder within the food system, from the farm to the fork. Dr. Nita Mishra, Chair of Development Association Ireland noted the importance of farmers in supporting global food security, while Dr. Nick Chisholm, Head of UCC Centre for Global Development, who addressed the large audience stated that in order to achieve the UN Sustainable Development Goal 2 Zero Hunger, "a holistic food perspective both locally and globally" is required. This highlights the need for a top-down and bottom-up approach to the food poverty situation, both here in UCC and internationally. This comes in advance of the United Nations Food Systems Summit, which will be held in Autumn 2021 and this event is registered as an Independent Dialogue, where findings will contribute to future policy.
UCC Fighting World Hunger are holding their next event on Tuesday 20th April at 1pm. We will be discussing the food available on UCC campus, what is on offer and what students and members of the UCC community would like to see changed. We want to hear your opinion and insights, register for the event HERE.
For more on this story contact:
If any UCC students would like to get involved in UCC Fighting World Hunger, please join us! Feel free to contact us: uccfightingworldhunger@gmail.com
Written by UCC students Treasa Cadogan and Sarah Bryant, UCC International Development and Food Policy