News
News
AquaMona: Ireland's first large-scale duckweed based fish farm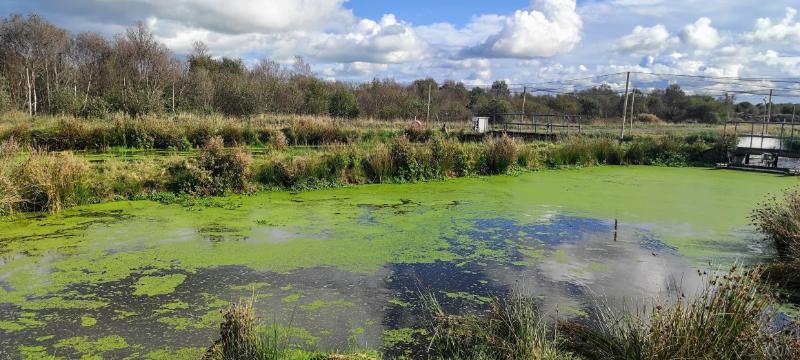 Mount Lucas farm near Daingean in Co. Offaly is a rather unique place. Apart from its dramatic setting on several acres of windswept blanket bog, it is also home to an exciting circular economy project. Through the AquaMona project, former Bord na Móna peatlands have been transformed into Ireland's only large-scale commercial duckweed-based fish farm.
Duckweed grows on the water's surface, where it absorbs the ammonia produced by fish. The duckweed plant thrives on this nutrient source, growing rapidly into a protein-rich biomass. Duckweed grows so fast, it almost doubles in weight in 24 hours! This crop can be used for animal feed, human food or fertiliser. The cleaned water is then re-used back into the fish farm, in what is known as a 'closed-loop' system, where waste is re-used rather than released. A whopping 35 tonnes of brown trout, rainbow trout and perch are licensed to the farm each year by the Department of Agriculture, Food and the Marine.
The Brainwaves team regularly visit the site to observe different duckweed strains growth and remediation potential. Our last study visit to the site was in October, before the growth season ended for the winter. We obtained several kilos of duckweed biomass, dried via centrifuge, and transported them back to the lab in UCC for testing and analysis. We also noted the results of experiments using the nutrient-rich duckweed biomass as fertiliser for mustard seed plants. The application of duckweed led to a noticeable increase in plant growth rates compared to plants which received no duckweed.
The winter is now here, meaning there will be little growth at the site for the next few months. However, we're looking forward to returning next spring, when the whole cycle begins again.