Continuing Professional Development in (Bio)Pharmaceutical Technologies
Course Fact File

| | |
| --- | --- |
| Code | CCPDBP |
| Duration | 16 weeks |
| Teaching Mode | Part-Time |
| Qualifications | Cert |
| NFQ Level | Level 9 |
| NFQ Award Title | Special Purpose Award |
| Fees | €2,800 Partial funding is available from the Biopharmachem Skillnet to eligible candidates. See Fees and Costs for full details. |
| Closing Date | 7 March 2023 |
| Next Intake | March 2023 |
| Venue | Online |
| Start Date | March 2023 |
Course Outline
This NFQ Level 9 Certificate in Continuing Professional Development in (Bio)Pharmaceutical Technologies is designed for science, engineering and healthcare graduates who hold a NFQ Level 8 qualification and who wish to receive targeted upskilling in the biopharmaceutical and pharmaceutical sectors.
Provision will also be made for candidates who hold sufficient previous educational/professional experience. It aims to provide participants with knowledge and experience in the manufacture of active pharmaceutical ingredients (both small organic molecule and biopharmaceuticals) under sterile, validated and regulated conditions. Students receive technical and practical knowledge of the key upstream and downstream processes associated with the industry, and the formulation and delivery of biological drugs.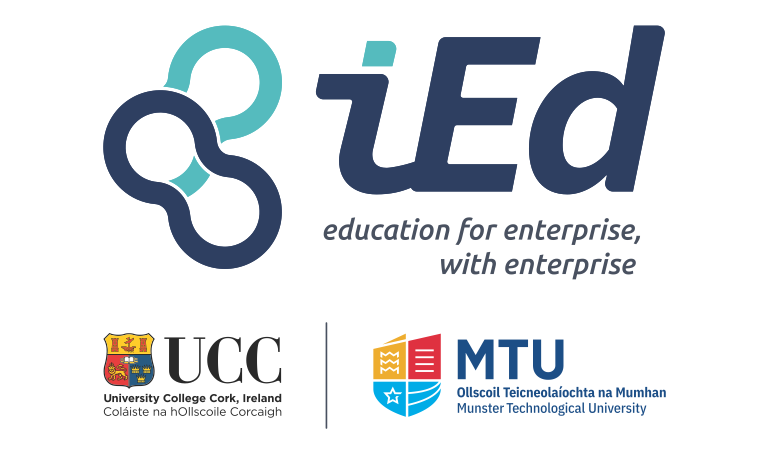 Course Practicalities
This course is delivered part-time by a combination of blended online learning approaches that involve recorded introductions to course topics, workshops, discussion boards and webinar tutorials. Students are expected to undertake self-directed study in advance of workshops and webinars, and continuous assessment related assignments.
Requirements
A candidate must have obtained at least a Second-Class Honours primary degree in a relevant Science, Engineering or Healthcare discipline (NFQ level 8 or equivalent).
Candidates who do not hold a level 8 qualification will be considered for entry based on an interview and the demonstration of an equivalent professional qualification, or significant industrial experience relevant to the course.
All applicants whose first language is not English are expected to have a minimum IELTS score of 6.5, with no individual section lower than 6.5, as per UCC requirements outlined at the following link:
https://www.ucc.ie/en/international/studyatucc/postgraduateprogrammes/taughtprogrammes-non-eu/englishlanguagerequirements/
Fees and Costs
€2,800 Partial funding is available from the Biopharmachem Skillnet to eligible candidates.
Skillnet Funding can only be applied where the employer pays the course fees on behalf of the student.
Self-employed applicants can avail of the subsidy.
BioPharmaChem Skillnet will issue the invoice directly to you or your organisation.
Public-sector and companies outside of the Republic of Ireland are not eligible for the subsidy but can still apply directly to UCC to participate in the course
Applicants who are not eligible for the BPC subsidy will be invoiced directly by UCC.
For further information on fees and financial supports please click here.
How To Apply
Applicants need to be aware of the IT student checklist below before applying:
You will need access to a laptop or desktop computer running a modern supported operating system with all software updates.
Some of UCC's services (e.g. the Canvas Virtual Learning Environment) link to an external site and also have mobile apps for iOS and Android Devices that you may wish to use as part of your studies. However, we recommend using your desktop web browser for submission of assessments.
You should always use the most current version of your preferred browser. In general, we recommend the Chrome Web browser (Important Note: Internet Explorer will not work with Canvas).
We recommend a reliable broadband connection with at least 2Mbps or more.
You will require an Office suite of software (Microsoft Office or equivalent) and a PDF reader. You should always use the latest version of this software. All UCC students will have access to Office 365 which includes software such as Word/Excel/PowerPoint etc. once registered.
To Apply for this course please follow the steps below:
When you log into the Application Portal:
Click Apply Online
Select Start a new Adult & Continuing Education Application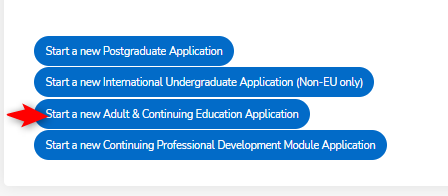 On the 2nd tab Academic Level select the following options: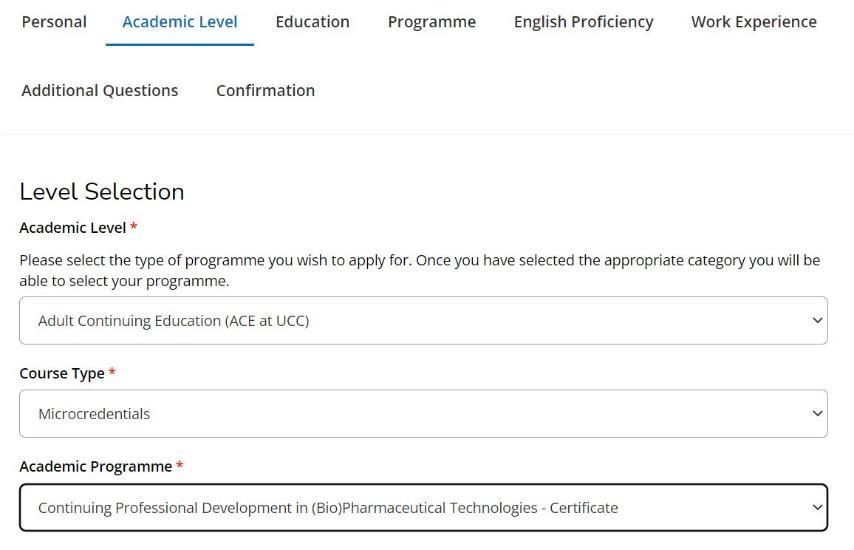 During your online application you will be required to upload the following documents:
Application Statement
Birth Cert or Passport
Passport Photograph
Curriculum Vitae
English Language Test Report [if applicable]
Transcripts [if applicable]
For queries regarding course content or timetables please contact