News
News
Our award-winning colleague, Dr Ger Mullally!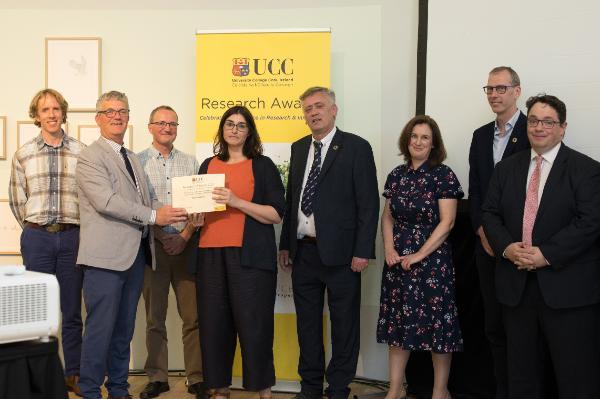 We are very proud of our colleague, Dr. Ger Mullally, who won two awards last night, bringing to a total of four awards he received recently!
Dingle Peninsula 2030 won the Engaged Research of the Year 2021 led by Prof. Brian Ó Gallachóir. Dr Ger Mullally, Dr Clare Watson and Dr Evan Boyle were part of the team from our Department.
Imagining 2050 won the Presidents' Award for Research Impacting the Sustainable Development Goals 2021 led by Dr Ger Mullally. Dr Evan Boyle was part of the team here as well.
The other awards Ger received recently were the President's Award for Teaching Excellence 2020/2021 for the University Wide Module: Sustainability Teaching Team and Cork Environment Forum Lifetime Achievement Award 2021
President's Award for Research Impacting Sustainable Development Goals
The Imagining 2050 project (Engaging, Envisioning, and Co-Producing Pathways for a Low Carbon, Climate Resilient Ireland) hosted by the Environmental Research Institute in UCC in partnership with Queen's University Belfast set out to develop innovative techniques and tools to support communities in engaging with climate change, and to envision pathways for a zero carbon and climate resilient Ireland. The project is funded by the Environmental Protection Agency (EPA) and co-funded by the Sustainable Energy Authority of Ireland (SEAI).
Imagining 2050 project is composed of a research team that draws from the disciplines of sociology, engineering, government, politics, geography, and planning. The lead PI on the project is Dr Ger Mullally and lead postdoctoral researcher is Dr Alexandra Revez. The team included senior academics, early stage academics, postdoctoral researchers, and PhD students.
Engaged Research of the Year
UCC's Dingle Peninsula 2030 research team is empowering the community on the Dingle Peninsula to co-produce solutions to address climate change, while also building societal resilience and capacity. The team combines expertise from energy engineering, sociology, and community engagement. Led by Prof. Brian Ó Gallachóir, the team consists of: Prof. Edmond Byrne (Process and Chemical Engineering), Dr. Ger Mullally (Sociology and Criminology); three researchers working full-time on the Dingle Peninsula 2030 project Evan Boyle (PhD in Sociology), Connor McGookin (PhD in Energy Engineering) and Clare Watson, (PhD in Sociology); and, MaREI Communications & Public Engagement Manager Aoife Deane and MaREI Senior Postpdoctoral Researcher Dr. Emma Verling