Latest News
Latest News
School of Medicine, Prize-Giving Ceremony 2019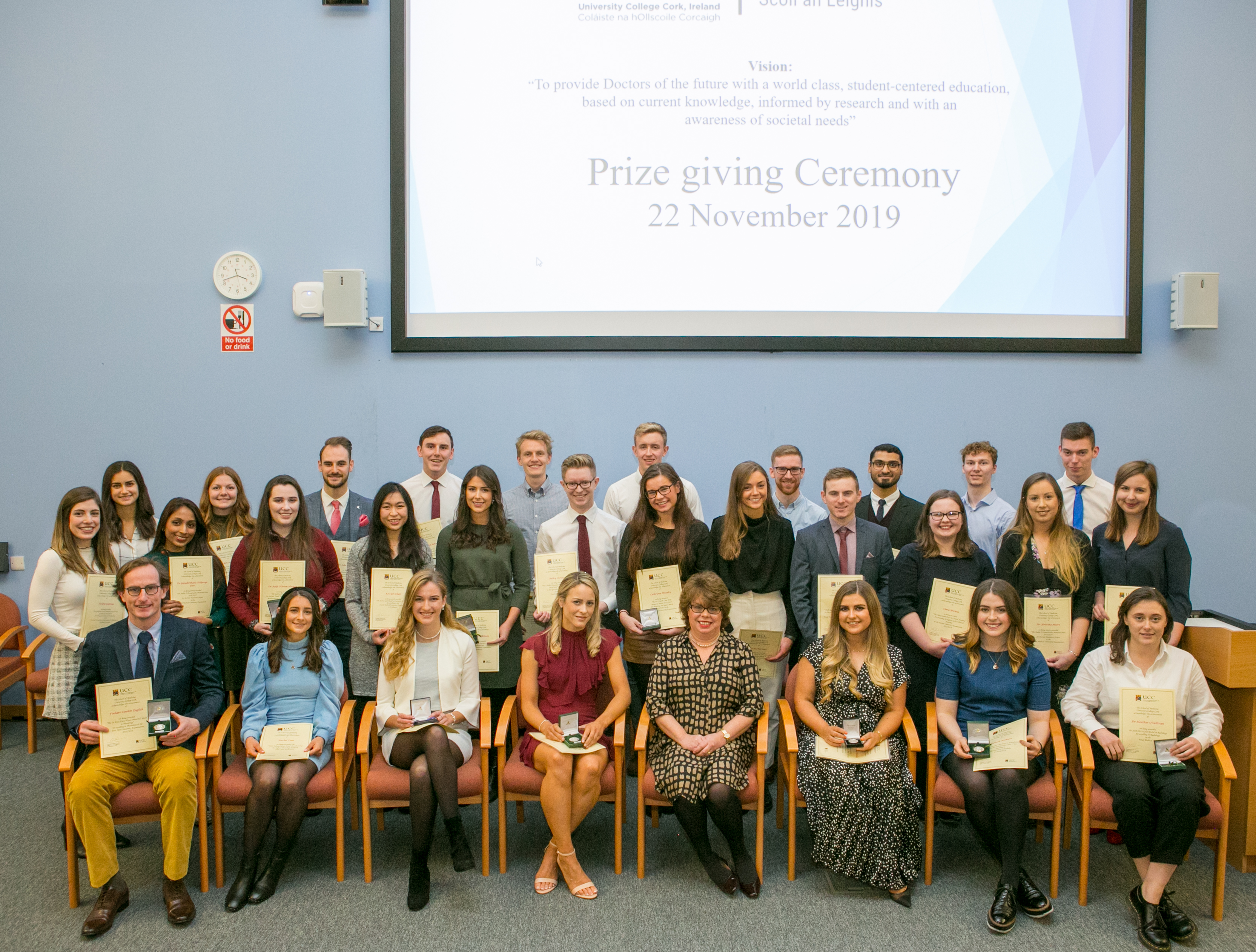 The annual School of Medicine Prize-Giving Ceremony took place on Friday 22 November, 2019 in Brookfield Health Sciences Complex.
The Dean of the School, Professor Paula O'Leary welcomed the large number of prize-winners, their families and friends to the Ceremony. The Dean also had a warm welcome for the family and friends of deceased family members and past graduates of the University to the Ceremony.
On behalf of the School Professor O'Leary congratulated the recipients of the Prizes who have excelled in a large number of disciplines at various stages of their academic studies. The Dean noted that as well as University and School Prizes many of the students and recent graduates have been recognised by external bodies, notably the NUI Dr Henry Hutchinson Stewart prizewinners and RCPI prizewinner, Dr. John David Kehoe. Dr. JD Kehoe was awarded the Reuben Harvey Prize at RCPI last month in recognition of his first place ranking in UCC Graduating Class of 2019.
NUI DR HENRY HUTCHINSON STEWART MEDICAL SCHOLARSHIPS 2019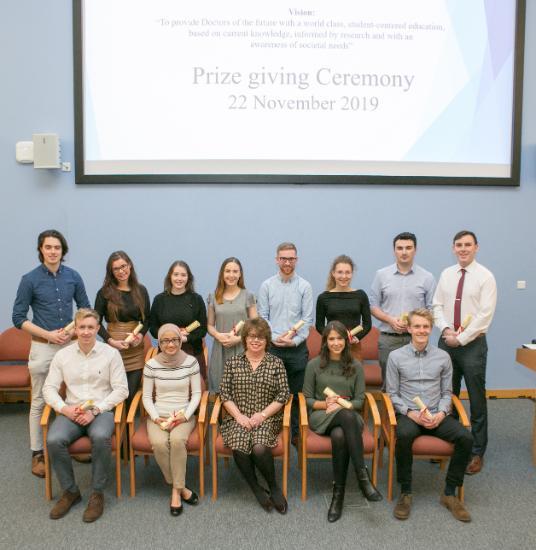 | | | |
| --- | --- | --- |
| Ellen Kate | Atkinson | 2nd Prize in Ophthalmology |
| Wan Nur Jasmine | Aziz Zabidi | Scholarship in Anaesthesia |
| Lochlin | English | Scholarship in Medical Microbiology |
| Sinéad | Forde | 3rd Prize in Psychiatry |
| Clare | Keaveney Jimenez | 2nd Prize in Clinical Radiology |
| John David | Kehoe | Scholarship in Surgery |
| Caroline | Kinsella | 2nd Prize in Psychiatry |
| Shane | McCarthy | 3rd Prize in Public Health |
| Philip | Mulryan | Scholarship in Clinical Radiology |
| Cathriona | Murphy | 3rd Prize in Pharmacology |
| Domhnall | O'Farrell | 3rd Prize in Biochemistry |
| Fionn | O'Leary | 3rd Prize in Ophthalmology |
A large number of School of Medicine students continue to excel in a wide range of Research activities and their commitment was acknowledged at the Ceremony - Harsha Daswani and Aileen O'Mahony - who were each awarded a Health Research Board Summer Student Scholarship this year; and, Aoife Jones Thachuthara, Samuel Keogh, Natalie Krakoski, Eimear O'Mahony, Samantha Wakerlin and Ruth Mook-Hay Yan - who each received a bursary under the 2019 UCC College of Medicine and Health SURE Scheme.
Professor O'Leary emphasied that student life extends beyond the lecture halls and clinics and pointed out that many of the medical students have been formally recognized for their substantial contributions to University Societies. In particular Professor O'Leary was very pleased to highlight the many successes of MedSoc, Surgeon Noonan, Friends of MSF and Emergency Care Society in the past 12 months and welcomed representatives from these Societies to the Ceremony. On behalf of the School the Dean acknowledge their involvement and participation in these important aspects of their student lives and wished them well in their future endeavours.
Professor O'Leary emphasized how proud the School is of the achievements of the medical students receiving prizes at today's event. On behalf of the School, the Dean thanked sponsors for their continuing support for a number of prizes and awards.