News
News
Joanne O'Riordan Graduates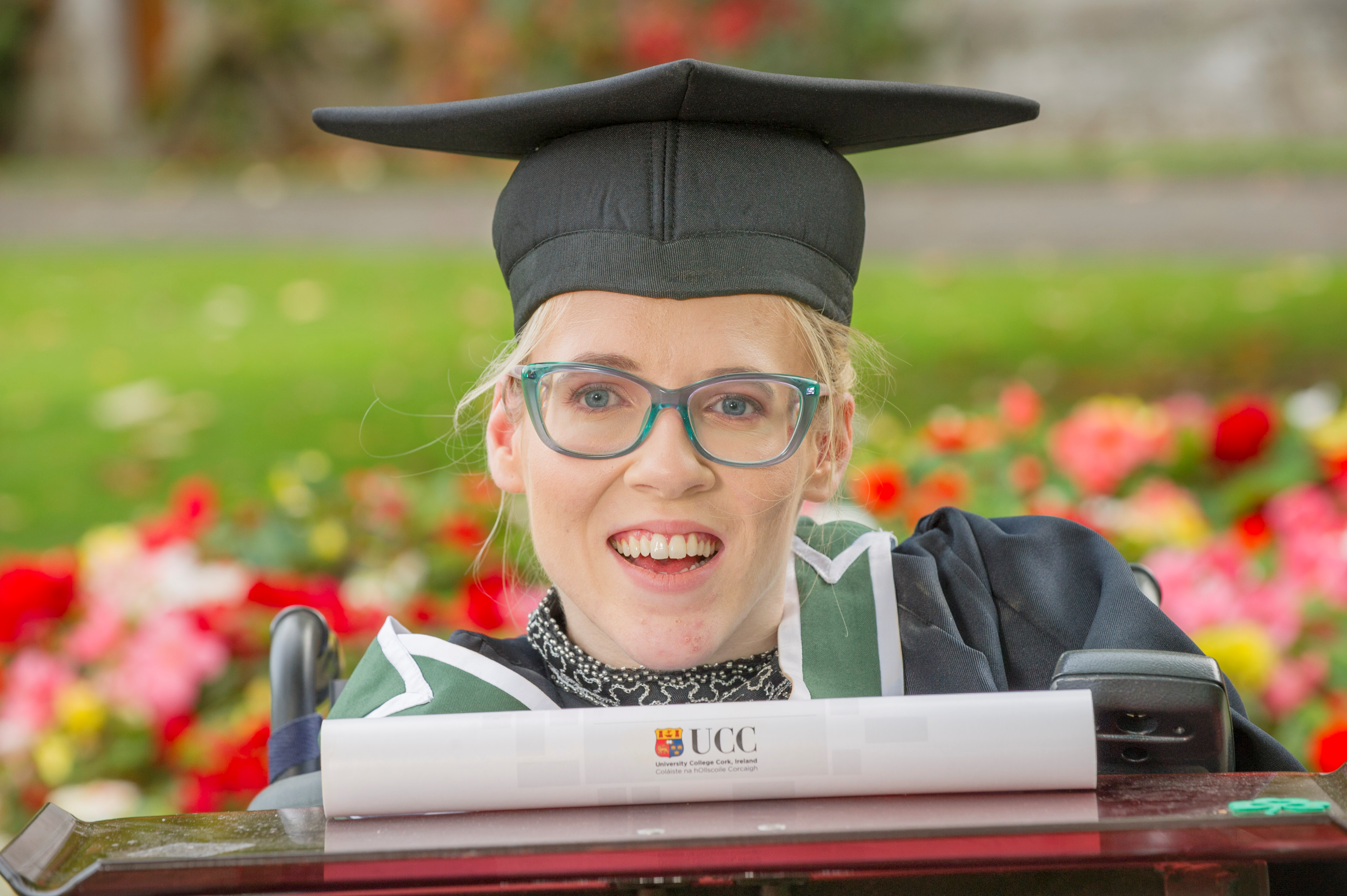 Disabilty rights activist Joanne O'Riordan has graduated today (Tuesday) from University College Cork.
Joanne, UCC Quercus Active Citizenship Scholar, was conferred this afternoon with a BA in Criminology by (UCC) President, Prof Patrick O'Shea.
"I have loved my time studying Criminology here in UCC. The course was challenging but enjoyable. The Criminology BA is a window on the world, giving insight into human diversity in comples societies and looks at our inclinations to err, conflict, blame and punish" said Joanne. "I got huge support from the Quercus scholarship and UCC's Disability Support Service" added the Millstreet woman. "I found UCC very open-minded and accessible, I rarely had a problem but if I had, they were very quick to help me solve it."
"Joanne (22) grew up in Millstreet, Cork, as the youngest of Ann and Joe's six children. She is one of the seven people in the world with Tetra-amelia, which saw her being born without arms and legs. A disability campaigner, in 2012 Joanne addresses the United Nations in New York about the importance technology has played in her life. In 2015, she was awarded the prestigious Junior Chamber International Outstanding Young Person of the Year. She was Grand Marshal fo the St. Patrick's Day parade in Dublin in March 2016. UCC awarded Joanne it top accolade in 2014, a Quercus Active Citizneship Scholarship.
"The scholarship recognises excellence and Joanne embodies all that the Programme could wish for in Quercus Scholar", said Prof. John O'Halloran, UCC Deputy President and Registrar and Director of the Quercus Programme. "At UCC we believe in creating an environment in which academic excellence can be combined with the opportunites for personal developement, independent thinking and the nurturing of talent across many domains. Joanne has excelled in so many ways. We are proud of her as she graduates today and look forward to seeing her career in journalism unfold" added Prof. O'Halloran,
Head of UCC Disability Support Service, Linda Doran agreed, " Joanne was a postive and energetic student and has been a fantastic role model for all students, not only in UCC but everywhere. She is a shining example of being able to do things you want in life. no matter what your ability is."
Joanne was part of the first intake into the Quercus Talented Students' Programme. The scholarship programme is now supported by Ford, with the announcement having been made by William Clay Jr., Executive Chairman of Ford Motor Company and great grandson of Henry Ford during a visit to UCC in April 2017 to celebrate the 100th anniversary of Ford in Ireland.