Student Testimonials
Student Testimonials
UCC's MSc in Occupational Health - attracting students from a range of organisations, sectors and countries, across the globe
Students who study with us come from a variety of organisations, across a range of sectors, all of whom value the well-being and safety of employees in the workplace. Many of these organisations have supported their employees, either by sponsoring their student fees or by allocating study time.
There is a continuous and growing demand for experts trained in the area of occupational health, safety and wellbeing, resulting in many career opportunities across a range of sectors.
Some of the organisations where our graduates have worked show the breadth of opportunity available to occupational health graduates.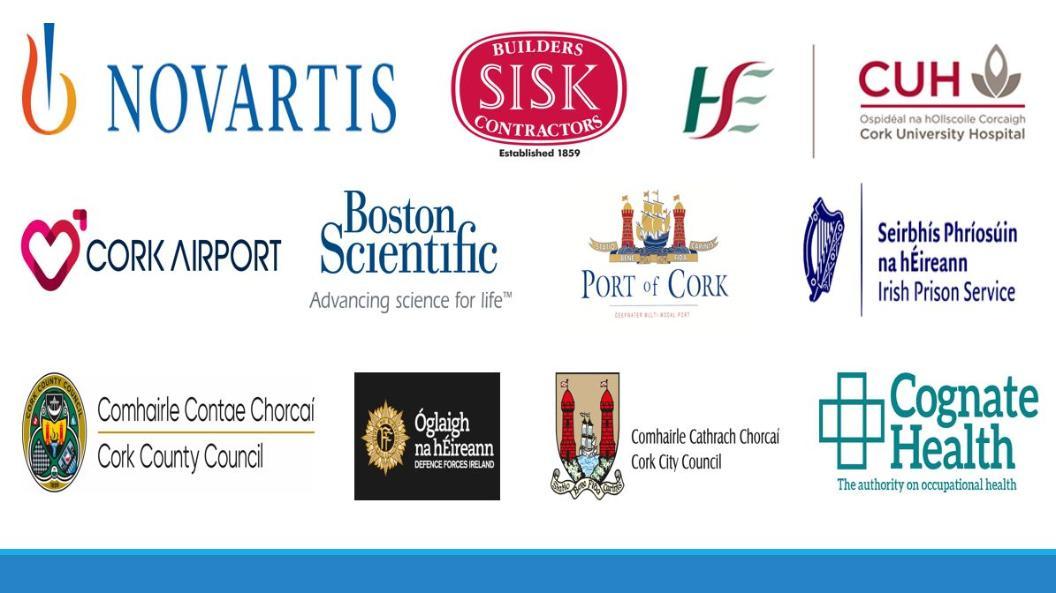 Our MSc Occupational Health encourages a proactive approach in assessing and controlling both physical and psychosocial work hazards in an effort to prevent disease, injuries, and accidents at work, to promote positive mental health and wellbeing, and to create safe and healthy work cultures and conditions.
A particular focus of the MSc Occupational Health is on the management of psychosocial risks and work stresses and the promotion of good mental health which constitute a growing concern for health, safety & wellbeing across all businesses and organisations.
The part-time course is wholly online and runs over 22 months, this mode of delivery and duration attracts people in full-time employment, who are based in Ireland and across the globe. Find out more here.
See what our students have to say!
Andrew Fenn, Occupational Health Specialist, Offshore Oil and Gas Industry. MSc in Occupational Health, 2019
"I chose to study at UCC online because the course offered a lot of the things I wanted to study. I did not want to study health and safety, but did want to study occupational health, because health is often overlooked in health and safety departments. I chose to study online so I could continue to work and support my family. It actually worked really well because I could apply principles as we studied them, while also applying my professional experiences to my studies. Studying online takes a bit of getting used to and requires a lot of motivation, but it has been really worth it.

My career has improved significanlty, I am now an occupational health specialist in the offshore oil and gas industry, I look after the health of a large work force. No two days are the same, I may be looking at noise measurements one day then looking at water quality the next, and psychosocial health after that. All of the things we studied have been directly applicable to my work, and what is great is that while it is a specialist course, the breadth of study is huge, so there is always something that can be applied to the "real" world.
I would absolutely recommend this course, and studying at UCC."
____________________________________________________________________________________________
Katharina Kolp, graduated with an MSc in Occupational Health, 2019

"I enjoyed studying online, which allowed me to gain a Master's degree next to work. This experience also fostered my personal development and helped me to develop new skills. I recommend this course to everyone who wants to progress in their career and needs flexible conditions to fit their studies around work and family obligations."
____________________________________________________________________________________________
Patrick Byrne, Health and Safety Officer and Aircraft Maintenance Technician, Irish Air Corps
MSc Occupational Health (Distance Learning).
When I decided to study for the MSc in Occupational Health (Distance learning) at UCC I expected a very high standard of education due to the University's considerable reputation and standing. I was not disappointed. In fact, it greatly exceeded my expectations. From the initial enquiry through to completing the course, the level of support and guidance given both amazed and inspired me. Although the modality of study for this MSc Programme was part-time distance learning, I never once felt isolated or alone. On the contrary. The programme manager was always just a quick phone call or email away, and the expertise, knowledge, and professional experience of the lecturers, coupled with the broad and varied backgrounds of my fellow students meant that I was allowed the opportunity to become a part of a highly interactive and exceptionally in-depth learning environment.
I found the materials and subject matter covered on the course to be highly stimulating and particularly relevant to the contemporary sphere of Occupational Safety, Health and Wellbeing. We studied areas such as Environmental management, Psychosocial Health and Wellbeing, Epidemiology, and safety management systems – to name but a few. For me this was also where the quality of the lecturers and academic leads delivering the course, really shone through. The transferability of the knowledge gained into a real-world setting was invaluable to me. I have already utilised much of this knowledge in executing my duties and responsibilities as a Health and Safety officer within the Irish Air Corps. The UCC library, which I had full access to, and other support resources associated with the course were also superb.
Another very significant factor for me with this course was the fact that by completing it, I now qualify to apply for Graduate membership of the Institution of Occupational Safety and Health (IOSH). This is a major milestone in achieving chartered membership – one of the most significant qualifications and recognised pinnacles within the Health, Safety and Wellbeing sphere, as well as representing a personal aspiration that I am currently endeavouring to fulfil.
The course culminated with the dissertation. This proved to be a more challenging and stimulating undertaking than I had previously encountered in any of my studies up to that point. I was nervous about this to begin with, but I can honestly say that the encouragement, guidance and support I received from my dissertation supervisor was amazing and second to none. Moreover, the trepidation I felt was quickly allayed and in time replaced with an astounding sense of personal achievement and accomplishment.
Overall, I thoroughly enjoyed my time studying with UCC. It was a very worthwhile decision, and one that I would highly recommend to anyone wishing to develop their professional knowledge and experience within the sphere of Occupational Health, Safety and Wellbeing to a very high standard.
____________________________________________________________________________________________
Aine Molloy, Risk and Safety Manager, Cappagh National Orthopaedic Hospital, completed the MSc in 2016:
"The MSc in Occupational Health offered a theoretical grounding to some of my work practices and introduced new subjects and abilities such as research, critical review of academic publications and occupational health."
____________________________________________________________________________________________
Jason Shaw, EHS Assistant Supervisor at PepisCo, completed the MSc in 2014:
"I would like to thank you both and also the rest of the team that assisted me on this journey. While there was a few ups and downs along the way, the overall experience was a positive one. The MSc is a superbly ran course which I would recommend to any EHS professional, outside of Occ Health and Safety, I learned much more that will assist me with not only my work but on a personal note."
____________________________________________________________________________________________
Seamus Gethins, Global EHS Manager at Boston Scientific, completed the MSc in 2014:
"I wanted to pass on my heartfelt thanks for the fantastic help you gave me over the two years and in particular the very focused and insightful feedback on the dissertation. It really is an excellent course and my only regret is I did not have the time to take full advantage of the potential learning due to work pressure."
____________________________________________________________________________________________
Paul Walsh completed the MSc 2016:
"As a mature student, I pursued a Higher Diploma in Occupational Health in 2009 and I went on to complete my MSc in Occupational Health in 2016 in UCC under the tutorage of Dr. Birgit Greiner. I came to the course as an electrician with very little third level experience so undertaking a Master's degree was daunting. However, the structure of the course and the support from lecturers and classmates was fantastic which meant that I was able to fit into the course relatively easily.
The lectures are very interesting, challenging, engaging and there is a great mix between academia and business with outside speakers from industry regularly coming in as guest lectures. In industry now, there is a big focus on psychosocial hazards and risk assessment and this course is brilliant for addressing this.
It was a fantastic experience and I met some wonderful people during the course and it has giving me great self-belief. Reflecting on the course recently, I thought how much I have got from it personally and the invaluable skills and tools I took back into my professional life. For example, the learning from the psychosocial epidemiology module was of immense value to me when I was implementing the Work Positive tool in my workplace recently. I would wholeheartedly recommend this course to anyone who is thinking about enrolling in it as you will learn so much."
____________________________________________________________________________________________
Deirdre Desmond - MSc Graduate