News & Events
News & Events
iFightDepression Tool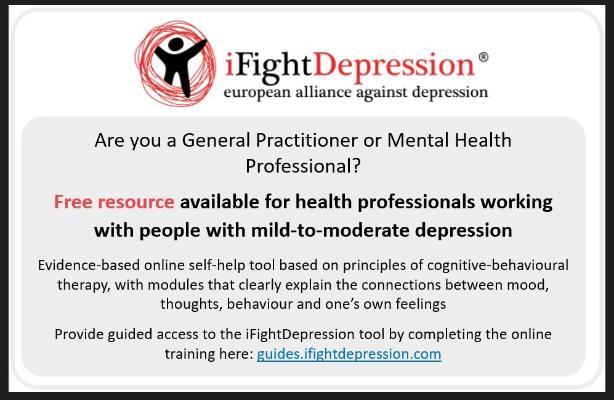 The EU-funded project, EAAD-Best, 'Adapting and Implementing European Alliance Against Depression's (EAAD) Best Practice Model to Improve Depression Care and Prevent Suicidal Behaviour in Europe', is underway in Ireland, led by Prof Ella Arensman.
The team at the National Suicide Research Foundation and School of Public Health, is working in partnership with seven European countries to improve the care of people with depression and prevent suicidal behaviour through promoting the uptake of the iFightDepression tool, an evidence-based online self-management tool for people with mild-to-moderate depression.
The iFightDepression tool is free of charge and available in 15 languages, including Ukrainian: English, Bulgarian, German, Italian, Norwegian, Spanish, Catalan, Basque, Estonian, Greek, Hungarian, Polish, Shqip, Arabic, Ukrainian. More information on the iFightDepression tool is included in the leaflet below.
Additional valuable resources include the iFightDepression awareness website www.ifightdepression.com/en, and free depression awareness video, posters, and brochures here: https://eaad-best.eu/intervention-materials-ireland
Please feel free to disseminate these resources to your wider networks as appropriate.
For additional information, please contact eaadbest@ucc.ie