News & Events
News & Events
European Public Health Week 2021 May 17 - 21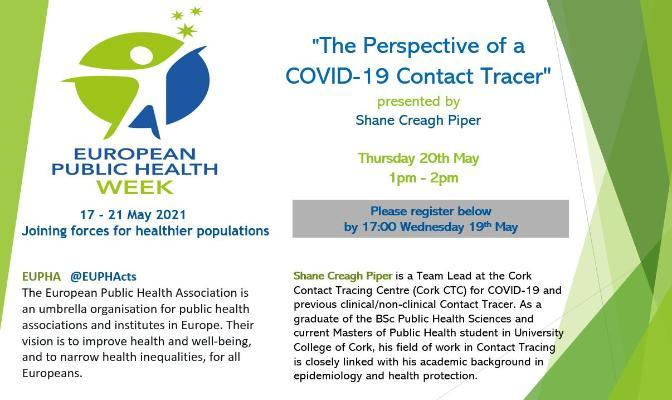 The School is delighted that Shane Creagh Piper, a graduate in BSc Public Health Sciences and a current Masters of Public Health student in UCC, will be one of the speakers during European Public Health Week.
Shane is a Team Lead at the Cork Contact Tracing Centre (Cork CTC) for Covid-19 and previous clinical/non-clinical Contact Tracer. His field of work in Contact Tracing is closely linked with his academic background in epidemiology and health protection. Shane's interest in epidemiology sparked during a three-month placement with National Cancer Registry Ireland where he contributed to national reports as an assistant data analyst.
To register for the Seminar please click HERE by 17:00 Wednesday 19th May.
To find out more about European Health Week 2021 visit https://eupha.org/EUPHW and follow @EUPHActs
As a Contact Tracing line manager, Shane's responsibilities involve the maintenance of the well-being of his colleagues, appropriate dissemination of Public Health advice, performance monitoring of contact tracers and retrospective, and prospective Contact Tracing. His contribution led to the establishment and management of Cork's virtual Contact Tracing unit.
His research interests are in eating disorders and COVID-19, with a keen focus on health promotion and protection. As part of his current Masters of Public Health dissertation, Shane is researching the potential development of eating disorder behaviours during COVID-19 restrictions in young people.
During the initial phase of the COVID-19 pandemic, Shane led a nationwide health promotional campaign to improve awareness of eating disorders among males and the cost of treatment. The campaign was featured on media stations 96FM, C103, 94FM across Ireland and received coverage on media print, which contributed to fundraising of over €1800 in support of BODYWHYS and Cork Mental Health Foundation.