News & Events
News & Events
EPICC launch Chronic Disease Burden Report - May 2022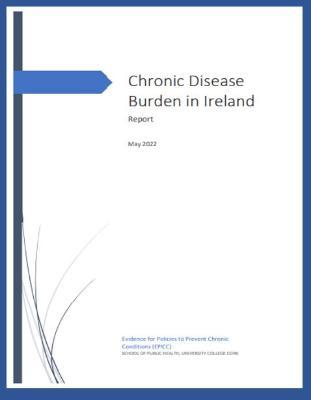 Chronic diseases like heart disease and diabetes are the most common causes of death throughout Europe, including Ireland. The rise in chronic disease is increasing demand on health systems worldwide and is extremely costly for governments. In addition to this increasing demand, there is a widening gap between available resources and healthcare costs. The costs will continue to increase unless governments can find a better way to prevent and treat these diseases.
To help to inform policies, the Evidence for Policies to Prevent Chronic Conditions (EPICC) study has been conducted with the support of the Health Research Board. The following report is an example of such evidence and presents the summary of evidence on prevalence estimates for the selected chronic conditions in Ireland (Asthma, Chronic Obstructive Pulmonary Disease, Coronary Heart Disease, Hypertension, Stroke, Diabetes) and multimorbidity. These estimates have been conducted in 2021 and are based on the most reliable, nationally representative, and up to date data (Healthy Ireland – HI survey and The Irish Longitudinal Study on Ageing - TILDA). To view the Report, click on the below.
EPICC Research Team Prof. Patricia Kearney, Dr Claire Buckley, Dr Tony Fitzgerald, Dr Katarzyna Gajewska, Dr Sheena McHugh, Dr Brendan Palmer, Dr Linda O'Keeffe and Dr Danko Stamenic (School of Public Health, University College Cork).
Visit our EPICC website here
For more on this story contact:
Dr Danko Stamenic (danko.stamenic@ucc.ie) or Dr Katarzyna Gajewska (katarzyna.gajewska@ucc.ie), School of Public Health, UCC.