2015 Press Releases
2015 Press Releases
Green thumbs up for UCC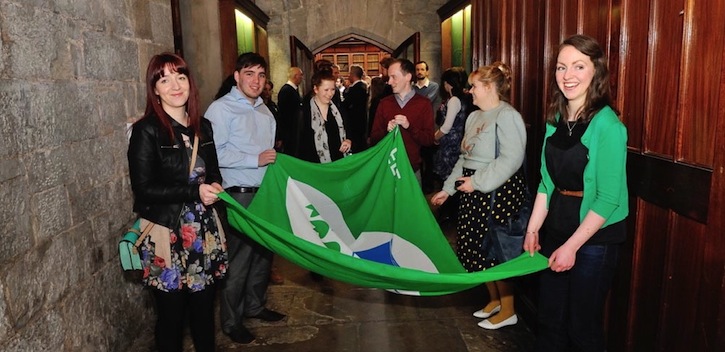 UCC's efforts in the area of sustainability have resulted in the Universitas Indonesia (UI) Greenmetric World University Ranking awarding a second in the world ranking for the second year in a row.
Can you guess which Irish college has been ranked second in the world for being so green? http://t.co/uXEkXMUGtp

— TheJournal.ie (@thejournal_ie) January 20, 2015
UCC is also placed in second position for the 'Urban' campus setting category. Now in its fifth year, the UI Greenmetric World University Ranking compares the efforts of universities towards campus sustainability and environment friendly university management, with 360 universities from 62 countries ranked this time around.
UCC placed second in UI Greenmetric world university ranking: University College Cork (UCC) has been ranked se... http://t.co/pK8NhN7Xw4

— TheGreenWeek (@TheGreenWeek) January 20, 2015
University of Nottingham in the UK was ranked first overall, followed by UCC in second and Nottingham Trent University in the UK in third.
Other universities making the overall top ten overall include University of California, Davis (4), University of Oxford (5), University of Connecticut (7) and University of California, Berkeley (9).
According to UI Greementric, the results are generated from information provided by universities online. This year the information is organised by six main categories, including: Green Statistics (15%); Energy and Climate Change (21%); Waste Management (18%); Water Usage (10%); Transportation (18%) and Education (18%).
President of UCC, Dr Michael Murphy welcomed the news, commenting that the ranking of second in the world overall further acknowledged UCC's green credentials as well as the tireless efforts of many across the UCC community, from students to staff, in the area of sustainability.
Director of UCC Buildings & Estates Mark Poland, who along with his team spearheads many of UCC's green initiatives, echoed the President's words and particularly praised the contribution of students:
"Student buy-in from the outset has been pivotal to the success of UCC's Green Campus programme, inspiring the student-led, research informed and practice focused mission of UCC's green agenda. We're delighted with this year's results."
UCC's Vice-President for Teaching & Learning Professor John O'Halloran commented: "This is great news in an ever competitive environment, with more and more universities taking part in this global green ranking. Sensitising our community to the limited resources of the globe through education and research and taking practical steps across the university in sustainability has proved successful once again in this ranking scheme."
UCC has been continuously recognised for its work in the area of campus sustainability over the last number of years. In December 2014, UCC was shortlisted as the only Irish representative along with 16 other companies from across Europe in the final of the European Business Awards for the Environment (EBAE).
It became the world's first Green Flag Campus for third level institutions in 2010, awarded by An Taisce and the Foundation for Environmental Education, an accolade that was renewed in April 2013.
@UCC ranked second in world for green credentials http://t.co/SOLG3bGzSb via @BandF

— Business & Finance (@BandF) January 20, 2015
UCC won an Excellence in Environment award at the Corporate Social Responsibility (CSR) Awards 2013 held by Chambers Ireland in Dublin. UCC also joined forces with the Sustainable Energy Authority of Ireland in November 2012, under its Public Sector Energy Partnership programme. This sees UCC take the lead in contributing to valuable and sustainable energy savings towards the national energy efficiency target of 33% for 2020.
UCC is also accredited as the world's first third-level institution to be awarded the IS0 50001 standard in energy management. ISO 50001 enables organisations to establish the systems and processes necessary to improve energy performance, including energy efficiency, use and consumption.
UCC's commitment to environmental citizenship continues and further details can be found at http://www.ucc.ie/en/greencampus/
It's a green letter day for @UCC @CorkChamber See @tv3NewsIreland @12.30

— Paul Byrne (@PaulByrne_1) January 20, 2015
Congratulations to @UCC on their recent 'Green' success! http://t.co/uLsOgFNYgt pic.twitter.com/lF6Qb5Wggq

— Greg Murphy (@TheGregMurphy) January 20, 2015