Archive News
Archive News
SuperValu Excellence in Food Microbiology Award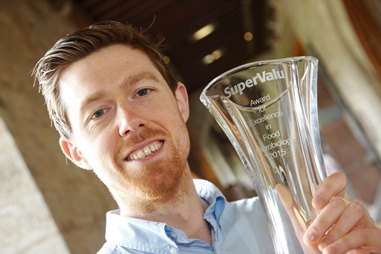 SuperValu has presented the SuperValu Award for Excellence in Food Microbiology to Damhan Scully at a ceremony at University College Cork (UCC). This collaboration with the School of Microbiology, UCC, is intended to acknowledge the high standard of research being done by UCC scientists across a range of food microbiology areas.
The award was presented to Damhan Scully, who is currently completing a Masters in Food Microbiology. As part of his award, Damhan will receive a bursary of €2,000 from SuperValu to continue his research work.
The award is just one element of SuperValu's on-going investment in quality. SuperValu was the first retailer in Ireland to adopt the National DNA Traceback Programme for Bacon and Hurley's SuperValu in Midleton was the first store in the country to secure the Bord Bia Quality Assured Butcher Counter. SuperValu serves over 2.6million customers every week and has 223 stores nationwide. 75% of everything on SuperValu's shelves is sourced or produced in Ireland. SuperValu continues to source locally wherever possible and purchases almost €2 billion worth of goods from Irish suppliers which helps to sustain 30,000 jobs in the Irish economy.
The School of Microbiology at UCC has 65 PhD and MSc students engaged in research. One of its most popular postgraduate programmes is the one year taught MSc in Food Microbiology. Students take advanced courses in Microbial Food Safety, Food Fermentation, Food Biotechnology, Functional Foods for Health and Food Hygiene. In addition, they complete a six month research project which is presented as a thesis at the end of the programme.