News
News
Discover How IGNITE Can Help You Start Your Business - Webinar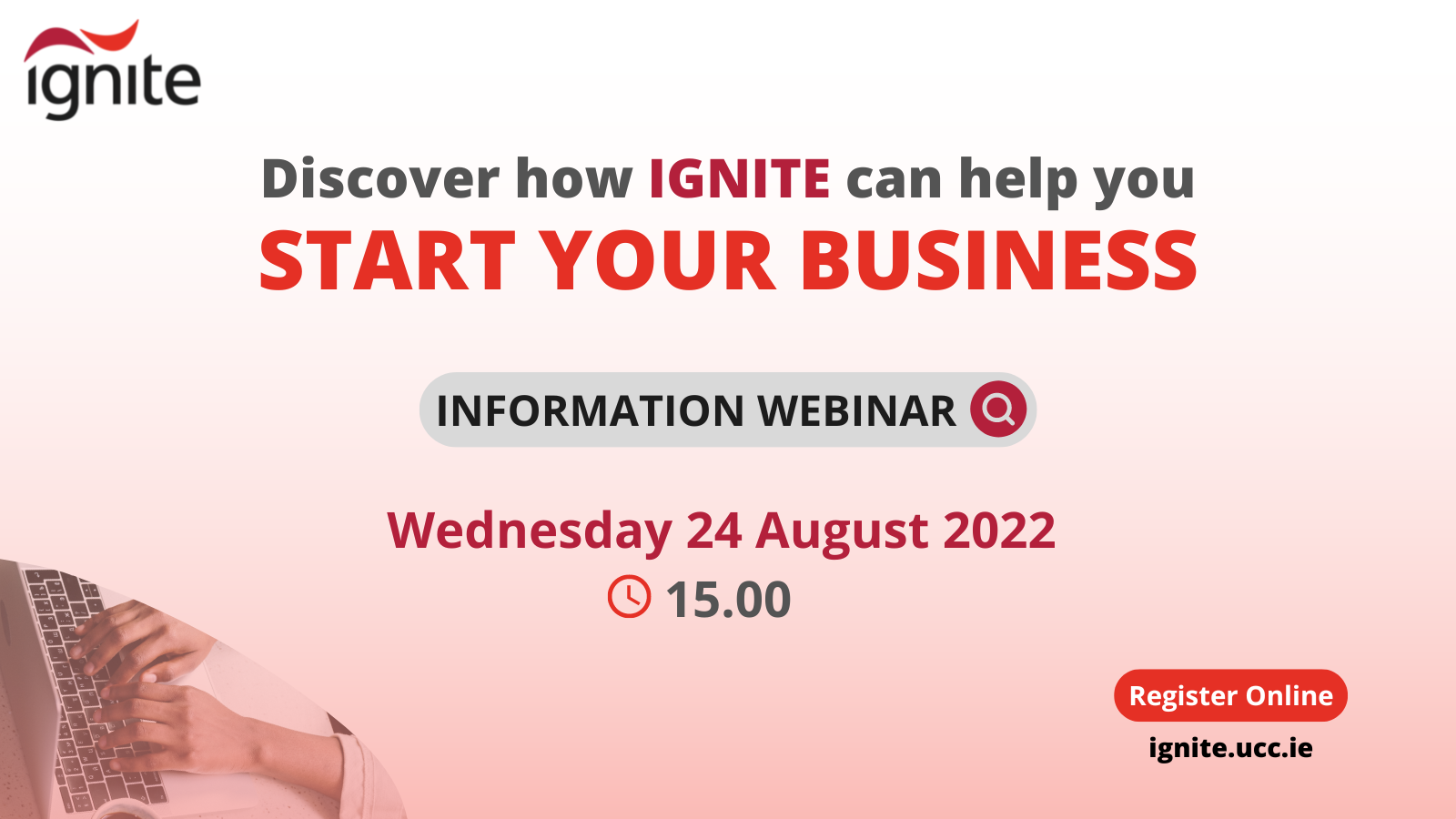 Do you want to hear more about the IGNITE Programme?
Join us on Wed 24 August at 15.00 to hear how we can help you start your business. The IGNITE team, Eamon Curtin - Director and Michelle Dorgan - Programme Manager will talk about IGNITE, what it entails, the application process and answer any questions you may have.
IGNITE, an international award winning start-up programme at University College Cork, is looking for recent graduate entrepreneurs to join the next IGNITE programme, commencing October 2022.
If you're interested in finding out more about the programme supports, the application process and hearing from past participants, register HERE.
IGNITE supports recent graduates turn good ideas into scalable businesses that have economic, environmental or social impact. Based at University College Cork, the 12 month programme is open to all recent graduates from any discipline in any third level Institution in Ireland who have the passion and ambition to work full-time on a scalable start-up idea with potential for commercial or social impact.
Watch the replay HERE.
Since 2011, IGNITE has supported almost 130 start-ups, including:
Conor Lyden, founder of Trustap. Trustap is a peer to peer escrow style payment platform. Conor completed a BE (Civil, Structural and Environmental Engineering) in 2016 at University College Cork. "Without IGNITE and all of the people involved I simply would not have my own business"

Marion Cantillon, founder of Pitseal. Pitseal is an edible biofilm that replaces plastic sheeting in the silage process to reducing plastic waste and improve greenhouse gas emissions in farming. Marion completed a BSc Food Marketing and Entrepreneurship at University College Cork in 2020. "When I started IGNITE, all I had was an idea in my head; and now that I'm nearly finished, I have a product, a company and, most importantly, a clear plan for the future as well as a support network I can always count on. IGNITE helped me bring my product to life whilst providing me with the advice and guidance to navigate through any challenges that may arise."

Dr Fiona Edwards-Murphy, co-founder of ApisProtect. The company uses Internet of Things (IoT) technology to monitor honey bee colonies. Fiona completed a BE (Electrical and Electronic Engineering) at University College Cork and a PhD with the Embedded Systems group in Electrical and Electronic Engineering and the School of Biological, Earth, and Environmental Sciences (BEES) at University College Cork. "IGNITE really helped me to develop my pitching skills, I've gone from afraid to stand up and talk in front of a single person to pitching to over 400 people"