News
News
Mouth Cancer Awareness Seminar on 14 September 2017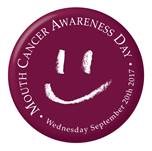 Mouth Cancer Awareness are hosting a free Seminar in Cork Dental School and Hospital - Focus on Oral Heath in Disadvantaged Communities
This seminar is for people working with disadvantaged communites e.g. those suffering from addication, homelessness, in long term care, prison or institutions. This seminar is aimed at giving practical advice on oral care, risk reduction and early detection of mouth cancer.
- To highlight oral health issues in socially excluded and disadvantaged groups who may not attend regular dental care.
- To discuss risk factors for mouth cancer and early detection.
- To give practical advice about maintaining a healthy mouth.
To book a place on this Seminar and to register: https://www.eventbrite.ie/e/mouth-cancer-awareness-seminar-tickets-37423687256
For more on this story contact:
Dr Eleanor O'Sullivan - 021 490 1167
email: Eleanor.osullivan@ucc.ie