CNS News & Events
CNS News & Events
Dr. Shane Hegarty awarded Neuroscience Ireland Early Career Award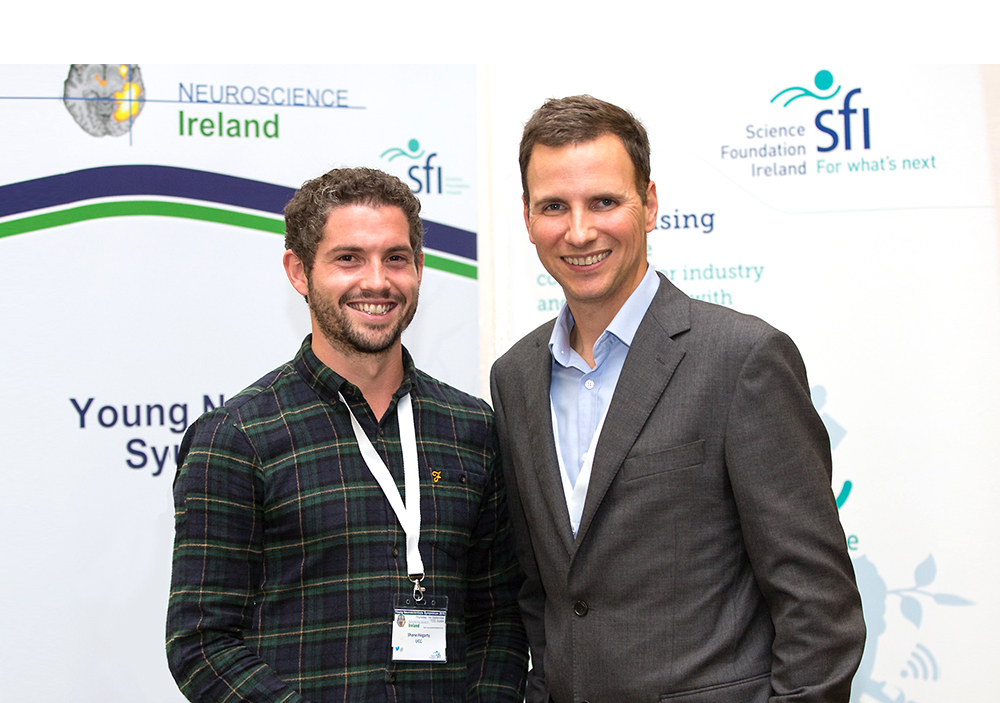 Congratulations to Dr. Shane Hegarty, Lecturer and Researcher in the Department of Anatomy & Neuroscience, who was recently awarded the 'Neuroscience Ireland Early Career Investigator Award' Medal, and as winner was also invited to present his research at the Neuroscience Ireland Young Neuroscientist Symposium 2016 in Trinity College Dublin.
The 'Neuroscience Ireland Early Career Investigator Award' recognises an outstanding research scientist in the Neuroscience community who has made exciting contributions to the field of Neuroscience. The 2016 award was presented to Dr Hegarty in recognition of his contribution to the understanding of the molecular mechanisms regulating the development and survival of neuronal subtypes, and the potential developmental dysfunctions which contribute to neurological disorders.
Graduating as top-ranked student of Neuroscience Bsc (1st Hons) from UCC in 2010, Shane was awarded the distinction of 'College Scholar' and the 'Certificate of Excellence' in recognition of academic excellence. In 2010, he was also awarded the 'IRCSET EMBARK Postgraduate Scholarship' by Irish Research Council (IRC) funding a PhD research project in the Department of Anatomy and Neuroscience, UCC, under supervision of Professor Aideen Sullivan & Dr. Gerard O'Keeffe. Shane was subsequently awarded the highly competitive 'Government of Ireland Post-Doctoral Fellowship' by IRC, and the 'NUI Post-Doctoral Fellowship in the Sciences' by National University of Ireland, to facilitate his current Post-Doctoral research in the Department of Anatomy and Neuroscience. As a researcher, he has been awarded places on international training courses, travel bursaries and 'Best Presentation' at a number of conferences. He has published 11 peer-reviewed journal articles (10 first author) to date, and acts as a reviewer for a number of journals and funding agencies. In 2015 he was awarded the IRC 'New Foundation Award' to launch the ongoin 'BRAINTALK' outreach project and in February 2016 the Royal Irish Academy awarded Shane the prestigious 'Charlemont Grant' to extend his research in Prof. Danny Huylebroeck's laboratory in Erasmus MC, Netherlands.
Shane's current research focuses on understanding the development and survival of midbrain dopaminergic neurons, the cells which progressively degenerate to cause Parkinson's disease. In August 2016, he began his current position as a full-time Lecturer in the Dept. of Anatomy & Neuroscience, UCC.