News & Updates
News & Updates
UCC student wins Cork Volunteer of the Year Award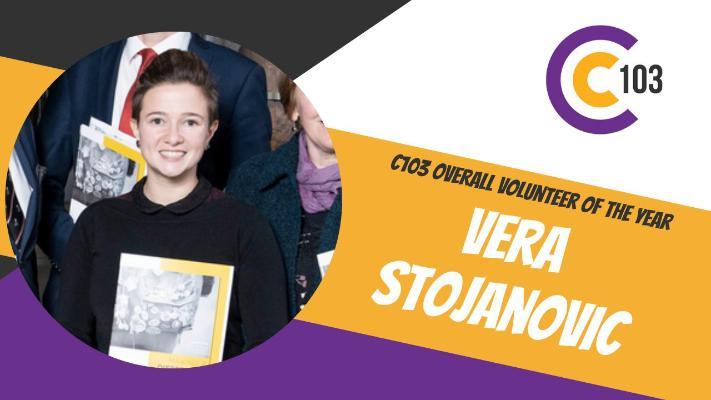 The Cork Volunteer Centre annual Cork Volunteer Awards announced their 2020 winners across the ten award categories at an on-line ceremony on Friday 9 October. UCC Student Vera Stojanovic, won Student of the Year and was awarded the overall C103 Cork Volunteer of the Year Award.
Congratulations to @UCC #studentvolunteer @VeraStojanovic8 Cork Volunteer of the Year 2020! #CVA2020. Vera does amazing work with @B_TogetherCork @sanctuarymask @CorkCoS @CorkMigrant & is an inspiration to us all. @UCCAppSoc @VolunteerCork @campus_engage @Quercus_UCC @UCC_Civic pic.twitter.com/YuA9y1SdZv

— John O'Halloran (@johbees) October 9, 2020
Introducing the Volunteer of the Year award, Minister of State for Community Development and Charities, Joe O'Brien said, "When I heard about the variety of activities that she is involved in, I thought I'd really like to meet this person!"
Vera has worked with people living in direct provision here in Cork since 2016 and is now volunteering on the island of Lesvos, Greece where a devastating fire at the Moria refugee camp last September left a migrant community of 13,000 without shelter. Commenting on receiving the award Vera said,
"[Volunteering] gives us the opportunity to do something that is bigger than ourselves. There is nothing more humbling in my opinion, than having the privilege to be able to do something that makes an impact on someone's life. It doesn't matter how big or small. A lot of times we look around and all we can see is all of injustice around us, and that can be very overwhelming. So if I was to give any advice to anybody interested in volunteering it would be to just pick something small, pick a small cause."
In 2016, Vera founded BetterTogether - an organisation that works to empower women and children who are seeking asylum in Cork City and County. She is a student of Applied Social Studies at the College of Arts, Celtic Studies and Social Science having been awarded a Quercus Active Citizenship Scholarship. Vera sits on the working group of the UCC University of Sanctuary, the board of management for Cork's Social Health and Education Project, (SHEP) and represents BetterTogether on relevant subcommittees of the Cork City of Sanctuary programme.
This year BetterTogether in partnership with Cork Migrant Centre spearheaded the wonderful Sanctuary Masks Initiative in response to COVID19, with the support of UCC University of Sanctuary, UCC Feminist Society and Fáilte Refugees Society. Through this initiative over 20 women living in Direct Provision Centres produced thousands of hygiene masks, distributing them to residents in Direct Provision, the elderly in nursing homes and other vulnerable groups during the height of the pandemic. Community partner, Dr Naomi Masheti runs the Cork Migrant Centre Pyschosocial Wellbeing Hub at Nano Nagle Place, Cork. Speaking of Vera's passion and drive she noted the impact of Vera's volunteering,
"Vera would be very happy to know that the Sanctuary Mask Initiative that she started is now being registered as a cooperative, so these women are taking the next step to turn the mask making initiative into a business… It is really freedom to imagine for financial independence."
Vera is an incredibly deserving winner and her voluntary work is a reminder of the many ways UCC students, individually and through the student societies, clubs and union are making a difference with their volunteerism. Many across the University were delighted to see her efforts and student volunteerism being recognised in these awards and were keen to express Vera congratulations.
"Vera is a passionate volunteer and advocate for the rights of refugee and asylum seekers, making her a worthy winner of the Student Volunteer of the Year Award and overall Cork Volunteer of the Year 2020. We are very grateful to the Cork Volunteer Centre for running the awards this year, and for celebrating all of Corks volunteers in such as fantastic way"
- Dr Martin Galvin, UCC Civic and Community Engagement Officer.
"Congratulations to Vera on behalf of the School of Applied Social Studies. Vera is a remarkable person that is making a difference for people and communities in Cork, and more recently in the Moira Refugee Camp in Greece. All of her lecturers and fellow students are deeply proud of her",
- Professor Cathal O'Connell, Head of School, Applied Social Studies.
"Heartiest congrats to Vera, she is a remarkable person and Quercus Scholar. We are not surprised she was selected for this award as she exemplifies what it means to be an active citizen. She is resilient, determined and outcomes focused, well done Vera and to all the other winners",
- Michelle Power, UCC, Manager Quercus Talented Students Programme.