News and Views
News and Views
Women in Leadership Series Inaugural Event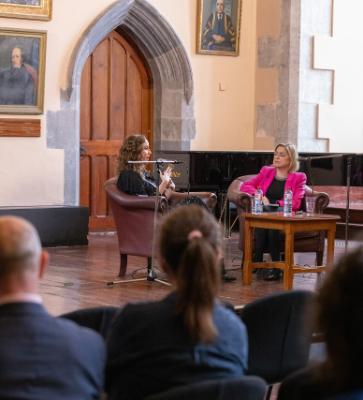 Award winning author and columnist Louise O'Neill was the featured guest at the inaugural event of the College of Business and Law's Women in Leadership Series, which took place in the Aula Max on Monday evening, the 3rd of October 2022.
O'Neill received an Honorary Doctorate in Law from UCC in November 2021 in recognition of her work's role in bringing problematic issues to the fore in contemporary discourse. She was introduced by Professor Louise Crowley of the School of Law who joined her in conversation on issues including social and legal responses to gender-based violence.
Professor Thia Hennessy, Dean of CUBS, welcomed the speakers and attendees to the event.
The Women in Leadership Series is an initiative led by Head of College Professor Ursula Kilkelly. It strives to raise the profile and understanding of women in various leadership roles - in business, law, sport, public life and arts. The Series will highlight roles played in improving the treatment and standing of women in society and hopes to inspire others to follow.
The next event in the Series will be in November with featured guest Emily Logan, Garda Ombudsman.