News and Views
News and Views
BComm and Law Programmes Work Placement Awards Ceremony February 26, 2020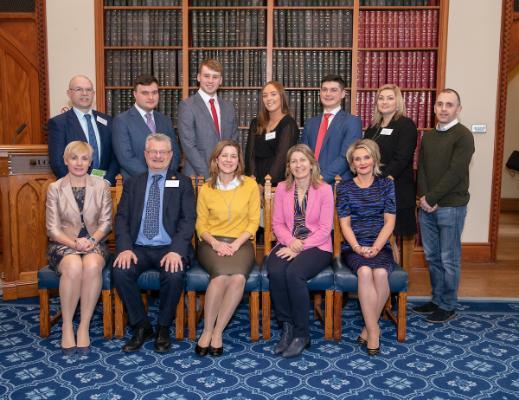 Congratulations to the wonderful achievements of our work placement students who received awards after being nominated by a Placement employer for their outstanding performance during Placement.
College of Business and Law BComm and Law Programmes Work Placement Awards Ceremony
Twenty students from Cork University Business School and the School of Law were recognised at an awards ceremony celebrating their impact at a number of business and Law companies across Ireland.
Staged in the historic surroundings of UCC's Council Room, the ceremony heard Professor Ursula Kilkelly, Head of the College of Business and Law, Professor Thia Hennessy, Dean of Cork University Business School, and Professor Mark Poustie, Dean of the School of Law, congratulate the students and pay special thanks to the multitude of employers who participate in the student placement programme.
In 2019, students from the Business School's BCOMM programme and the Law School programmes secured paid placement positions with a wide variety of companies, where they were exposed to real world scenarios, professional cultures, and provided with the opportunity to develop networks.
The reciprocal nature of this multifaceted relationship is underscored by the knowledge exchange that occurs, where students introduce organisations to cutting edge concepts gleaned in the classroom, and employers provide practical knowledge and experience.
Before the immensely talented Quercus Scholar, Mary O'Donnell, brought the ceremony to a close with signature melody on the fiddle, Professor Ursula Kilkelly once again praised each of the students before thanking the various employers who take part in the programme.
Nominated BComm students; Lorcan Casey (Clearstream), Lydia Coveney (Voxpro), Blathnin Linnane (VHI), Jack McGuinness (Cambridge Associates), Katie Stacey (PepsiCo), Ronan Walsh (Macom).
Winning BComm students; Edel Carrigy (EY Entrepreneur of the year), Donal Hurley (Spearline), Jack McGrath (Dairygold), James Stead (Sanmina).
Nominated Law students: Karina Doody BCL (Clinical) (BDM Boylan Solicitors), Elaine McCarthy BCL (Law and Business) (PwC), Aoife Molloy BCL (Clinical) (Walsh & Partners Solicitors), Morgan Moriarty BCL (Clinical) (Eversheds Sutherland), Ross O'Caomhanach BCL (Law & Business) (Deloitte), Miah Phelan Sweeney BCL (Clinical) (FLAC)
Winning Law students: Abby Hanrahan, Law Summer Placement Scheme (SOSV), Eoghan McElhinney, BCL (Law and Business) (Heineken Ireland), Leah Moriarty BCL (Clinical) (Ronan Daly Jermyn), Katie Nic Craith BCL (Law and Irish) (AMOSS Solicitors).