Events
Events
UCC Confucius Institute successful hold Chinese Spring Festival to celebrate Year of Rat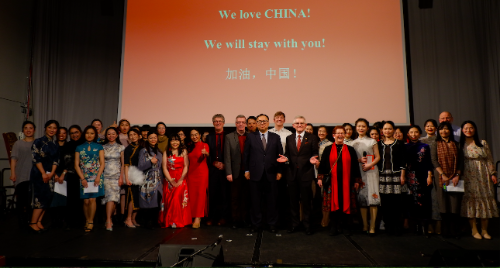 UCC's Confucius Institute successfully held Chinese Spring Festival Gala to celebrate the 2020 Chinese New Year on the evening of January 30, local time in Ireland, the Spring Festival Gala was prepared for four months, and all the performances were performed by teachers and students from China and Ireland.
The attending guests were Mr. Cllr. Michael Hegarty, Deputy Chief of County Cork, Ireland, Professor Zheng Dawei, Head of the Education Section of the Chinese Embassy in Ireland, and members of Parliament in Cork and Kerry of Ireland, relevant heads of departments of UCC, all teachers of the Confucius Institute, principals of secondary schools, parents and student representatives working with the Confucius Institute at UCC, representatives of Chinese and overseas Chinese enterprises and Community representatives, local citizens and other people from all walks of life also attended the event.
In this performance, CI invited talented Irish middle school students to perform songs for distinguished guests. The lovely children from UCC Chinese class had performed a beautiful song , which also drew applause from the audience. A student said, this is simply beautiful! At the end of the gala, everyone sang together, wishing China a better tomorrow, and the friendship between the two countries will last forever.
The success of this event not only demonstrated excellent Chinese traditional culture and Irish culture, but also built a bridge for the friendship between the two countries and promoted cultural exchanges between China and Ireland.