News
News
UCC Anaesthesiology Newsletter May-June 2022 Obstetric Training Course (PROMPT)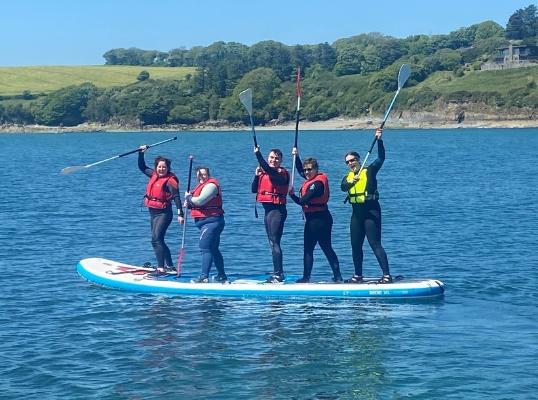 We welcome you all to the May/June Anaesthesiology Newsletter.
We are excited to announce the recent return of the PRactical Obstetric Multi-Professional Training Course (PROMPT) to the Cork University Maternity Hospital (CUMH), and we congratulate the organisers and participants. We also bring news of kayaking, a pet photograph competition and wedding bells. You will also read about "The Scarlet Pimpernel of the Vatican", a priest from Co Kerry who defied a bounty on his head to hide over 6500 Jews and allied escaped prisoners of war during the Nazi occupation of Italy during the second world war.
We wish all of you who are moving posts/towns/countries in July the very best of luck. Please consider sending us updates on your adventures- clinical, academic, or social. Photographs of exotic locations are always welcome.
Dr Eoin O'Rathallaigh leaves the UCC Anaesthesiology Newsletter editorial team in July to undertake a Fellowship in Trauma Anaesthesia at St Mary's Hospital, London. We will miss his dedication, humour, and alliteration. He is the creator of the only slightly cheesy yesuccanews@gmail.com email address. He tried to introduce me to Google Docs and showed great patience, even when I thought that I'd deleted the entire December newsletter (I hadn't- phew!). We wish him the very best of luck and welcome any future submissions from him.
Dr Oonagh Hickey, Consultant Anaesthesiologist, CUH
FOCUS ON:
The PRactical Obstetric Multi-Professional Training Course (PROMPT):
Dr Oonagh Hickey, Consultant Anaesthesiologist, CUH.
Photo 1: Dr Oonagh Hickey, Consultant Anaesthesiologist, CUH; Ms Mary O'Connor, Interim Director of Midwifery Education, CUMH; Dr Eoin O'Rathaillaigh, SpR, Anaesthesiology, CUH; Mary Murphy, Mannequin. Photo 2: the multidisciplinary team attending the Anaesthetic Emergencies workshop.
The maternity setting is a very dynamic environment, and poor outcomes for mothers and babies are catastrophic for their families. The PRactical Obstetric Multi-Professional Training Course (PROMPT) originated at Southmead Hospital at Bristol, following a 2006 review of their local obstetric emergency training. Their findings were that team training improved knowledge and teamwork and resulted in a 50% reduction in neonatal hypoxic brain injuries, a 70% reduction in injuries following shoulder dystocia, and improvements in the management of Category 1 emergency sections. By 2008, the PROMPT course had been formally developed to facilitate the roll out of such team training to other regions. It has been updated over time to include anaesthetic emergencies and to incorporate findings from the Confidential Enquiries into Maternal and Child Health (CEMACH) reports.
We were already running in-house multi-disciplinary obstetric emergency workshops at the CUMH at this time and there was an enthusiastic uptake of the PROMPT course, with members of the midwifery, obstetric and anaesthesiology teams attending Train the Trainer Courses in the UK. The PROMPT course consists of morning lectures on teamwork and clinical topics such as CTG interpretation, pre-eclampsia and maternal collapse. In the afternoon, multi-disciplinary teams rotate through various workshops, including shoulder dystocia, sepsis, and anaesthetic emergencies.
The PROMPT courses held in the CUMH have been a huge success, with great attendance from staff members of the CUMH and other hospitals throughout the region. As a member of the faculty, I found that the PROMPT courses provided a unique opportunity for staff of all grades from midwifery, obstetrics, and anaesthesiology to meet in a non-clinical environment for the common purpose of improving teamwork and patient care. The courses allowed for a deeper understanding of each other's roles and of the challenges faced by colleagues. They also provided a safe place for people to ask "silly questions" as well as facilitating the strengthening of social bonds over coffee.
Unfortunately, training was curtailed during the pandemic due to the increasing demands placed on clinical staff and also due to the need for social distancing. However, we are delighted that the program is up and running again under the new leadership of Ms Mary O'Connor, Interim Director of Midwifery Education, CUMH. On Friday the 13th of May, the first CUMH PROMPT course in three years was held. The morning lectures were delivered on-line, but the afternoon workshops were conducted in person.
Dr Murray Connolly, Anaesthesiology Fellow, and Dr Eoin O'Rathallaigh, SpR, took on the roles of Lead Anaesthesiology Faculty and facilitated the smooth running of the course. Both Murray and Eoin updated and delivered lectures, including "Maternal Collapse", "Anaesthetic Emergencies" and "Maternal Sepsis". These talks were recorded and will be available for use on future PROMPT courses. Eoin and Ms Mary O'Connor facilitated the "Anaesthetic Emergencies" workshop, at which participants had an opportunity to manage a deteriorating patient and to practise using the trainer AED.
The hope is that more regular PROMPT courses can be provided into the future, further promoting good teamwork, early recognition and treatment of emergencies involving the obstetric patient, and hopefully improving outcomes for the mothers and babies of the region.
Anyone who is interested in becoming involved in the PROMPT Course Program at the CUMH, please contact Dr Oonagh Hickey at yesuccanews@gmail.com .
PROMPT's story | PROMPT Maternity Foundation
ACADEMIC UPDATES:
CAI Annual Congress of Anaesthesiology 19th and 20 May
We congratulate Professor Donal Buggy and Dr Michelle Duggan, convenors of another very educational and entertaining Congress. The Congress was held in association with the Faculty of Pain Medicine, and Professor Dominic Hegarty (Consultant in Pain Management and Neuromodulation, Mater Private University Hospital, Cork) chaired the Pain Science Session. Dr Siobhain O'Mahony (Department of Anatomy and Neuroscience, UCC) delivered a fascinating lecture titled "The gut microbiome and pain", referencing some of the novel work being done in this area (please refer to "Royal Academy of Medicine in Ireland Research Awards 2021" below).
Dr Donal O'Cróinín (Consultant Anaesthesiologist, Mercy University Hospital and Chairman of the CAI Sustainability Committee) delivered a very thought-provoking lecture "Sustainability: how do we progress?". Dr O'Cróinín also chaired the TIVA Workshop. The TIVA Workshop faculty included Dr Michelle O'Mahoney, (Consultant Anaesthesiologist, MUH) who also received a Consultant Trainer of the Year Award- all the more prestigious an honour as it is based on a vote by trainees.
9th Annual CAI Medical Student Essay Competition:
We congratulate Ms Aoife Leonard, 2nd year Graduate Entry, UCC, for winning the 9th annual CAI Student Essay Competition. The topic for this year's essay was "Patient Safety in Anaesthesia: Have We Made Progress?". She has been invited to give a short presentation about her essay at the National Patient Safety Meeting in November.
Please follow the link to read her essay. https://www.anaesthesia.ie/latest-news/caiessaycompetition22/
South of Ireland Association of Anaesthetists (SIAA) Meeting:
The South of Ireland Association of Anaesthetists (SIAA) held a well-attended meeting at the River Lee Hotel in Cork on June 3rd, kindly sponsored by Vygon and Armstrong. Dr John Cahill (retired Consultant Anaesthesiologist, Mercy University Hospital) delivered a fascinating talk on the history of the SIAA- which has played an important role in the development of anaesthesiology in the region since 1955, providing a forum for advocacy, education, and social interaction. The minutes from the meetings held from 1955-1994 have been rebound and will be presented to UCC for safe keeping. According to the minutes, in attendance at the first meeting on 19th March 1955 was Dr Don Coleman, whose attendance at later SIAA meetings always guaranteed a lively delivery of anecdotes and jokes, much to the fascination of visiting anaesthesiology colleagues and junior anaesthesiologists (including myself).
Dr Michael O'Sullivan (Consultant Anaesthesiologist, Bons Secours Hospital, Cork) looked to the future of the SIAA and what role it might play in a post-COVID landscape, and engagement was invited on this.
The SIAA Meeting provided a very welcome opportunity for renewed social interaction between anaesthetic colleagues of the region. Attendees travelled from as far away as Dublin, Limerick and Tralee, and our retired anaesthetic colleagues were particularly welcomed. The organising committee are to be congratulated on the timely holding of the meeting, and we look forward with interest as the SIAA evolves in new directions.
Organising committee: Dr Jan Brohan, CUH; Dr Michael O'Sullivan, Bons Secours Hospital, Cork; Dr Owen O'Sullivan, MUH.
It is worth noting that "Safety as we watch", by Dr Joseph Tracey, Dr Declan Warde (also present at the meeting) and Dr John Cahill is due to be released soon. This book outlines the history of anaesthesiology in Ireland from the delivery of the first ether anaesthetic in 1847 up to the establishment of the College of Anaesthesiologists of Ireland in 1998. It promises to be a fascinating read.
Royal Academy of Medicine in Ireland Research awards 2021:
We congratulate Dr David Brenner (Anaesthesiology Research Fellow, CUH), Dr Siobhain O'Mahony (Department of Anatomy and Neuroscience, UCC) and their colleagues on their research article entitled "Pain after upper limb surgery under peripheral nerve block is associated with gut microbiome composition and diversity" which was shortlisted for the Royal Academy of Medicine in Ireland Research Awards for 2021 in the Anaesthesiology /Pain Management category. This article is the first to identify an association between human gut microbiome characteristics and postoperative pain, and opens the potential to improve patients' comfort after surgery by manipulating gut microbiome composition.
The collaboration between the UCC Department of Anaesthesia ICM and Pain Medicine with APC Microbiome Ireland, led by Dr Siobhain O'Mahony, continues to break new ground in the area of interaction between the human gut microbiome and somatic pain. The latest article to result is "Sex, Pain, and the Microbiome: The Relationship between Baseline Gut Microbiota Composition, Gender and Somatic Pain in Healthy Individuals" which has been accepted this week for publication in Brain Behaviour and Immunity.
Simulation news:
We congratulate the organisers of the Irish Association for Simulation for their recent very successful on-line conference. We look forwards to meeting in person next year.
As always, anyone who is interested in becoming involved in the College of Anaesthesiologists Simulation Program at the ASSERT Centre, UCC, please contact Dr Oonagh Hickey at yesuccanews@gmail.com . Our faculty includes senior anaesthesiologists from Kerry, Limerick and Cork, bringing with them a wealth of clinical and teaching experience.
Dr. Anne-Marie Leo, Dr. Niamh McAuliffe and Dr. Oonagh Hickey (Consultant Anaesthesiologists, CUH, Lead Faculty) would like to thank the candidates, faculty, and staff at the ASSERT Centre for their hard work and enthusiasm during the recent AE (Anaesthetic Emergencies), ARREST (Anaesthesia Related Rare Emergencies) and SICC (Simulation in Intensive and Critical Care) CAI Simulation courses. In addition to the scheduled courses, we also two that were postponed in 2021 due to the COVID pandemic. We also would like to welcome Dr Niamh Feely, Consultant Anaesthesiologist and Clinical Lead for Intensive Care Medicine, University Hospital Kerry, who is joining us as lead faculty.
Our faculty included:
Jan 11, AE: Dr Niamh McAuliffe (Consultant Anaesthesiologist, CUH), Dr Aisling Buckley (Consultant Anaesthesiologist, BONS Secours, Cork) and Dr Laura Griseto (SpR, CUH)
Jan 18th,, ARREST: Dr Oonagh Hickey (Consultant Anaesthesiologist, CUH), Dr Eoin O'Rathallaigh (SpR, CUH), Dr Alan Horan (SpR, CUH)
March 7th, AE: Dr Niamh McAuliffe (Consultant Anaesthesiologist, CUH), Dr Owen O'Sullivan (Consultant Anaesthesiologist, MUH), Dr Roisin Nee (Consultant Anaesthesiologist, Limerick University Hospital)
Feb 15th, SICC: Dr Anne-Marie Leo (Consultant Anaesthesiologist, CUH), Dr Michelle O'Mahony (Consultant Anaesthesiologist, MUH), Dr Zohaib Aslam (ICU Fellow, CUH), Dr AnnLin Bejoy Phillip (ICU Fellow, CUH)
March 25st, ARREST: Dr Oonagh Hickey (Consultant Anaesthesiologist, CUH), Dr Padraig Mahon (Consultant Anaesthesiologist, CUH), Dr Aisling Buckley ((Consultant Anaesthesiologist, BONS Secours, Cork), Dr John O'Connell (SpR, CUH)
WELLNESS CORNER
Pet Photograph Competition
Dr Gilly De Loughry, SpR, and Dr Aaron Blake, SHO, ran the first "The Pets of the CUH Anaesthetics Department" competition. The challenge was to match the departmental anaesthetist to the various cute doggos, bunny and highland cow.
Coffee and A Gas Program:
Photos: Dr Gilly De Loughry, SpR, and Dr Alan Horan, SpR, enjoying the coffee and Danish pastries.
On the 10th of May, Dr Laura Griseto, SpR, organised a Coffee and Gas for the Department of Anaesthesia, CUH- to coincide with Mental Health Awareness Week.
Laura outlines her motivation:
"Coffee and a Gas" was an initiative set up by the Association of Anaesthetists (formerly known as the AAGBI) to mark International Stress Day in 2017. Since then, training sites all over Ireland and the UK have hosted numerous events with the idea to promote friendly open conversations to have a catch up and reduce stress. They have had an incredibly positive response. They have a range of wellbeing resources on the Association website and a Coffee and a Gas podcast with lots of topics on wellness. Mental Health Awareness Week is the 9th to the 15th May and we are all aware that our colleagues can be prone to stress, burnout and anxiety. It is important to talk and promote open conversations, but mostly to look out for each other!
Outdoor barbeque on the banks of the River Lee:
On 13th May, members of the CUH Department of Anaesthesiology gathered for an outdoor barbeque on the banks of the lovely River Lee at The Anglers Rest Bar and Restaurant.
For more fun just add water:
On the 5th of June, members of the CUH Anaesthesiology Department attended the Oysterhaven Activity Centre, braving the Atlantic Ocean in the name of teambuilding. There was kayaking, stand up paddle boarding, many very enthusiastic attempts to run the length of the slippery Moonwalk before unceremoniously splashing into the sea- and numerous random acts of piracy.
As they say in Oysterhaven, for more fun just adds water.
SPORTING NEWS:
Triathlon Ireland High Performance Athlete of the Year:
Dr Carolyn Hayes, SHO, CUH, has been awarded the Triathlon Ireland High Performance Athlete of the year award for the third time. Carolyn won a silver medal at the World Triathlon Cup Lisbon in May 2021 and finished in 23rd place in the Tokyo 2020 Olympics held last year. Carolyn has proven herself to be a competent and caring clinician since joining the CUH Anaesthesiology Department and we will follow her clinical and sporting achievements with great interest.
World Medical EuroDoctor Championships 2022 Salou/Barcelona:
Dr Atilla Bondár, Consultant Anaesthesiologist, Cork University Hospital:
The World Medical Football Championship has been held every year for more than 20 years. The Irish first got involved in 2017. I joined the team in 2019 and we went to Mexico. Ireland qualified from the group stages (first time ever), then we were knocked out by Brazil...then came the Covid...
The above pictures are fresh from the EuroDoctor 2022 Salou/Barcelona ...kind of a European Championship for masters (doctors above the age of 45).
The first picture is of the two Irish teams together, the second one is probably more interesting, because all four Cork men played on the same team (Ireland 1): Dr John Browne, (Consultant in Pain Management, CUH/SIVUH), Mr Frank O'Brien (Consultant Urologist, CUH), Dr Liam Doherty (Consultant Respiratory Physician, Bons Secours Hospital, Cork), and Dr Attila Bondár (me).
GOOD NEWS:
Baby news:
We wish to send our heartiest congratulations to Dr Jan Brohan, Consultant Anaesthesiologist, CUH, and to her husband Kevin on the safe arrival of baby Peadar.
Wedding bells:
It was third time lucky for Dr Murray Connolly, Anaesthesiology Fellow, CUH and his fiancé Hayley when they recently tied the knot. Previous attempts were thwarted by the COVID pandemic, but this time even a broken toe wasn't getting in the way. We wish Hayley, Murray and their gorgeous little girls the happiest of futures together.
We wish Murray well in his upcoming Fellowship in High-Risk Obstetric Anaesthesia at the Coombe Women's Hospital and the Rotunda Hospital.
HISTORY CORNER:
The Scarlet Pimpernel of the Vatican- Monsignor Hugh O'Flaherty.
Visitors to Killarney, Co Kerry, may have noticed the dynamic looking statue of Monsignor O'Flaherty, mid stride, across the road from St Mary's Catholic Cathedral. Hugh O'Flaherty grew up in Killarney, working as a steward on the local golf course. He attended Mungret Jesuit College, County Limerick, and in 1922 he was posted to the Vatican- the residence of the Catholic Pope and the administrative base for the catholic Church. He was a gifted diplomat and served The Vatican abroad, including in Egypt and Haiti. His jovial nature and excellent golfing skills meant that he could mix easily with influential people from different walks of life. He would draw on these diplomatic and social contacts during the war.
The Vatican City is a separate political entity to the surrounding City of Rome and Country of Italy. It was officially neutral during the second world war, although many catholic priests played important roles in hiding Jewish people during WW2- some paying the ultimate price. During WW2, Italy was initially under the control of the fascist dictator Benito Mussolini but in 1943 he was removed from power and soon the German Army took over control of Italy. Herbert Kappler was the head of the German police and security services in Rome. He was known for his ruthless efficiency and was responsible for the rounding up of Jewish residents for transport to the Auschwitz concentration camp. Of the first 1,023 sent, only 16 survived the war. He also supervised the Ardeatine Massacre. In March 1944, 33 German soldiers were killed in a bomb attack in Rome. Adolf Hitler ordered a revenge attack that would "make the world tremble". Kappler organised the shooting of 335 civilians and political prisoners in caves outside Rome. He ordered cases of cognac to be delivered to fortify the German officers who were ordered to undertake the executions.
Monsignor O'Flaherty, with the assistance of some escaped allied prisoners of war, set up a sophisticated network of safe houses. It is estimated that they successfully assisted over 6,500 Jews and escaped allied soldiers. The Nazi soldiers were not permitted to enter the neutral Vatican, but Kappler had a white line drawn across the entrance to the Vatican, stating that Monsignor O'Flaherty was to be shot if he crossed it. A bounty was placed on his head. Meanwhile, Monsignor O'Flaherty continued to travel around Rome visiting the safe houses, using fake documents and disguises. Once, when he was trapped in a house, he walked out past the waiting NAZI officers dressed as a coalman.
Following the war, Monsignor O'Flaherty continued to work with the Vatican. He was awarded a Commander of the Order of the British Empire (CBE) and the US Medal of Freedom. His nemesis, Herbert Kappler, was sentenced to life imprisonment in an Italian military prison. He requested a visit from Monsignor O'Flaherty, and they met monthly for ten years- becoming "almost pals" according to the Monsignor. Kappler was baptised into the Catholic faith by Monsignor O'Flaherty in 1959. Kappler developed cancer and in 1977 he was smuggled out of a military hospital in a suitcase by his wife, dying a year later in Germany.
In 1960, Monsignor O'Flaherty suffered a stroke while saying mass, and returned to Cahirsiveen, Co Kerry, to live with his sister- where he passed away in 1963. In 1983, Monsignor O'Flaherty was portrayed by Gregory Peck in a TV series called "The Scarlet and the Black". "The Vatican Pimpernel" by Brian Fleming was published in 2008 and is a fascinating read.
Hugh O Flaherty Memorial - Monsignor . The Scarlet Pimpernel of the Vatican, Killarney, County Kerry, Ireland
Monsignor Hugh O'Flaherty (cahersiveen.ie)
EDITORS:
Dr Eoin O Rathaillaigh, SpR, CUH
Dr Oonagh Hickey, Consultant Anaesthesiologist, CUH