Latest News
Latest News
UCC STEM Annual Awards 2021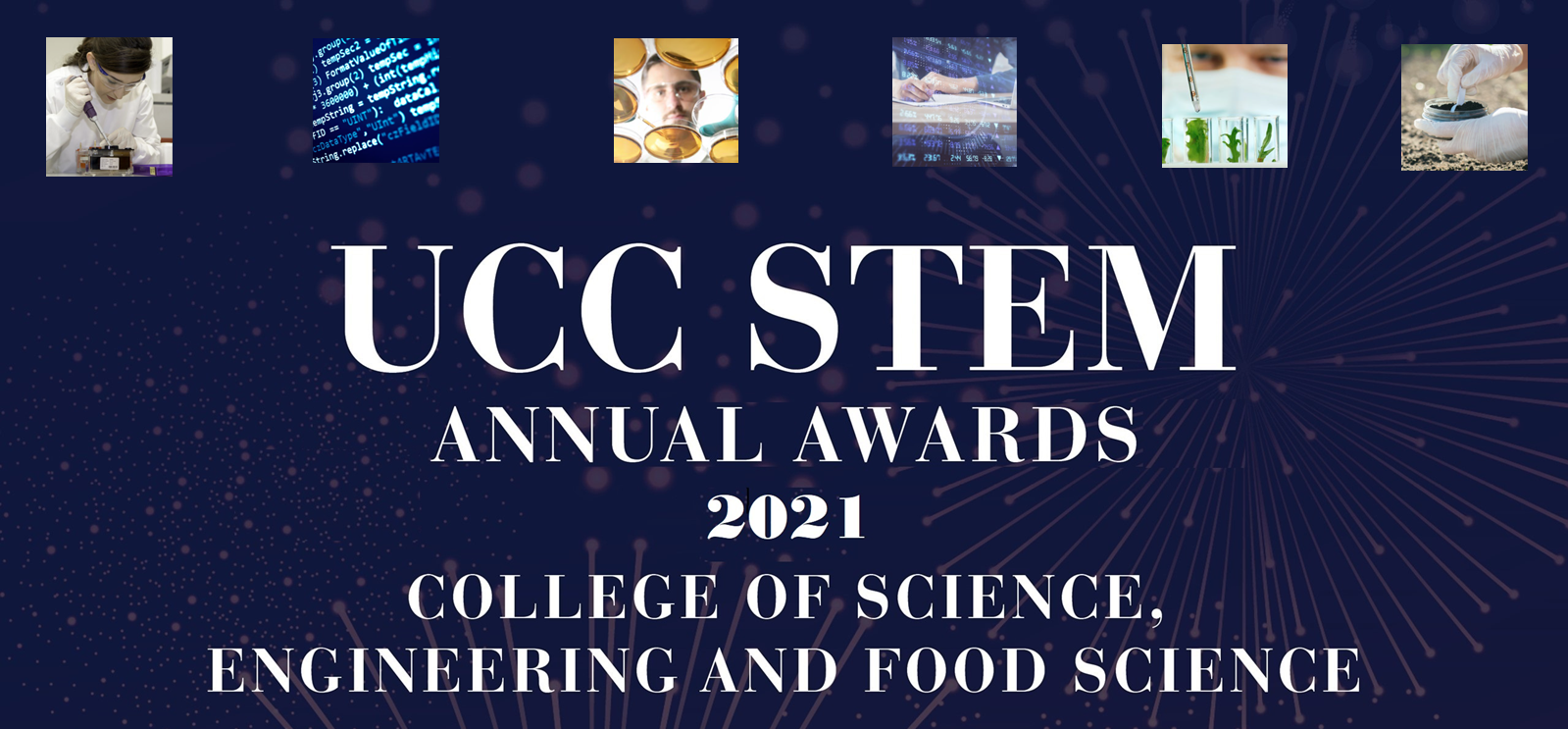 Fifty-six award recipients across students and staff members of the College of SEFS were celebrated at the annual college awards ceremony, which took place online this year.
The event recognises and celebrates the successes and achievements of students and staff members during the previous academic year. These include high-profile award recipients nominated for recognition by their unit, college-level award winners, and student-nominated outstanding staff members. Students from within the college who have received university-awarded prizes are also recognised. This year, the SEFS Graduate of the Year is Conor Healy, a graduate of Electrical and Electronic Engineering, who is due to start a Ph.D. in Power Converters for Environmental Applications in UCC next September. The Graduate of the Year Runner Up is Emma Lyons, who graduated in 2020 with a BSc in Genetics and is now is currently studying Graduate Entry Medicine. This year, the University Graduate of the Year 2020 — which considers students from across all four colleges — is a SEFS graduate: Ciara Judge, who studied Genetics.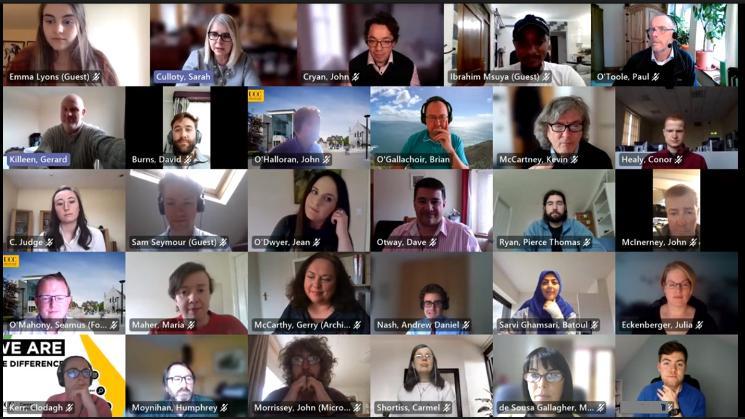 The ceremony also celebrated two new college awards: the Sustaining Excellence PhD Scholarships, and the Janssen Strategic Science & Technical Operations Awards. The inaugural recipients of the Sustaining Excellence Scholarships are Ibrahim Ramadhani Msuya, who will research rapidly urbanizing cities in Tanzania, to enable improved understanding of associated health inequalities, and Dingani Chinula, whose project will investigate malaria vectors and generate new insights on the effectiveness of micro-mosaics as a potential new tool for effectively managing insecticide resistance. The recipient of the Janssen Strategic Science & Technical Operations Work Placement Award will have the opportunity to undertake a paid placement in the Clinical Supply Chain team this summer, gaining valuable workplace experience and skills. The winner is Jessie Perez Hourigan, School of Biochemistry and Cell Biology. The recipient of the Janssen Strategic Science & Technical Operations Education Award receives a bursary. This year's winner is Roisin Keady, School of Microbiology.
The President of UCC, Prof. John O'Halloran, warmly welcomed the recipients and guests, while the recently-appointed Vice President for Research and Innovation, Prof. John Cryan, spoke of the significance and impact of the College of SEFS and its students, staff and researchers. Head of College, Prof. Sarah Culloty, was Master of Ceremonies for the event and praised the awardees for their achievements, particularly in such a challenging year. A full list of all the awardees is below the following slide of our Graduate of the Year. We send them all our sincere congratulations.
Kerry Group Medal in Food Science, and the Karl McCarthy Prize: Lauren O'Mahony (School of Food & Nutritional Sciences)
Kerry Group Medal in Nutritional Sciences: Karen O'Shea (School of Food & Nutritional Sciences)
Kerry Group Medal in Food Science and Technology: Jiayun Liu (School of Food & Nutritional Sciences)
BSc Agricultural Science Dairygold Bursary: Paul O'Brien (School of BEES)
BSc Agricultural Science Dairygold Bursary: Barry Stratford (School of BEES)
The Thorley Sweetman Prize Geology Mapping Project: Kenneth Hurley (School of BEES)
The Cunningham Award for Best Final Year Geological Mapping Project: Ben Latimer (School of BEES)
The Lord Mayor's Perpetual Trophy for the Best Performance in BSc Environmental Science: Rodhraí Crowley (School of BEES)
The Eli Lilly Prize for Best First Year Chemistry Performance: Ciara Millerick (School of Chemistry)
The Reilly Prize for Best Final Year BSc Chemistry Performance: Maria Maher (School of Chemistry)
The George Guilbault Medal: Aoibhinn Christie (School of Chemistry)
The 2020 BSc Computer Science Entrepreneurship Award: Timothy Lehane (School of Computer Science & Information Technology
The Professor Michael Grimes Student Prize: Ciara Tobin (School of Microbiology)
The Johnson & Johnson Award for Excellence in Biotechnology (School of Microbiology)
The Microbiology Society Prize: Leah McPhillips (School of Microbiology)
SuperValu Award for Excellence in Food Microbiology: Meghana Srinivas (School of Microbiology)
Eli Lilly Award for Excellence in Process & Chemical Engineering (2nd Year): Emer Sweetnam (School of Engineering & Architecture)
Eli Lilly Award for Excellence in Process & Chemical Engineering (3rd Year) : Anna O'Sullivan (School of Engineering & Architecture)
Eli Lilly Award for Excellence in Process & Chemical Engineering (4th Year): Niamh Kelly (School of Engineering & Architecture)
Eli Lilly Award for Excellence in Process & Chemical Engineering (5th Year): Sarah Cooke (School of Engineering & Architecture)
The Joe Gantly Prize in Engineering: Eoin Crowley (School of Engineering & Architecture)
National University of Ireland Travelling Doctoral Studentship in Theoretical Physics: Niall Kennedy (Department of Physics)
Regeneron Ireland College Awards: Process Sciences Award: Alice Kenrick (School of Biochemistry & Cell Biology)
Regeneron Ireland College Awards: Process Sciences Award: Ian O'Shea (School of Biochemistry & Cell Biology)
Regeneron Ireland College Awards: Quality Assurance Award: Sarah Hannan (School of Biochemistry & Cell Biology)
Professor Art Champlin Gold Medal Award: Niamh Casey (School of Biochemistry & Cell Biology)
Eli Lilly Undergraduate Award for Academic Excellence in Second Year Biochemistry: Donagh Gribbon (School of Biochemistry & Cell Biology)
Eli Lilly Undergraduate Award for Academic Excellence in Third Year Biochemistry: Stephen O'Shea (School of Biochemistry & Cell Biology)
Eli Lilly Postgraduate Award for Academic Excellence in Biotechnology: Sam Seymour (School of Biochemistry & Cell Biology)
O'Connor Scholarship: Sarah Kate O'Connor, MSc Biotechnology
Quercus University Scholarfor the College of SEFS: Andrew Nash (School of Computer Science & Information Technology)
Janssen Strategic Science & Technical Operations Work Placement Award: Jessie Perez Hourigan (School of Biochemistry and Cell Biology)
Janssen Strategic Science & Technical Operations Education Award: Roisin Keady (School of Microbiology)
Lilly Research Scholarship Winner 2020-21 - James Harte (Biomedical Science)
Lilly Research Scholarship Winner 2020-21 - Aoife Slyne (Physiology)
College of SEFS Sustaining Excellence Scholarship Winner: Ibrahim Ramadhani Msuya (School of BEES)
College of SEFS Sustaining Excellence Scholarship Winner: Dingani Chinula (School of BEES)
Postgraduate Research Publication of the Year: Louise Archer (School of BEES)
Postgraduate Research Publication of the Year: Sergi Gomez Quintana (School of Engineering & Architecture)
Postgraduate Research Publication of the Year: Pierce Ryan (School of Mathematical Sciences)
Postgraduate Research Publication of the Year: Kevin Sheehy (School of Chemistry)
Postgraduate Research Publication of the Year: Djordje Dangic (Tyndall National Institute)
Postgraduate Research Publication of the Year: Darijo Raca (School of Computer Science & Information Technology)
Postgraduate Research Publication of the Year: Julia Eckenberger (School of Microbiology)
Postgraduate Research Publication of the Year: Chris Whitty (Department of Physics)
Postgraduate Research Publication of the Year: Martin Vogelsang-O'Dwyer (School of Food & Nutritional Sciences)
Postgraduate Research Publication of the Year: Leonie Rieger (School of Biochemistry & Cell Biology)
The Annual Student Nominated Outstanding Teaching Staff Award (Academic) 2020 Runner Up: Jean O'Dwyer (School of BEES)
The Annual Student Nominated Outstanding Teaching Staff Award (Academic) 2020: Stuart Collins (School of Chemistry)
The Annual Student Nominated Outstanding Teaching Staff Award (Technical / Laboratory Running) 2020: Carmel Shortiss (School of Microbiology)
The Annual Student Nominated Outstanding Teaching Staff Award (Technical) 2020: Trevor Carey (School of Chemistry)
The Annual Student Nominated Outstanding Staff Award 2020 (Administration): Gerry McCarthy (Cork Centre for Architectural Education)
The Annual Student Nominated Outstanding Student Demonstrator Award 2020: Niamh O'Mahoney (School of Chemistry)
SEFS Graduate of the Year Runner Up 2020: Emma Lyons, BSc Genetics
SEFS Graduate of the Year 2020: Conor Healy, BSc Electrical and Electronic Engineering
University Graduate of the Year 2020: Ciara Judge BSc Genetics