News
News
IGNITE Applications Now Open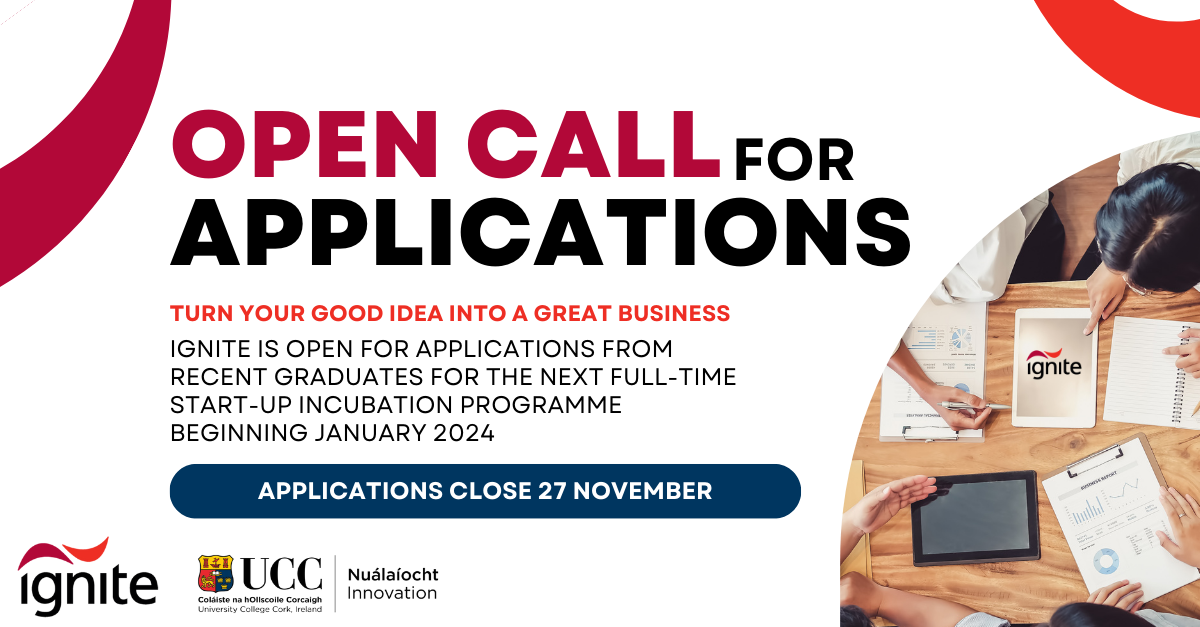 Monday 27 November 2023 is the closing date for applications for the next intake of participants for the next IGNITE programme which gets underway in January 2024.
The IGNITE programme is open to recent graduates in any discipline, from any third level Institution in Ireland, who have the passion and ambition to work full-time on a scalable start-up idea that has potential for economic, environmental or social impact.
It includes essential workshops and seminars, entrepreneur guest speakers, mentoring with experienced entrepreneurs and business owners, funding and workspace offered on a flexible basis so you get the skills and knowledge, advice and guidance you need when you need it.
And we don't take equity in your start-up.
IGNITE has been in existence since 2011 and we have worked with almost 120 start-ups, including:
Conor Lyden, founder of Trustap. Trustap is a peer to peer escrow style payment platform. Conor completed a BE (Civil, Structural and Environmental Engineering) in 2016 at University College Cork."Without IGNITE and all of the people involved I simply would not have my own business"
Marion Cantillon, founder of Pitseal. Pitseal is an edible biofilm that replaces plastic sheeting in the silage process to reducing plastic waste and improve greenhouse gas emissions in farming. Marion completed a BSc Food Marketing and Entrepreneurship at University College Cork in 2020. "When I started IGNITE, all I had was an idea in my head; and now that I'm nearly finished, I have a product, a company and, most importantly, a clear plan for the future as well as a support network I can always count on. IGNITE helped me bring my product to life whilst providing me with the advice and guidance to navigate through any challenges that may arise."
Dr Fiona Edwards-Murphy, co-founder of ApisProtect. The company uses Internet of Things (IoT) technology to monitor honey bee colonies. The company raised €1.5M in 2018 to deploy the system in the U.S and is currently monitoring 100 million honeybees worldwide. Fiona was recently listed on Forbes 30 under 30. Fiona completed a BE (Electrical and Electronic Engineering) at University College Cork and a PhD with the Embedded Systems group in Electrical and Electronic Engineering and the School of Biological, Earth, and Environmental Sciences (BEES) at University College Cork. "IGNITE really helped me to develop my pitching skills, I've gone from afraid to stand up and talk in front of a single person to pitching to over 400 people"
Key Dates:
Closing date for applications is Monday 27 November at 23.00
Interviews for those shortlisted: Monday 4 December
Programme Start Date: Monday 8 January