News
News
IGNITE Alum Wins Start-Up Of The Year at UCC Research Awards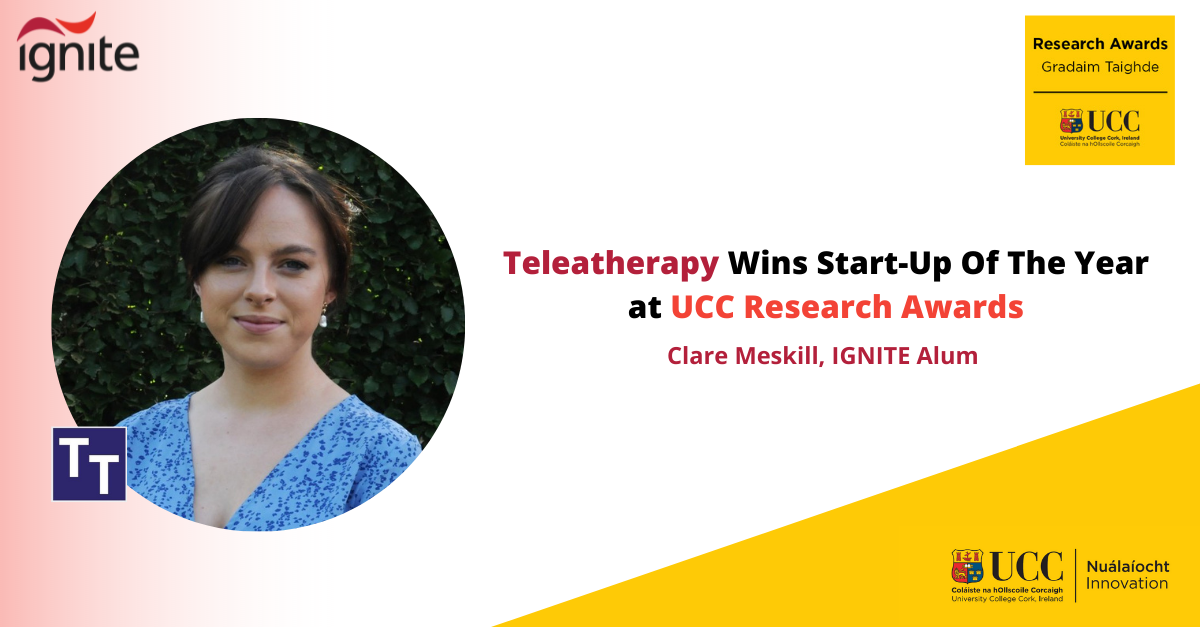 Clare Meskill, IGNITE Alum and founder of Teleatherapy, won the Start-up of the Year Award at the 2021 University College Cork Research Awards.
The Awards event which celebrates excellence in Research and Innovation took place on the first of June at the Glucksman Gallery.
Teleatherapy is a MedTech company that provides voice therapy to individuals with Parkinson's disease. Early intervention and a holistic approach are essential for this cohort of patients, which are difficult to access in strained healthcare systems. Teleatherapy aims to bridge this gap by providing remote early intervention for patients' Speech and Language Therapy, Physiotherapy and Occupational Therapy.
There were 20 awards, which included 5 innovation awards:
Innovator of the Year 2021 was awarded to Dr Frank Peters
Consultancy Project of the Year 2021 was awarded to Dr K. Neville CRBC: COVID Response Team.
Licence Team of the Year 2021 was awarded to Anthony Morrissey, David McGovern, Ray Burke.
Spin-out company of the Year 2021 was awarded to Dr. Declan Soden - Mirai Medical
Start-up of the Year 2021 was awarded to Clare Meskill- Teleatherapy
UCC Vice President for Research & Innovation Professor John Cryan congratulated the award winners. "UCC is a research intensive university and these awards are about acknowledging the outstanding contributions made by our researchers locally, nationally and globally".
The awards presented on the night included:
| | |
| --- | --- |
| Award | Winner |
| Researcher of the Year 2021 | Professor Justin Holmes |
| Early Stage Researcher of the Year 2021 | Dr Carlos Garrido Castellano |
| | Dr Maria Rodriguez Aburto |
| Research Support Person of the Year 2021 | Dr Louise Burgoyne |
| | Saba Loftus |
| Research Supervisor of the Year 2021 | Dr Ronan Carbery |
| Research Communicator of the Year 2021 | Dr Paul Deane |
| Innovator of the Year 2021 | Dr Frank Peters |
| Research Award for Open Science 2021 | Dr K. Matvienko-Sikar - PaPOR TraIL |
| Consultancy Project of the Year 2021 | Dr K. Neville CRBC: COVID Response Team |
| Creating a Culture for Responsible Conduct of Research 2021 | The Social Research Ethics Committee |
| Best publication of the Year involving an Undegraduate student as an author 2021 | Jennifer Murphy |
| | Thomas P Sheerin |
| Best Research Team 2021 | The Marine Ecology Group led by Dr M. Jessops - |
| | The Pregnancy Loss Research Group led by Dr Keelin O' Donoghue |
| Career Achievement Research Award | Professor Ivan Perry |
| Research Image 2021 | Dr Vuslat Juska |
| Licence Team of the Year 2021 | A. Morrissey, D. McGovern, R. Burke |
| Engaged Research of the Year 2021 | Prof. Brian Ó Gallachóir -Dingle Peninsula 2030 |
| Vice President for Research & Innovation Award for Interdisiplinary Research 2021 | Prof P. Ó Macháin, Dr D. Iacopino |
| Research Collaboration of the Year 2021 | Dr Gerard McGlacken |
| Spin-out company of the Year 2021 | Dr. Declan Soden - Mirai Medical |
| Start-up of the Year 2021 | Clare Meskill - Teleatherapy |
| Presidents Award for Research Impacting the Sustainable Development Goals 2021 | Dr. Ger Mulally - Imagining 2050 |