News
News
Guest Lecture | Thursday 20th February | 4pm | ORB1.24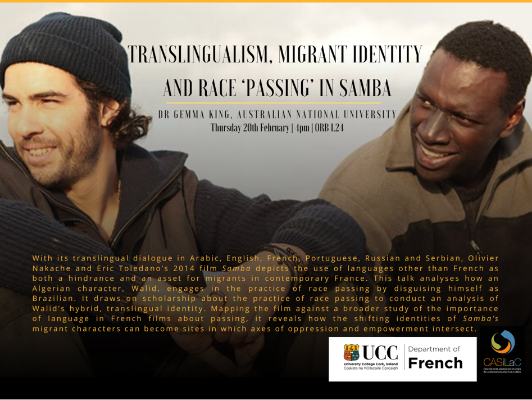 All are welcome to attend the following seminar organised by the French Department:
Translingualism, Migrant Identity and Race Passing in 'Samba"
With its translingual dialogue in Arabic, English, French, Portuguese, Russian and Serbian, Olivier Nakache and Eric Toledano's 2014 film Samba depicts the use of languages other than French as both a hindrance and an asset for migrants in contemporary France. This talk analyses how an Algerian character, Walid, engages in the practice of race passing by disguising himself as Brazilian. It draws on scholarship about the practice of race passing to conduct an analysis of Walid's hybrid, translingual identity. Mapping the film against a broader study of the importance of language in French films about passing, it reveals how the shifting identities of Samba's migrant characters can become sites in which axes of oppression and empowerment intersect.
Dr Gemma King is a Senior Lecturer in French at the Australian National University. Her research focuses on contemporary cinemas and museums, specialising in the representation of multilingualism, colonial histories, violence and social power. Her first book, Decentring France: Multilingualism and Power in Contemporary French Cinema was published with Manchester University Press in 2017 and she is currently working on the book Jacques Audiard for Manchester's French Film Directors series.