News
News
Food Innovation Showcase, 24 May 2016 - Bare Bites wins annual trophy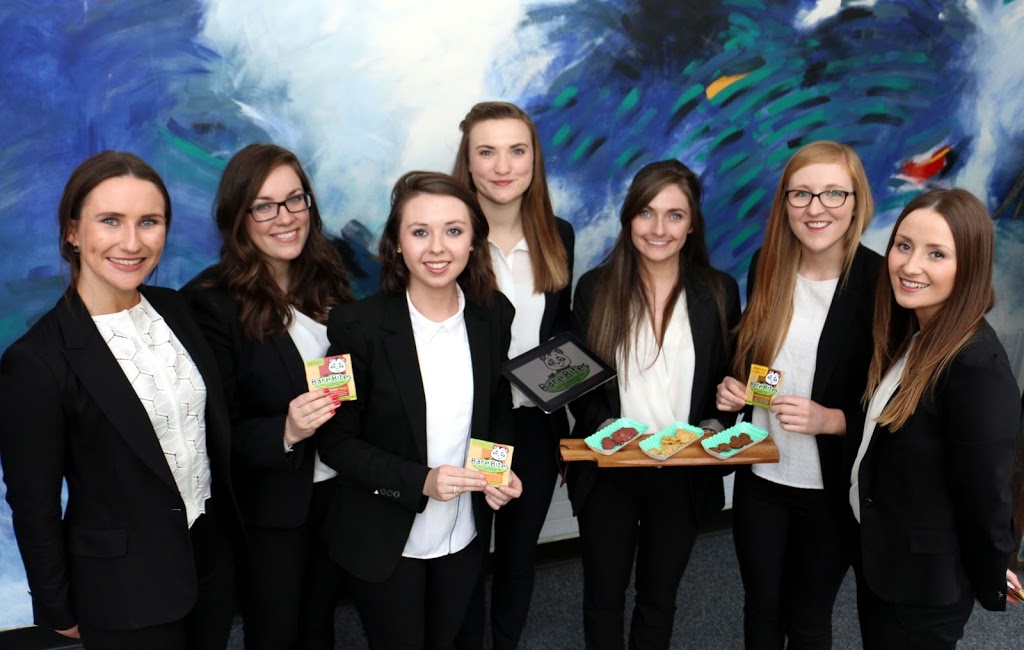 On 24th May, teams of students from the BSc Food Science and BSc Food Business degrees programmes at UCC displayed their work during the year to develop new food products and commercialisation strategies as part of their final-year research projects.
These innovative projects help to develop the entrepreneurial, critical thinking and team-working skills of graduates, to better equip them with skills needed in the modern food industry. Each project team investigates all aspects of the formulation, processing, quality, stability and packaging of their product, carry out market research and prepare financial plans for industrial production.
The Food Innovation Showcase, held on 24th May, is the culmination of these projects, and involves the students presenting their projects to an audience of their peers, UCC staff, and a wide range of invited guests from the food industry, agencies and small business. Over 120 attended the event, including Dr Michael Murphy, President of UCC, and heard the students describe their products and present samples to taste.
The Showcase also included a competition element, in which the eight teams competed to impress judges with their entrepreneurial skills and the innovation of their product, and on the basis of this the evening formally ended with the award of the UCC product innovation trophy to the team who the judges believe were most successful in combining business and scientific and technical disciplines to bring forward a promising new food product.
This year, the winning team developed Bare Bites, a superfood ambient snack product that is gluten-free and suitable for vegetarians. The product is an innovative and fun crunchy snack, and is prepared by combining fruit, oat bran, protein and coconut, followed by baking, cooling and packaging. The product was formulated in three flavours, Berry, Tropical and Cacao, and is aimed at the juvenile market (4-7 years of age); this is reflected in their attractive packaging, featuring Theo, their eye-catching mascot.
Second prize went to Thrive, a whey-based fruit drink, while third prize went to Berky Bar, an innovative meat snack.
The judges this year were Ben Itty (Adjunct Professor, Department of Food Business and Development and Amber Consulting), Claire Nash (Nash 19), John Hunter (Moorepark Technology Ltd.), and Adrienne Rodgers (Local Enterprise Office, Cork City), and the event was sponsored by the Local Enterprise Office, Cork City.
The skills acquired during these projects and event have been widely recognized by employers, and teams who have won the Product Innovation Trophy have in the past gone on to further success at UCC (Entrepreneur of the Year Awards) and nationally (Enterprise Ireland student innovation awards).
Food Innovation Showcase Organisers:
Professor Alan Kelly, School of Food and Nutritional Sciences, UCC
Dr Joe Bogue, Associate School of Food Business and Development, UCC
http://www.irishexaminer.com/ireland/ucc-food-students-on-cutting-edge-402224.html