News
News
Dawn Meats Great Agri-Food Debate 2019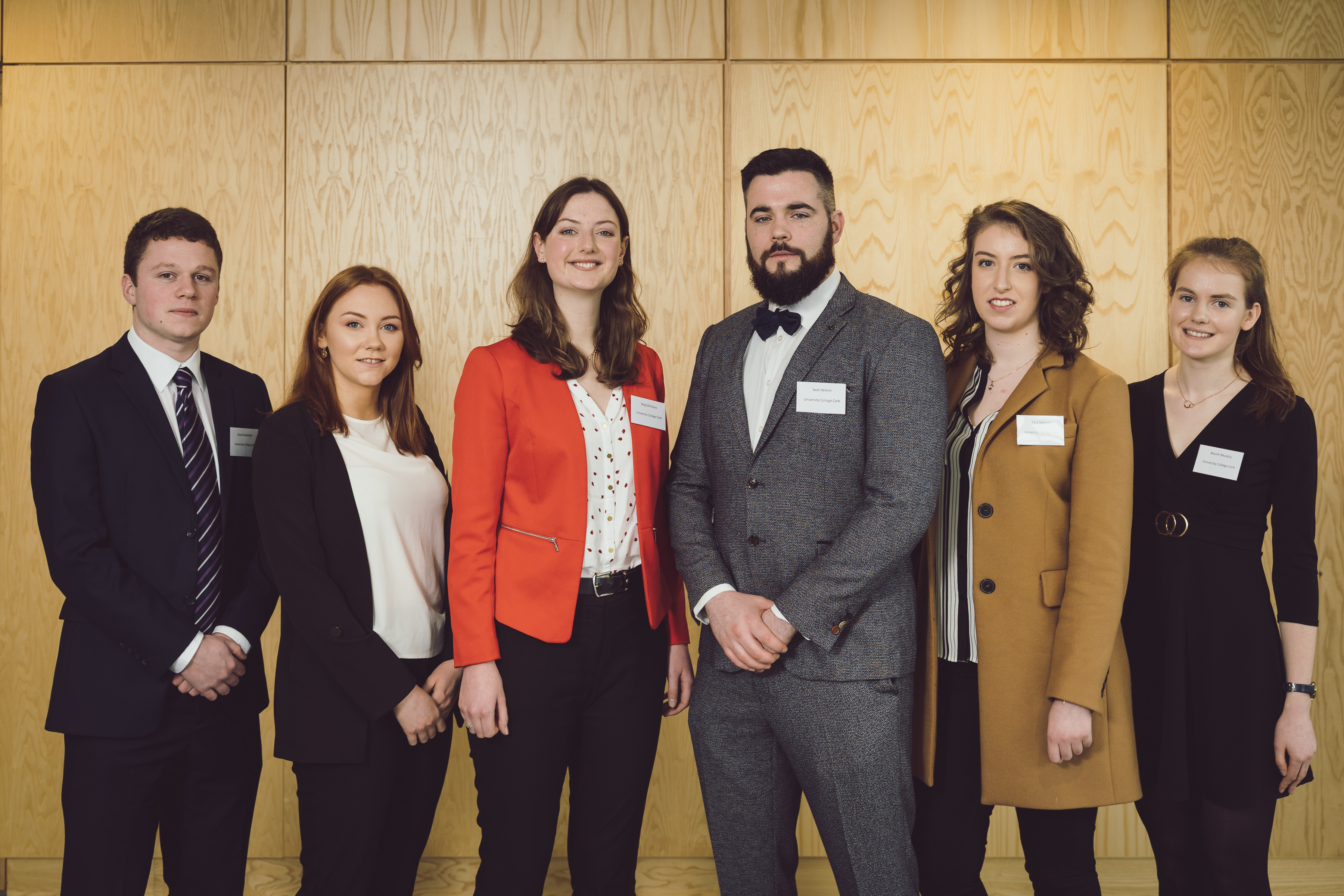 On Thursday 14th February, the UCC School of Food and Nutritional Sciences took part in the annual Dawn Meats Great Agri-Food Debate hosted by Waterford Institute of Technology
The competition saw a record number of teams competing including Waterford Institute of Technology, University College Dublin, Cork Institute of Technology, Queen's University Belfast, IT Tralee and CAFRE-Loughry Campus. The team organised Prof. Alan Kelly and Dr. Alan Collins consisted of Meg Minihane (Nutritional Sciences), David Sweetnam, Kate Rogers, Seán Wrenn and Tara Delaney (Food Science), and Niamh Murphy (Food Marketing and Entrepreneurship).
The theme of this year's competition was sustainable agriculture, and included motions such as "Farming in Ireland should be scaled back to meet climate change commitments," with the final debate being "Vegan diets are better for people and planet". Judges and moderators included industry representatives from sponsors Dawn Meat and McDonalds, as well as the Dept. of Agriculture, Food and the Marine, FSAI, Bord Bia, Enterprise Ireland, the IFA and many more. Tara McCarthy, CEO of Bord Bia, moderated the final debate.
As Dundalk IT pulled out from the competition at the last minute, UCC were awarded a bye straight into the semi-final, meeting WIT on the topic "Farm Supports Drive Sustainable Agriculture", with UCC proposing the motion. Although the team did not secure a win in the semi-final, they put forward a great argument with the result coming down to a split decision by the judges. Team captain Meg Minihane won the best speaker award.
Although the team was disappointed not to reach the final, everyone involved thoroughly enjoyed the opportunity to take part in the high profile competition, which raised important issues and ethical concerns including sustainability which one team member in particular is passionate about. The team would like to thank Prof. Alan Kelly, Dr. Alan Collins and the school of Food and Nutritional Science for their support, including Dr. Alice Lucey, Dr. Tom O' Connor and Prof. Kevin Cashman who assisted them in developing their arguments. They would also like to thank Prof. Thia Hennessy and Prof. Mary McCarthy of Cork University Business School, UCC for their time and expert knowledge in helping to prepare arguments, and Dr. Seán Ó Conaill from the UCC School of Law who gave the team valuable insights into the tactics and skills needed for debating.