Latest Updates
Latest Updates
When they met, it was murder!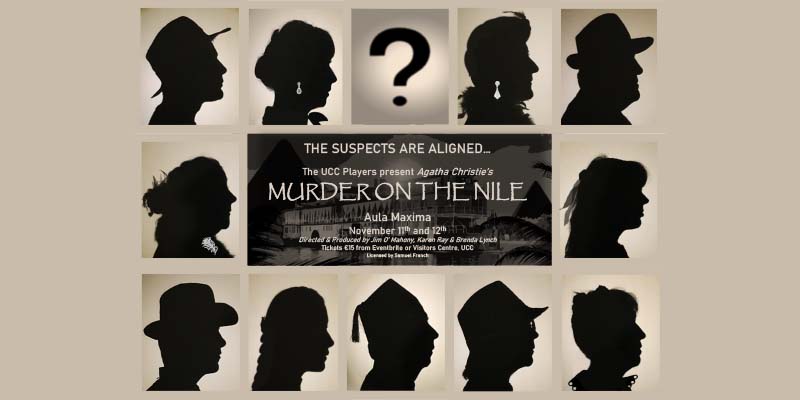 UCC Players have released a new trailer in the run up to their production of Agatha Christie's Murder on the Nile on 11-12 November in the Aula Max.
It is over 80 years since Agatha Christie wrote her bestselling novel "Death on the Nile", which is about to be adapted into a much anticipated screen version featuring Kenneth Branagh in the lead role.
UCC audiences will have a rare opportunity to witness a live production of the stage version well in advance of the Hollywood release. It takes place in the magnificent Aula Maxima this coming November (11th and 12th) and is the latest in a long line of successful productions undertaken by the UCC players
In typical Christie style, the play introduces her unpredictable collection of suspicious and intriguing characters aboard 'The Lotus" paddle boat steamer. As you would expect, everything is not as it seems and it is not long before the characters' true intentions are revealed. No one is above suspicion, leaving the audience in suspense throughout.
We are delighted to say that tickets have been selling extremely well, with only a small number still available from Eventbrite.ie or the Visitors Centre UCC.
Check out our trailer:
For more on this story contact: