News
News
Iris Ashley Cummins (1894–1968) - BE (1915), BSc Honoris Causa (War degree, 1918)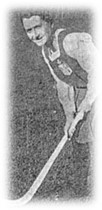 You might like to know a little about a remarkable graduate of UCC, being highlighted this week in the conferring booklet.
A pioneering civil engineer and inspirational International hockey player, Iris entered UCC in 1912, a time when there were comparatively few female students. She studied engineering and became active in college life. During her time in UCC she edited the Journal of the Engineering Society, put herself forward in student elections, played sportand contributed to debate & discussion, reading a paper on 'Women in the Learned Professions'. She graduated BE in 1915, the first female engineer from UCC and only the second in Ireland.
She played senior hockey for Cork Ladies, Munster, UCC and Ireland. She captained UCC, leading them to victory in the Munster Cup and played for Ireland until 1929. In 1925 she captained the Irish hockey team on their first tour of the USA and they swept all before them, being undefeated and scoring 100 goals. The team were feted everywhere they went and were received by President Calvin Coolidge in the White House.
After graduation, she began her engineering career during WW1, which allowed her to break into previously all-male industrial environments. She worked in munitions production: the Royal Arsenal, Woolwich, London; at Vickers in Erith and in a shipyard in Scotland. After the war, she returned to Cork but the economy was depressed and women had few opportunities in 'male' professions like engineering. However, she set up her own private practice and in 1927 was appointed to the Irish Land Commission as the first woman Land Surveyor. In that same year she became the first woman admitted to the Institution of Civil Engineers of Ireland. She lived in Dublin and served with the Land Commission until she retired in 1954.
Iris was born on the 6th of June 1894 into a remarkable family. Her parents were William Edward Ashley Cummins, Professor of Medicine at UCC (UCC's first international rugby cap) and Jane Cummins (née Hall). An uncle, Henry, was Professor of Botany and Agriculture in UCC. She died 30 April 1968 in Dublin and is buried with many of her family at St. Lappan's Church, Little Island, Co. Cork.
Adapted from the entry by Lindsey Earner-Byrne in the Royal Irish Academy's 'Dictionary of Irish Biography'.
Photo: Irish Independent, 14th November 1939.