2017 Press Releases
2017 Press Releases
UCC economist appointed chair of Fiscal Advisory Council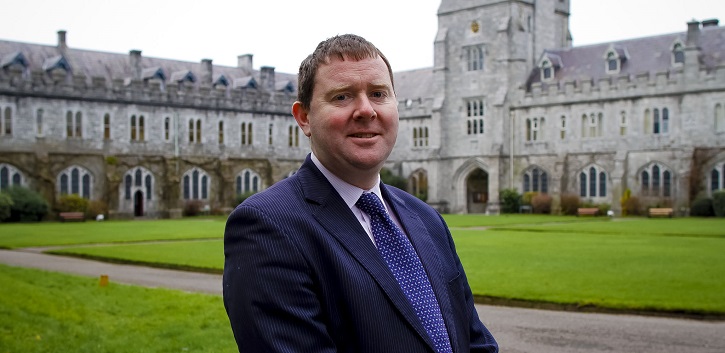 UCC economist Seamus Coffey has been appointed as the new Chairperson of the Irish Fiscal Advisory Council.
The Minister for Finance Michael Noonan T.D. appointed Coffey to replace Professor John McHale in the role, which became effective on January 1, 2017.
The Minister has appointed Martina Lawless as a new member of the Irish Fiscal Advisory Council. Lawless' appointment, following an open selection process, is for a period of four years with effect from 1 January 2017.
Sebastian Barnes has been reappointed to the Council by Minister Noonan. Barnes, a serving Member of the Irish Fiscal Advisory Council Member, has been re-appointed for a further four-year term.
Speaking about the appointments Minister for Finance, Michael Noonan T.D. said: "I congratulate Mr. Seamus Coffey on his appointment as Chairperson of the Irish Fiscal Advisory Council. I also welcome the appointment of Ms. Martina Lawless and the re-appointment of Mr. Sebastian Barnes as Members of the Fiscal Council. I wish them well in these important roles."
"I also wish to express my appreciation to the outgoing Chairperson of the Council, Professor John McHale, who has served in the role since the Council's establishment in 2011. Under Professor McHale's stewardship, the Council has established itself as a well-known and independent voice on fiscal affairs."
Coffey is on sabbatical from his position as Lecturer in Economics in University College Cork. He has written and presented extensively across a broad range of topics relating to the performance and management of the economy.
A lot of his work has focused on the fiscal side of the Irish economy including examining budgetary outturns, determining effective tax rates, analysing fiscal rules and exploring their possible consequences for Ireland. He holds a Master's Degree in Economic Science and a Bachelor of Commerce, both from University College Cork.