2017 Press Releases
2017 Press Releases
A Poem on Women's Christmas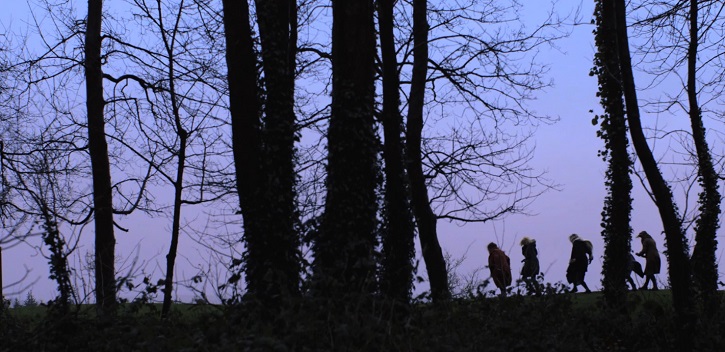 Oíche Nollaig na mBan, Women's (or Little) Christmas Night, the eve of the Epiphany, marks the end of the festive season.
In this poem of early 1947, Seán Ó Ríordáin, listening in the isolation of his sick-room, seems almost to rejoice in the wild madness of the storm. His wish that he himself be swept up in a similar storm, while returning exhausted from the dance of life, would not be fulfilled. When the end finally came thirty years later it was a much more drawn-out affair of which he was painfully conscious.
Emeritus Professor of Modern Irish, Seán Ó Coileáin.
Oíche Nollaig na mBan
Bhí fuinneamh sa stoirm a éalaigh aréir,
Aréir Oíche Nollaig na mBan,
As gealt-teach iargúlta atá laistiar den ré
Is do scréach tríd an spéir chughainn 'na gealt,
Gur ghíosc geataí comharsan mar ghogallach gé,
Gur bhúir abhainn shlaghdánach mar tharbh,
Gur múchadh mo choinneal mar bhuille ar mo bhéal
A las 'na splanc obann an fhearg.
Ba mhaith liom go dtiocfadh an stoirm sin féin
An oíche go mbeadsa go lag
Ag filleadh abhaile ó rince an tsaoil
Is solas an pheaca ag dul as:
Go líonfaí gach neomat le liúraigh ón spéir,
Go ndéanfaí den domhan scuaine scread,
Is ná cloisfinn an ciúnas ag gluaiseacht fám dhéin,
Ná inneall an ghluaisteáin ag stad.
Women's Christmas Night (translation by Seán Ó Coileáin)
The storm that blew with such fury last night,
Women's Christmas Night,
Escaped from some remote madhouse behind the moon
And came screaming as a lunatic through the sky.
Neighbours' gates grated like the gaggling of geese,
The throaty river roared like a bull;
My candle was quenched like a blow on the mouth
That ignited a sudden spark of anger.
I would wish that same storm to return
On the night when I am feeble,
Returning home from the dance of life
As the light of sin is fading,
So that every moment be filled by shouting from on high,
That the whole world become one uproarious din,
And that I would not hear the silence approach
Or the engine of the car cutting out.
Seán Ó Coileáin (@roinngaeilge) on Seán Ó Ríordáin's "Oíche Nollaig na mBan" (1947), the inspiration for Oonagh Kearney's award-winning film https://t.co/WrwTwqx2Ig

— Irish Studies at UCC (@IrishStudiesUCC) January 6, 2017
UCC alum, Oonagh Kearney produced a film based on Seán Ó Ríordán's poem
LISTEN: @OonaghKearney @UCCAlumNetwork talks about her film on #womenschristmas poem on @morningireland @RTERadio1 https://t.co/mulOCJZ8UA pic.twitter.com/oQd02loA9c

— UCC Ireland (@UCC) January 6, 2017
The film Oíche Nollaig na mBan/Women's Christmas Night was commissioned for a special season of TG4 Splanc! to celebrate and commemorate 2016 in art, in light of the centenary commemorations of the Easter 1916 Rising. Working with Ballyphehane Presentation School Choir and an inter-generational cast of female performers in Cork, the film offers a visual response to Seán Ó'Ríordáin's poem. It has garnered six awards already.
A review by Frieze Art Magazine (Dec 2016) comments:
"Based on an Irish language poem of the same name by Seán Ó Ríordáin, in which the poet describes a storm of energy erupting on the night of Women's Christmas (traditionally celebrated on 6 January), Kearney conveys a vibrant, irreverent, revolutionary vitality that won't be suppressed…" More https://frieze.com/article/critics-guide-dublin-0
The film was written, directed and produced by Oonagh Kearney and includes the participation of several UCC students, graduates and staff including Dr Jean van Sinderen Law, Poet Theo Dorgan, Sound Designers EatMyNoise (Peter Power & David Duffy), Graduates Ruth O'Connor, Orla Kelly-Smith, Cliodna O'Brien, Fiona Kelly and Gill Fallon. The translation of the poem in the film is by Theo Dorgan.
To read more about Oonagh Kearney's projects visit her website : www.oonaghkearney.com
For more information about the poet Seán Ó Ríordáin read http://www.ucc.ie/en/about/uccnews/fullstory-717872-en.html
For more about Irish at UCC visit http://www.ucc.ie/en/modern-irish/ or http://www.ucc.ie/en/smg/ or http://www.ucc.ie/en/irishstudies/
For more on this story contact:
Ruth Mc Donnell, Head of Media and PR, Office of Marketing and Communications, UCC Mob: 086-0468950