2016 Press Releases
2016 Press Releases
UCC supports Cork City FC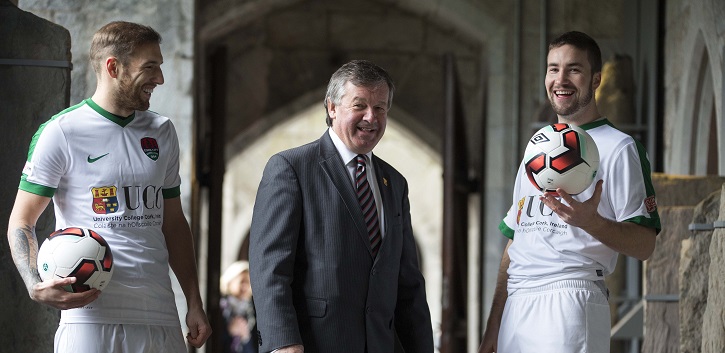 A comprehensive partnership agreement between University College Cork, Mardyke Arena and FAI Cup Winners, Cork City Football Club has been announced this week.
The three-year agreement represents a significant sponsorship deal for Cork City FC with UCC and the Mardyke Arena, including front and rear jersey sponsorship, player fitness, training and rehabilitation support and university scholarships and educational supports for Cork City FC players.
"Sport is at the heart of UCC along with passion, commitment and the pursuit of excellence. Working with Cork City Football Club in recent years, we have seen how our values are very much aligned. The announcement today represents a real deepening in our partnership, which goes beyond typical sponsorship deals. It reinforces our shared belief that sport and education together are a winning combination for success. We are delighted to strengthen our partnership with Cork City FC and look forward to an exciting three years together," said UCC President Dr Michael Murphy.
.@UCC President Dr Michael Murphy: "The skull and crossbones and the Rebel Army are marrying." pic.twitter.com/TUgeAjU8LP

— Cork City FC (@CorkCityFC) November 21, 2016
Cork City Football Club players, Gearoid Morrissey and Karl Sheppard, were among the players on campus to welcome the announcement and to showcase the new season's white Cork City FC jersey with UCC branding on the front and the Mardyke Arena on the back of the jersey. The partners' brands will appear on the club's jersey for three years from 2017 to the end of 2019.
Welcoming the announcement, Chairman of FORAS Trust and Cork City Football Club, Pat Lyons said, "Our partnership with UCC and the Mardyke Arena ensures that Cork City FC is once again setting a new standard for success. Working together over the last four years, we have leveraged the superb facilities at UCC and the Mardyke Arena for our players. Certainly this has helped us achieve our success to date, including winning the FAI Cup this year. Now, together with UCC, we are building further on our player development, availing of the extensive research network, data analytics and creating pathways for juniors, senior and retiring players in education for their sporting and personal development as well as their future careers."
.@UCC and @CorkCityFC announce partnership: 'The skull and crossbones and the Rebel Army are marrying' https://t.co/XHmgtuqfAJ pic.twitter.com/ZrI1xBG58x

— Irish Examiner (@irishexaminer) November 21, 2016
"Giving players, coaches and the performance team of Cork City FC access to the world class sporting facilities here at the Mardyke Arena will undoubtedly give Cork City FC increased fitness and rehabilitation capacity. As a centre for sporting excellence, we too share the same passion and commitment as the winning Cork team, and we look forward to working with players, coaches and managements for the coming seasons," said Mr Diarmuid Collins, Chairman of the Mardyke Arena and Chief Financial Officer, UCC.
Media: For more information contact Deirdre Connolly, CAMEO Communications Mob: 085.2449804 Email: Deirdre@cameo.ie