2016 Press Releases
2016 Press Releases
UCC acquires John Minihan Photography Collection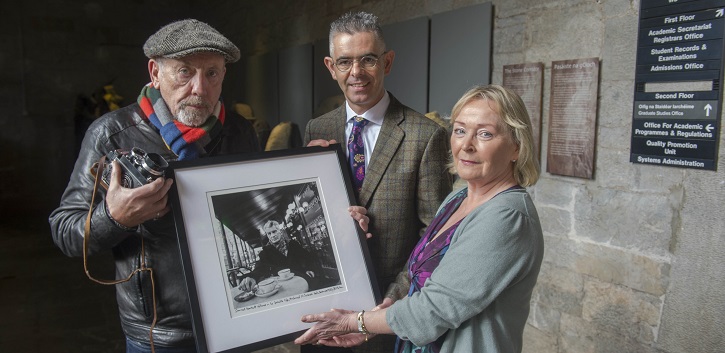 UCC Library has secured the photographic collection and archive of the photographer John Minihan, boasting some of the most memorable photographic images of the last century.
The collection comprises more than 30,000 original photographic negatives and prints, featuring iconic images of Samuel Beckett, Seamus Heaney, Francis Bacon, Edna O'Brien, Jimi Hendrix, The Who, Lady Diana Spencer and many other literary and cultural figures.
John Minihan's photo archive - @UCCLibrary has secured the photographer's collection https://t.co/vTFE6iYID5 via @IrishTimes #photography pic.twitter.com/Xx6VXbZFqu

— UCC Ireland (@UCC) November 17, 2016
John Minihan was born in Dublin in 1946 and raised in Athy, County Kildare. At the age of 12 he was brought to live in London where he became an apprentice photographer with the Daily Mail. At 21 he became the youngest staff photographer for the Evening Standard.
Delighted that UCC has acquired this important archive... https://t.co/G04D6gmldk via @IrishTimes

— FRANK MILLER (@millerfrank1) November 17, 2016
For 35 years he remained in London, returning every year to his hometown of Athy to record the people and their daily lives, producing many poignant images of a way of life that has permanently changed.
Irish photographer's collection of iconic images presented to UCC | Irish Examiner https://t.co/oas6FZtKA2

— John Finn (@carrigman) November 16, 2016
In over 50 years as a photographer, Minihan developed a close relationship with many writers. William S. Burroughs once referred to Minihan as "a painless photographer". It was the Athy photographs which presented the opportunity for Minihan to meet with Nobel Prize winner, Samuel Beckett. His friendship with Beckett produced some of the most remarkable photographs ever taken of the writer.
Life through a lens - Celebrated photographer John Minihan on some of his most famous photos - Irish Examiner https://t.co/DS4NEu7DtM

— cochesvoladores (@cochesvoladores) November 17, 2016
"I'm overjoyed University College Cork is championing film photography and deeply honoured they have acquired my photographic archive. It is incredibly important to me that my body of work, especially the Athy photographs which I think capture an Irish way of life that is now gone, and indeed an 'Irish face' that has changed forever, has found a permanent home in Cork," Minihan said.
"My film and print collection will now be preserved. Within the context of the University, I will have left perhaps some small legacy and provided a witness to the people and traditions that I have come from. Athy, of course, was my introduction to the great Samuel Beckett, and the telling of that story now rests with the archive at UCC."
See some of @UCC's collection of iconic John Minihan images https://t.co/V0xQEDKB5u (RM) pic.twitter.com/kIyFEIyBEM

— Irish Examiner (@irishexaminer) November 16, 2016
Minihan's work has been exhibited in many exhibitions in museums and galleries around the world including the Museum of Modern Art, Rio de Janeiro, 1984; the Centre George Pompidou, Paris 1986; the National Portrait Gallery, London and the October Gallery, London.
John Minihan has a deep affection for Cork and its people having lived in West Cork for a number of decades. The collection acquired by University College Cork includes much supplementary publicity material and ephemera produced using Minihan's photographs which the Skibbereen-based photographer has carefully collected during his career including publicity material for many Beckett plays.
UCC Library will list the collection and ensure its future preservation and digitisation as part of the University's unique and distinctive collections.
According to Crónán Ó Doibhlin, Head of Research Collections, UCC Library, the John Minihan Photographic Collection is an extremely important acquisition for the University. "In over 50 years as a working photographer, John Minihan has photographed many of the cultural icons of our time, producing a remarkable and varied body of work."
"This collection contains many familiar and surprising images, reflecting John's life journey as a film photographer. This is a collection of national and international significance, and UCC look forward to preserving and curating the collection for the Irish public and future generations of researchers."
@UCC to acquire the John Minihan photographic collectionhttps://t.co/PVQfM1FVSf pic.twitter.com/Tkc9BHzv12

— westcorktimes (@westcorktimes) November 16, 2016
John Minihan continues to work as a freelance photographer specialising in the arts. An exhibition of his work Minihan @70 will be on display at the United Arts Club, 3 Fitzwilliam Street Upper, Dublin 2 from November 17 for three weeks. RTÉ The Works Presents: John Minihan will be broadcast on RTÉ 1 on November 17 at 11.15pm.
This week on The Works Presents iconic photographer #JohnMinihan @johnkellytweets https://t.co/i0ZYWxXiNL pic.twitter.com/A6MwlRDJEz

— The Works Presents (@RTETheWorks) November 14, 2016
The Swinging 60's on film....Thurs 11.15pm @RTEOne The Works Presents #JohnMinihan @johnkellytweets @TheWho https://t.co/i0ZYWxXiNL pic.twitter.com/8DDoF0ZKJm

— The Works Presents (@RTETheWorks) November 15, 2016
Belfast Telegraph (November 17):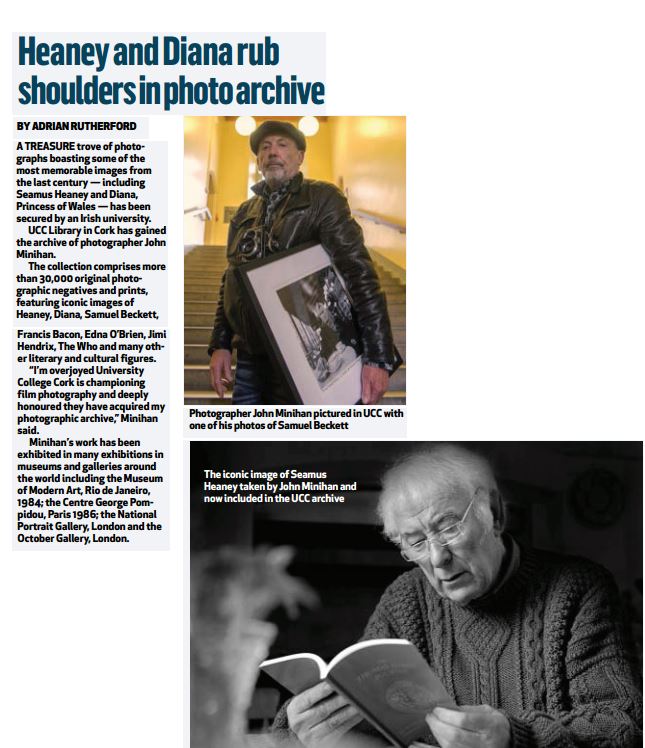 Irish Times (November 17, Page 3)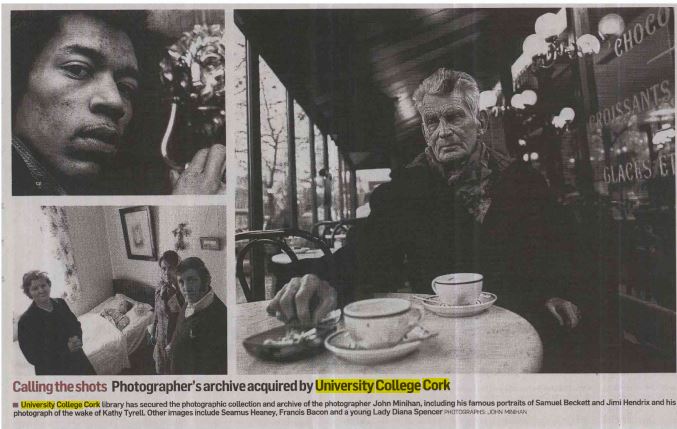 For media requests, contact Lynne Nolan, Media & PR Officer, UCC, on 087-2101119.