2015 Press Releases
2015 Press Releases
UCC congratulates Young Scientists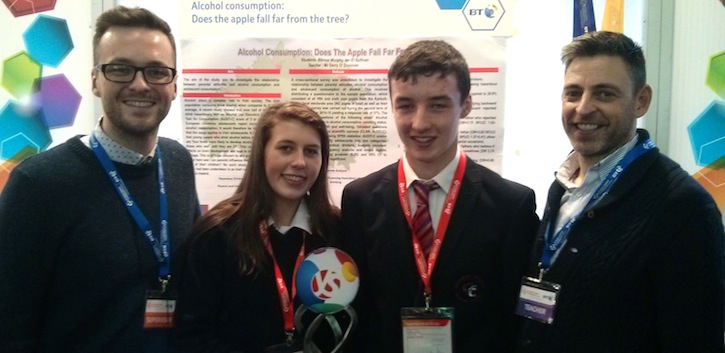 Ireland is abuzz with the news that the 2015 BT Young Scientist winners hail from Cork, marking the region out yet again as home to inspiring young people.
The ultimate winners of the BT Young Scientist and Technology Exhibition 2015 were Eimear Murphy and Ian O'Sullivan from Coláiste Treasa in Kanturk, Co. Cork with a project entitled: 'Alcohol consumption: Does the apple fall far from the tree?'.
President of UCC, Dr Michael Murphy, extended his congratulations to all who were involved in this year's competition, commenting that the remarkable group of young people behind some 550 projects were sure to make even bigger waves in the near future across the domains of science, technology, engineering, maths and the arts.
Legacy of George Boole lives on
Genius George Boole was on hand to watch the duo clinch the title (and hang out with sports presenter Marty Morrissey and broadcaster Gay Byrne). Boole, ably played by actor Leonard Connolly, mingled with the crowds and posed for 'Selfies' as he marvelled at the fantastic projects, many of which were influenced and informed by his groundbreaking work. UCC will spend 2015 celebrating the bicentenary of Boole, 1815-64. His influence is such that he has been called the father of the digital age. See more at GeorgeBoole.com.
Two legends meet! Look who George Boole ran into at the #BTYSTE! #ImAGenius #GB200 pic.twitter.com/EF8nD5dbWw

— George Boole 200 (@georgeboole200) January 9, 2015
What do George Boole & Gay Byrne have in common? Both have same initials & have done a lot of good. Pic at @BTYSTE. pic.twitter.com/DxgUGOL4rQ

— UCC Ireland (@UCC) January 12, 2015
Continuing the Cork connection, 2013 saw Émer Hickey, Sophie Healy-Thow & Ciara Judge from Kinsale Community School, Co. Cork win out. They also went on to win the Google Science Fair 2014 and have visited UCC a couple of times since.
The google science fair prize winners arrive for UCC openday #uccopenday @UCC pic.twitter.com/BvDdPfFa7m

— johalloran (@johbees) October 11, 2014
UCC community celebrates
The win is all the more special for the UCC community, given Eimear's father John works with UCC General Services.
Lovely to see UCC's John Murphy & wife Kate @RTENews their daughter won @BTYSTE with Ian O'Sullivan-Congrats! #BTYSTE pic.twitter.com/NNhUyjOEqX

— UCC Ireland (@UCC) January 9, 2015
Eimear and Ian also received support from PhD candidate Martin Davoren based in the Department of Epidemiology and Public Health in UCC and Dr Ann Hope of Trinity College Dublin.
Martin, who will shortly publish the findings from his PhD examining alcohol consumption among students, congratulated the team, commenting: "This study further highlights the need to tackle Ireland's complex relationship with alcohol through effective public health policy along with the policing of underage drinking."
Congrats #BTYSTE #BTYSE winners Eimear Murphy & Ian O'Sullivan! Also working with @MartinDavoren @dephUCC & Ann Hope @tcddublin on alcohol.

— UCC Ireland (@UCC) January 9, 2015
Another proud father is Head of UCC's Student Health Department, Dr Michael Byrne. His daughter Eithne is among a team of three from Carrigaline Community School in Cork (also including Eimear Brady and Jodie Meehan) who came 2nd in the Senior Social and Behavioural Sciences Category with: 'An investigation into the policies and practices of the management of anaphylaxis in an educational setting in Ireland'.
The Cork region has put in a strong performance over the course of the competition's history, as well as other parts of Munster, including Kerry and Limerick amongst others.
CAO/Postgraduate live online Q&As
With this good news for the Cork region and as the university celebrates the legacy and 200th birthday of George Boole in 2015, UCC is becoming even more attractive as a 1st choice CAO option for the next generation of independent thinkers. To that end, UCC wil be hosting two live online Q&A's in January/February with experts on hand equipped to answer any questions prospective students might have:
Thursday 29 January 4-5.30pm - 'CAO Deadline Approaching' (for prospective undergraduate students) in partnership with the

Irish Examiner and Pubble.

Tuesday 3 February,

1.10pm-1:50pm - UCC postgraduate programmes (with a spotlight on online offerings) (for prospective postgraduate students)
The standard of work on display across this year's BT Young Scientist event would certainly have impressed George Boole:
Did you see George Boole having fun at the #BTYSE over the weekend? Check out our photos: https://t.co/q6TZ6lMCq0 pic.twitter.com/byiMWc33qD

— George Boole 200 (@georgeboole200) January 12, 2015