2015 Press Releases
2015 Press Releases
Boole bound for BT Young Scientist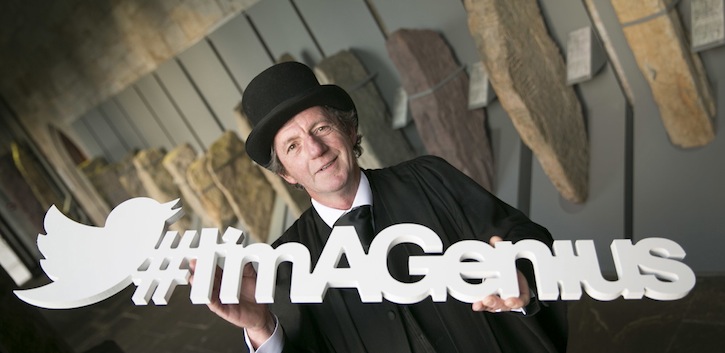 Genius Professor George Boole is set to attend the BT Young Scientist and Technology Exhibition 2015 this Friday/Saturday 9-11 January.
Professor Boole will interact with the crowds and marvel at the fantastic projects, some of which have been influenced and informed by his groundbreaking work. Attendees can enter to win prizes by taking a selfie with Boole and then sharing the picture on Twitter with the hashtag(s) #ImAGenius #GB200.
2015 will see UCC celebrating the bicentenary of Boole, 1815-64. Born in Lincoln, Boole was the first Professor of Mathematics (1849-64) at UCC. His work laid the foundations of the information age. His pivotal advances in mathematics, logic and probability provided the essential groundwork for modern mathematics, microelectronic engineering and computer science. His influence is such that he has been called the father of the digital age. UCC has planned a series of major events during the year to celebrate his 200th birthday. For more information, see GeorgeBoole.com
Actor Leonard Connolly from Cork is playing the role of Professor Boole, who will also appear in a forthcoming episode of RTÉ's Nationwide.
Heading to @BTYSTE? Meet George Boole in person & take a selfie to win prizes! #BTYSTE #GB200 #ImAGenius http://t.co/XSEmL8JDnJ

— George Boole 200 (@georgeboole200) January 8, 2015