2015 Press Releases
2015 Press Releases
QS top 50 for Pharmacy & Pharmacology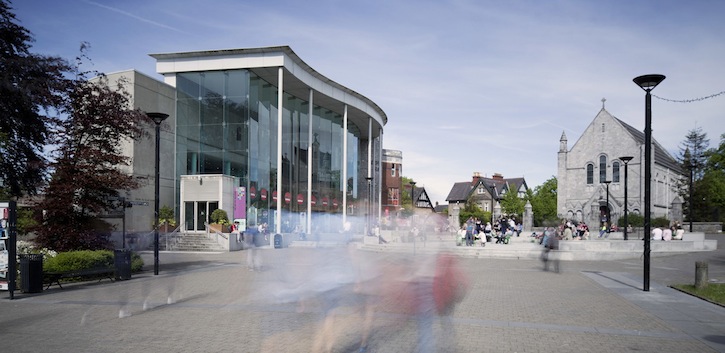 UCC's performance in the QS World University Rankings by Subject 2015 has reinforced its position as a leading university internationally, with 13 subject areas featuring in the top tier globally.
The Pharmacy & Pharmacology disciplines at UCC have ranked particularly well and are now listed within the top 50 worldwide.
13 UCC subject areas overall feature among the world's elite institutions in the latest QS Rankings by Subject, up from 10 in 2014, including (in no particular order):
English Language & Literature
History
Modern Languages
Computer Science & Information Systems
Engineering (Chemical)
Engineering (Electrical)
Biological Sciences
Medicine
Pharmacy & Pharmacology
Chemistry
Environmental Sciences
Physics & Astronomy
Law
Great day for @UCC School of Pharmacy as confirmed to be in the Top 50 pharmacy/pharmacology depts in the world pic.twitter.com/1qNHPeap7t

— Kieran Walsh (@KieranWalshMPSI) April 29, 2015
Beyond the significant rise of Pharmacy & Pharmacology to a top-50 position, Modern Languages, Engineering (Electrical), Biological Sciences and Law all make the top 150.
English Language & Literature, History, Engineering (Chemical), Medicine and Environmental Sciences all feature in the top 200. Computer Science & Information Systems and Chemistry are in the top 250, with Physics & Astronomy in the top 300.
The top 50 ranking for Pharmacy & Pharmacology at UCC comes as the School of Pharmacy embarks on a new integrated five-year Masters in Pharmacy, commencing in September 2015.
Professor Stephen Byrne, Head of School of Pharmacy and Chair in Clinical Pharmacy Practice at UCC, comments:
"I am delighted to see the influence that Pharmacy and Pharmacology has on a global basis, particularly acknowledging the impact of Pharmacy in the healthcare, industry and research arenas. Being ranked in the top 50 of the QS Rankings by Subject is an honourable recognition of the efforts of staff and collaborators in undertaking ground-breaking research, while delivering innovative research-led teaching to produce highly sought after graduates and postgraduates."
President of UCC, Dr Michael Murphy welcomed the good news, which follows swiftly on the heels of outstanding performances by UCC in the recent U-Multirank rankings (March 2015) and Universitas Indonesia (UI) Greenmetric World University Ranking (January 2015), as well as UCC's placement in the top 2% of universities worldwide, based on the quality of its research output (Leiden University Ranking 2014).
UCC was also named runner-up 'University of the Year' in The Sunday Times Good University Guide 2015, with its performance in research income per academic leading the field.
.@UCCHistory @UCC features among the world's elite institutions in the latest QS Rankings by Subject. #soproud https://t.co/DYkfIbyEuL

— History at UCC (@UCCHistory) April 29, 2015
Dr Murphy commented: "Such performances demonstrate that University College Cork remains in an excellent position to compete both nationally and internationally. It will further heighten UCC's reputation as an attractive option for study at all levels and serve to bolster the perception among employers that the high-quality of UCC's learning environment and student experience leads to work-ready and world-ready graduates."
Dr Murphy continued: "The news is particularly welcome given 2015 is a special year for UCC as it celebrates the bicentenary of genius George Boole, the first Professor of Mathematics at UCC, whose work laid the foundations for the information age and whose legacy surrounds us everywhere."
@uccchemistry @UCC Congratulations! #QSWUR

— World Uni Rankings (@worlduniranking) April 29, 2015
UCC in world's top 50 for subject rankings via Independent.ie http://t.co/geVeDmPAn6 #universityranking

— UCC Graduate Studies (@UCCGSO) April 29, 2015
Pharmacy @ucc ranked at number 49 in the QS World University rankings by subject https://t.co/ZUeiGbKz5s

— Cormac Gahan (@cormacgahan) April 29, 2015
Cake? #ICYMI UCC Pharmacy & Pharmacology now in global top 50 @TopUnis. 13 areas did well http://t.co/CwMFhFmIfY pic.twitter.com/4RxecT0LNl

— UCC Ireland (@UCC) May 5, 2015