2015 Press Releases
2015 Press Releases
EuroSoTL2015: Bridging boundaries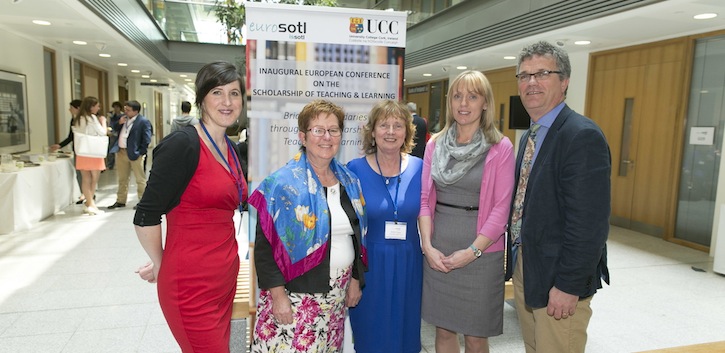 The inaugural European Conference on the Scholarship of Teaching and Learning (EuroSoTL2015), which was held in UCC recently, attracted over 300 delegates.
This was the first regional event of the International Society for the Scholarship of Teaching and Learning.
The delegates enjoyed two and a half days of stimulating debate on research and scholarship on many aspects of teaching and learning in Higher Education. They came from not only Europe, but as far afield as New Zealand, South Africa, Australia and Western Canada. All had a common focus – to improve student learning.
Welcome to @UCC #eurosotl15 delegates! Hope that you enjoyed the first sessions. See you all again tomorrow morning! pic.twitter.com/Nk2vc1sKBE

— CIRTL (@ionadbairre) June 7, 2015
The delegates included a number of postgraduate and undergraduate students who presented the results of their own emerging research into challenges in teaching and learning. During the conference, senior scholars shared their expertise with those new to the field, and encouraged open dialogue.
Teresa Redmond from NUIM on adjustment of CA in 1st year biology for more regular feedback n engagement #eurosotl15 pic.twitter.com/XXHhm1npbe

— Dave Otway (@silyld) June 9, 2015
With almost 100 oral presentations on offer and 50 poster presentations, many ideas and initiatives have now been shared around the world.
Well done to @sandraahern @johbees @MarianSOTL_UCC 4 super #EUROSOTL15 conference great to share work from @CUH_Cork pic.twitter.com/3B3FwWJ8x2

— Daniel Nuzum (@danielnuzum) June 9, 2015
UCC's Vice President for Teaching and Learning, Professor John O'Halloran, in his welcome to the delegates, said: "We are delighted and proud to host the first European Regional Conference on the Scholarship of Teaching and Learning."
The initiative is likely to be the first of many in the European region given this initial success. A firm proposal to hold the next EuroSoTL event in the University of Lund in Sweden in 2017 was met with unanimous approval by delegates.
The Devere Hall packed with scholars @UCC foraging and networking #EUROSOTL15 pic.twitter.com/bL201bLTnp

— johalloran (@johbees) June 8, 2015
Further details can be obtained from Dr Bettie Higgs. The 2015 conference was live-tweeted by several candidates, with a feed available here.
What happens if we use SOTL AS A FRAMEWORK TOGETHER? asks incoming president of ISSOTL Peter Felten. #EUROSOTL15 pic.twitter.com/rHD2FNFJo8

— Marian McCarthy (@MarianSOTL_UCC) June 9, 2015
Claire Dorrity @CACSSS1 @angevf explain their poster on cultural competence to Fiona Barry @UCC pic.twitter.com/psIFGSxsal #EUROSOTL15

— angela flynn (@angevf) June 9, 2015
Lively discussion on good practices in scaffolding undergraduate research in the curriculum at #eurosotl15 #nairtl pic.twitter.com/A48rMYWhOv

— Nairtl NAIRTL (@NAIRTL) June 9, 2015
Torgny Roxa , Lund University, shares his perspective re the meaning of SOTL #EUROSOTL15. pic.twitter.com/OQjeN6EpAg

— Marian McCarthy (@MarianSOTL_UCC) June 9, 2015
Dr K Neville discusses Interdisciplinary Collaboration in EMergency Management.#EUROSOTL15.@johbees pic.twitter.com/XfWzrwjayd

— Marian McCarthy (@MarianSOTL_UCC) June 9, 2015
Chief Editor Daniel Blackshields with Sinead & Ellie Mai Blackshields at launch of Integrative Learning.#EUROSOTL15 pic.twitter.com/0uSiNMix1D

— Marian McCarthy (@MarianSOTL_UCC) June 9, 2015
Inaugural EuroSoTL Conference #EUROSOL15 #UCC @johbees 2/2 pic.twitter.com/pHvsurPVtn

— Tomás Tyner (@TomasTyner) June 9, 2015