Latest News
Latest News
UCC researchers secure €2.7m European funding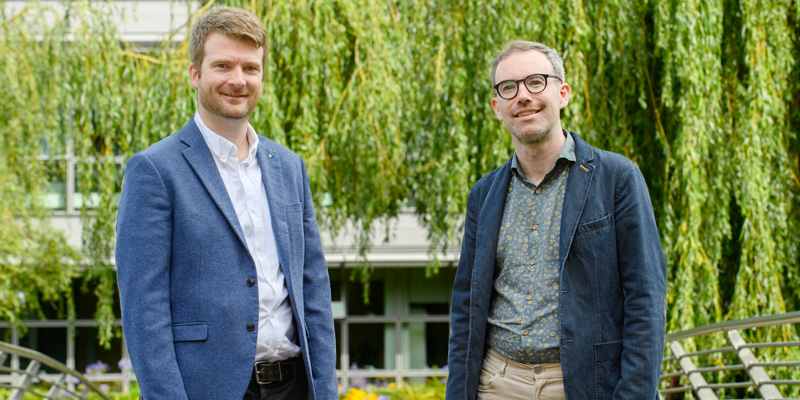 Two UCC projects awarded a combined €2.7m from the European Research Council.
Dr Hilary Browne to study spore-forming gut bacteria as a tool to target harmful pathogens.
Dr Dónal Hassett to study the post-war impact that the First World War had on colonial subjects.
University College Cork (UCC) researchers have been awarded €2.7m by the European Research Council (ERC) to lead major studies on gut bacteria and the post-war history both of colonialism and of veterancy around the world.
Dr Hilary Browne and Dr Dónal Hassett have been awarded €1.5m and €1.2m respectively from the ERC for their projects. Their ERC Starter Grants are awarded to early-career researchers, with 2-7 years of experience since completion of PhD, to lead innovative research.
Dr Hilary Browne is a Senior Staff Scientist in Dr. Trevor Lawley's team at the Wellcome Sanger Institute based outside Cambridge in the UK and will be joining the School of Microbiology and APC Microbiome Ireland in UCC to lead his project entitled SYNergize – Understanding spore-forming gut bacteria biology to target pathogens.
The project SYNergize will study how beneficial gut bacteria transmit between people. Transmission of bacteria in our gut microbiome is constantly occurring, initially from our mothers when we are born and then later in life with the people that surround us. Despite most gut bacteria dying rapidly when exposed to air, some can make dormant structures called spores that are oxygen tolerant and can re-form a new actively growing bacterial cell when they reach the gut. SYNergize will develop an understanding of these spore-forming gut bacteria as a tool to target harmful pathogens.
Dr Hilary Browne said: "I am excited to conduct my ERC funded project alongside leading experts in gut microbiome research at UCC and APC Microbiome Ireland. This funding allows me to understand how spore-forming gut bacteria transmit between people and how this impacts their evolution and functions."
Dr Dónal Hassett, Department of French, School of Languages, Literatures and Cultures, has received funding for a project entitled COLVET – Ex-soldiers of Empire: Colonial Veterancy of the Interwar world.
The recent centenary of the First World War saw a much greater acknowledgement of the role played by hundreds of thousands of colonial subjects in what was a truly global conflict. Far less attention has been paid, however, to the post-war experiences of those from the colonies who were dragged into this clash between major European powers. COLVET explores how the violent discriminatory systems of colonial rule in different empires treated those who had served in imperial forces after the conflict's end, how colonial veterans fought for their own rights in the interwar era, and how their experiences transform our understanding of the history both of colonialism and of veterancy around the world.
Dr Dónal Hassett said: "Thanks to the great support of colleagues in UCC, I am delighted to have secured funding to conduct this important research on the all too forgotten experiences of colonial veterans. I am excited to uncover the stories of and the structures that shaped the experiences of the hundreds of thousands of people in the colonial world who were touched by the major conflicts of the early 20th century."
Congratulating both on their awards, Professor John Cryan, UCC Vice President for Research and Innovation said: "Congratulations to both Hilary and Dónal on securing highly competitive and prestigious ERC awards. These awards will offer both researchers the opportunity to expand their research teams in research areas that align with our UCC Futures programme – Food, Microbiome and Health and Future Humanities. I look forward to hearing about the impactful outcomes from these projects in due course."