Latest News
Latest News
UCC launches five-year strategic plan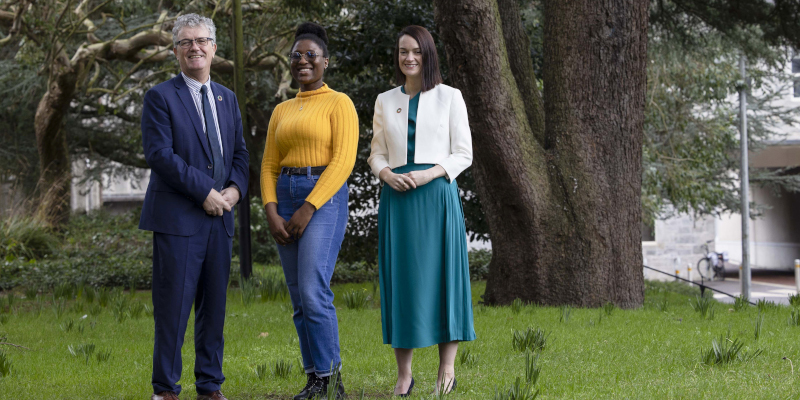 Securing Our Future outlines University's plans to 2028
Jeffrey Sachs addresses UCC staff and students at strategic plan launch
University College Cork (UCC) publishes its five-year strategic plan today – Securing Our Future - (Tuesday 7th February 3pm) which will see a step change in research impact at the university, its evolution as the university of choice for postgraduate education with the development of exciting new postgraduate programmes, widening student access to higher education and creating the first dedicated sustainability and climate action office in Ireland's higher education sector.
UCC is internationally ranked as a global leader in the field of sustainability, and Director of the Centre for Sustainable Development at Columbia University, Professor Jeffrey Sachs, addressed UCC staff and students at the launch of the strategic plan in UCC's Aula Maxima.
"Ireland continues to inspire; Ireland continues to play a great role in the world. Let me thank a wonderful friend, Ambassador David Donoghue who was one of the key leaders in the world, then as Ireland's ambassador to the United Nations, who brought us the sustainable development goals and who led the negotiations that achieved this great global agreement.
"Now University College Cork is going to help lead the way to fulfilling these aspirations for a sustainable planet that is truly for all," Prof. Sachs said via video address.
A key component of UCC's strategic plan is UCC Futures, a programme of research prioritisation coupled with an academic recruitment across ten indicative areas of strategic importance. UCC has been actively recruiting leading researchers globally and UCC's strategic plan continues this focus, while outlining a strong emphasis on attracting and supporting early career researchers. UCC research is also now focused on the global grand challenges as identified by the United Nations' Sustainable Development Goals.
This year UCC went plastic free, eliminating all single-use plastic in its operations throughout on-campus dining, shops, and vending machines. A dedicated Office of Sustainability and Climate Action is now created in UCC, tasked to deliver on sector leading environmental targets while also ensuring learning, teaching, research, and operations lead and inspire the transition to a more sustainable future.
UCC's strategy also aims to extend and diversify the pathways into the University, by offering increased pathways into the university from further education and prioritising an equitable educational experience for students at all levels. UCC's student-centric focus is further represented by the ambition to embed a Student Forum as a representative assembly of students enabling constructive consultation and participation with university leaders.
"People and the planet are at the heart of our strategic plan" states Professor John O'Halloran, President of UCC "Together the UCC community has created a roadmap that will secure our future so that we can continue to inspire and shape future generations while also providing the expertise and insight to meet the challenges our society faces." At the launch today, Professor O'Halloran said; "My message to you is that we are empowered as individuals, but we must work as a connected collective on our shared mission to deliver transformative research, disseminate knowledge and advance learning for the enrichment of society and stewardship of our planet."
UCC's role in the economic development of Cork as an innovation region is also outlined in the plan, specifically through the embedding of the Cork Innovation Corridor concept into national policy. With over 24,000 students and 3,200 staff at UCC, the €106 million Cork University Business School (CUBS) in Cork city centre, a €75 million expansion of UCC's Tyndall National Institute, a €2.5 million upgrade of the Squad Gym in UCC's Mardyke Arena are some of the key strategic capital developments planned by UCC. UCC's 255 bed Crow's Nest development at Victoria Cross is close to completion and UCC aims to provide a total of 2,000 student beds within the time frame of the strategic plan.
For more information on Securing Our Future see ucc.ie/ucc2028 and #UCC2028