News and Events
News and Events
UCC FLAC Society host Environmental Law and Sustainability Event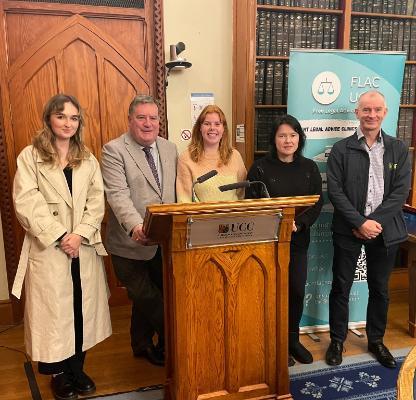 On 25 January 2023 UCC FLAC Society organised an event on the theme Environmental Law and Sustainability.
The panel of speakers included Professor Áine Ryall, School of Law UCC; Councillor Dan Boyle, Green Party; and Harold Kingston, dairy farmer & Munster Regional Chair Irish Farmers' Association.
The event attracted a large turnout, with students from a range of disciplines across the University in attendance.
The range of expertise of the speakers provided the audience with unique perspectives on the climate crisis, including discussions on the concerns of Irish farmers to reduce greenhouse gas emissions, what individuals can do to promote sustainability and the importance of environmental rights and protecting environmental defenders in a time of multiple crises. There was a lively Q&A and general discussion after the presentations.
UCC FLAC Committee members were delighted with the turnout. Aoife Stewart, Vice Chair, UCC FLAC observed:
"These events are crucial to spreading the word about the climate crisis, as well as inspiring students to take initiative in bringing about change."