News and Events
News and Events
Launch of the UCC Centre for Law and the Environment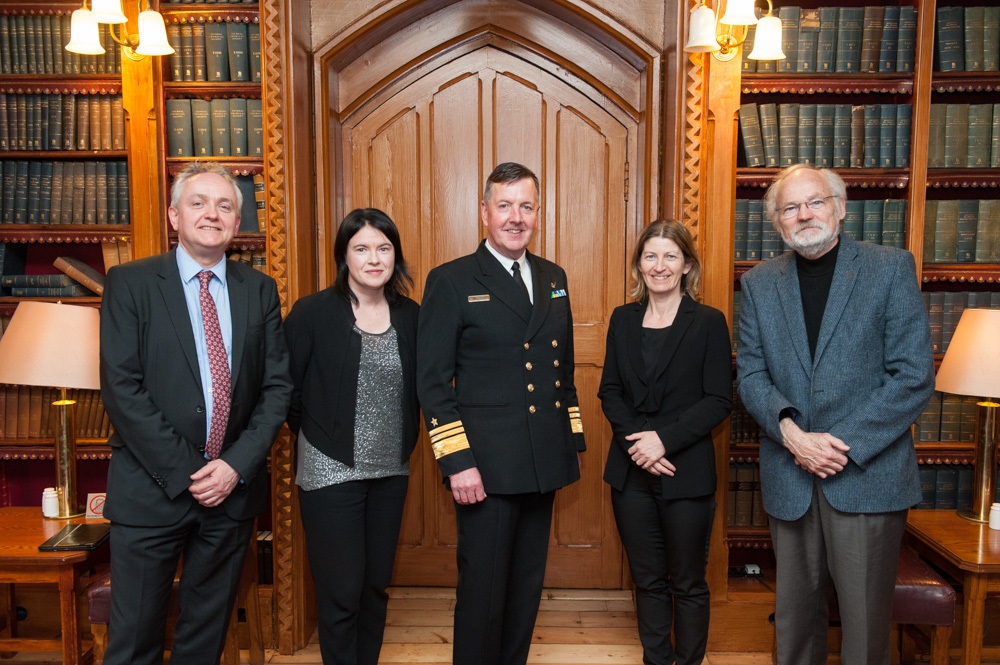 The UCC Centre for Law and the Environment was launched formally on 26 April 2018 by Vice-Admiral Mark Mellet DSM, Chief of Staff of the Irish Defence Forces and Adjunct Professor at the School of Law, UCC.
The launch event was attended by longstanding supporters and friends of the School of Law, UCC and those associated with our environmental law initiatives in particular.
The event was hosted by the Dean of Law, Professor Ursula Kilkelly and the Centre's Co-Directors Professor Owen McIntyre and Dr Áine Ryall.
Dr Ryall took the opportunity to acknowledge formally the significant support of the Dean of Law, the Office of the Vice President for Research and Innovation, the Environmental Research Institute (ERI) and colleagues in the School of Law in developing the idea behind the new Centre. She also noted that the School of Law is very fortunate in that it consistently attracts high calibre students with a keen interest in environmental law, policy and practice at undergraduate, postgraduate (LLM) and PhD level.
She observed that it was very fitting that among the guests attending the launch event were regular contributors to the annual Law and the Environment Conference which has run for 16 years at the School of Law, UCC.
Dr Ryall noted that the date of the launch of the new Centre coincided with the launch by the Minister for Communications, Climate Action and the Environment, Mr Denis Naughten TD, of The Sustainable Development Goals National Implementation Plan 2018-2020. Implementation of the Sustainable Development Goals is one of the key themes that informs the Centre's activities.
The Centre for Law and the Environment [link to the About section] draws together our research, teaching and policy work relating to law and the environment. Based in the School of Law, UCC the Centre supports and promotes a wide range of high-impact research activity in Environmental, Marine, Climate, Energy and Natural Resources Law. The Centre is affiliated with UCC's flagship interdisciplinary Environmental Research Institute (ERI).
The post-launch reception was generously sponsored by Ronan Daly Jermyn Solicitors.