News & Events
News & Events
UCC launches a new employment-based Master's Degree in Dairy Process Technology in partnership With Kerry Group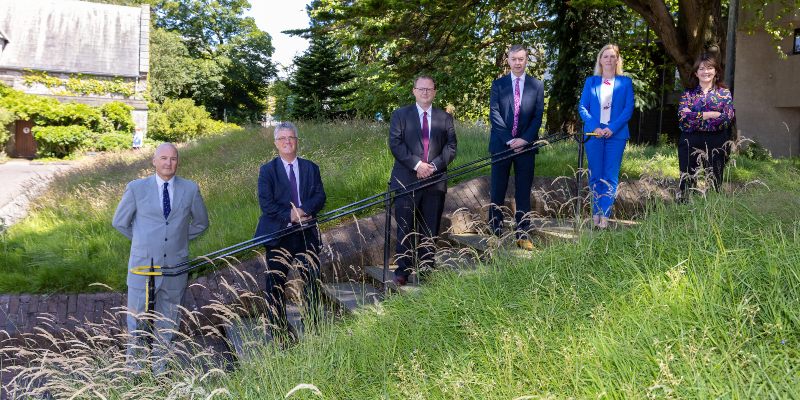 Kerry

Group to sponsor two Masters students in 2021 through a new employment-based MSc in Dairy Process Technology at University College Cork.
The students will be employed by

Kerry

Group while completing their Masters at the School of Food and Nutritional Sciences, UCC.

This partnership represents an excellent example of Ireland's dairy processing sector working together with the University to invest in the next generation of dairy science leaders.
University College Cork (UCC) has announced a new two-year part-time master's degree in Dairy Process Technology with the support of Kerry Group for the first two students. Developed by Dr Seamus O'Mahony at the School of Food and Nutritional Sciences, the programme commences in 2021.
This employment-based postgraduate degree will provide students with the unique opportunity to complete an MSc in Dairy Process Technology at UCC while working across Kerry Group's dairy processing sites in Listowel, Charleville and Newmarket. Kerry Group will initially offer two employment-based placements through the programme, which will draw primarily from food science graduates.
Recent consultation between UCC and the dairy processing sector has demonstrated a need for more specialists in dairy science. In addressing this need, the new MSc in Dairy Process Technology is an exciting example of collaboration between Kerry Group and UCC to support the development of the next generation of scientific leaders in the industry.
UCC has a strong history in dairy science, dating back to 1926. The university launched a postgraduate certificate in Dairy Technology and Innovation in 2016, followed by a Bachelor of Agricultural Science with Teagasc in 2019. UCC's leading programmes in Food Science and Nutritional Sciences provide top quality graduates for the agri-food-nutrition sector.
UCC is delighted to strengthen its partnership with Kerry Group, the world's leading taste and nutrition company, which brings technology leadership and sustainable growth to the food and beverage industries. Kerry Group operates three state-of-the-art dairy manufacturing facilities in Ireland, where over one billion litres, or 15% of the total Irish milk pool, are processed annually from its 3,000 milk suppliers located in the south-west of Ireland.
Commenting on the new programme, UCC's Dr Seamus O'Mahony, Academic Programme Director, said; "The new Master's programme in Dairy Process Technology is one of a range of new initiatives designed to create greater access to life-long, and life-wide, learning opportunities for recent graduates and company employees in the dairy sector. Ireland needs to develop a leadership position in Dairy production and processing sustainability and the Dairy sector needs high quality graduates if it is to continue to thrive."
Professor Mairéad Kiely, Head of the School of Food and Nutritional Sciences UCC, said; "UCC has an internationally recognised reputation and track record for excellence in Food, Nutrition and Health, which is one of the University's most productive research areas. The recent appointment of new teaching and research staff to the Dairy Team at UCC underlines the university's commitment to the single biggest sector of our agri-food industry, in helping it to meet its obligations set out in the recently published draft Agri-Food Strategy 2030."
The Food Institute UCC Director, Mr Jim Corbett, said; "Dairying is facing new challenges and new opportunities worldwide. During 2020, UCC commenced a dialogue with the major processors, including indigenous and multi-national companies based in Ireland, which established a strong requirement for more focussed dairy research and graduate training in order to support the sector through the next phase of growth. The new employment-based MSc in Dairy Process Technology is an exciting example of the way in which industry and universities can work together to develop the next generation of dairy industry leaders."
Mr Pat Murphy, CEO of Kerry Group's dairy business said; "We are delighted to partner with UCC on this exciting new initiative. We have a long history of employing UCC graduates, and the new MSc in Dairy Process Technology strengthens our relationship with UCC and our commitment to dairy research and graduate training. Kerry is passionate about developing our people and this employment based master's programme will provide graduates with an exceptional opportunity – attaining an MSc from UCC while working across Kerry's fast paced dairy processing sites in Ireland. By working together, Kerry Group and UCC are helping to secure the future of Ireland's position as a world leader in sustainable milk production."
Professor John O'Halloran, Interim President of UCC, commented "Engagement with industry and integrated learning are key components of our strategic plan to deliver a connected University that nurtures mutually beneficial partnerships with employers such as the Kerry Group. I warmly welcome their support which will enable graduates to upskill while contributing to the ongoing success of a very important indigenous Irish industry. We at UCC are delighted to further deepen our relationship with the Kerry Group, and thank them for the vote of confidence they are showing in our graduates."