News & Events
News & Events
Interested in studying or working in STEM?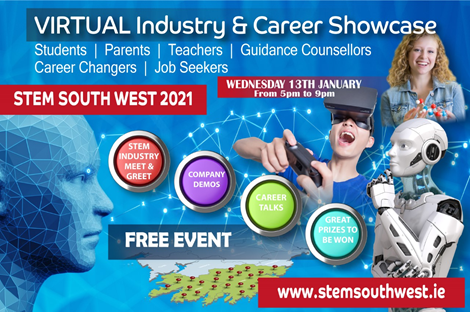 STEM South West's Industry & Career Expo is back for its 2nd year on Wednesday 13th January from 5pm to 9pm.
This FREE virtual event is an industry-led initiative bringing together representatives from Ireland's leading tech, pharma, science and engineering giants, STEM SMEs and start-ups excelling in the sector, as well as 3rd level colleges and local government bodies to stage a unique STEM exhibition.
REGISTER HERE FOR FREE TICKETS TO STEM SOUTH WEST INDUSTRY & CAREER EXPO 2021
STEM South West 2021 will provide a window into the world of STEM in the South West of Ireland, showcasing the types of careers that will be available in the sector in the future and highlighting achievable pathways for students to follow to fulfil their career goals.
Over 60 leading STEM organisations in Cork and Kerry will be showcasing their work with interactive displays and activities. There will be career talks, demonstrations and many prizes to be won for students and schools including vouchers and class visits to leading STEM companies and (when access is once again permitted).
UCC is a core founding partner of STEM South West
This year's event will feature UCC virtual booths hosted by MaREI Research Centre for Energy, Climate & Marine, the College of Science, Engineering & Food Science and IPIC (Irish Photonic Integration Centre) Tyndall Centre.
The STEM South West executive committee works closely with virtual event organisers Davis Events and platform-providers VFairs to ensure a fun and educational STEM experience for all attendees.
Exhibition Hall
Enjoy visiting the virtual booths in the Exhibition Hall where attendees can connect with people who work in STEM on a daily basis via face to face or text chat, watch demonstrations and career videos, and avail of the advice of experts in a variety of STEM areas including virtual reality, robotics and astronomy, construction, mechanical engineering, software engineering, information technology, medical devices, pharmaceuticals, biomedical engineering and science, electronics, weather-forecasting, agri-technology, environmental engineering, cybersecurity and much more.
Speakers Corner
Visit the Auditorium and enjoy talks and presentations by STEM experts including European Space Agency engineer, Laurence O'Rourke; inspiring global sustainability expert and co-founder of Change by Degrees, Madeline Murray; and the innovative creator of Izak9 Maths, Franz Schlindwein and many more.
Scavenger Hunt
Take part in the STEM South West 2021 Scavenger Hunt, follow the clues and be in with the chance to win great prizes.
Hear what host Niamh Shaw has to say about the Expo https://youtu.be/w-yCbZT98SE
To attend this event, please register here for your free tickets.
For further information, please see www.stemsouthwest.ie or contact us at stemsouthwestirl@gmail.com
REGISTER HERE FOR FREE TICKETS TO STEM SOUTH WEST INDUSTRY & CAREER EXPO 2021
For more on this story contact: