News & Events
News & Events
COVID Conference 2021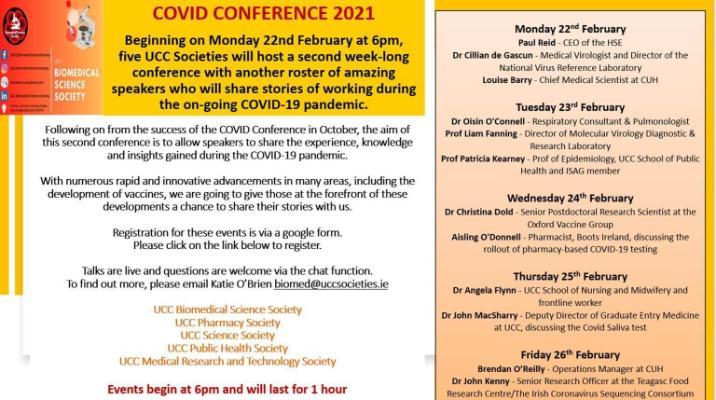 We are delighted to announce that UCC's COVID Conference 2021 will commence on Monday 22nd February.
With numerous rapid and innovative advancements in many areas during the pandemic, including the development of vaccines, we are going to give those at the forefront of these developments a chance to share their stories with us.
The week-long conference is being organised by five UCC societies:
UCC Biomedical Science Society
UCC Pharmacy Society
UCC Science Society
UCC Public Health Society
UCC Medical Research and Technology Society
Registration for these talks is via a google form.
Register here for the Conference: https://forms.gle/BYo8BYNLtFiJw6HPA
Talks are live and questions are welcome via the chat function.
To find out more, please email Katie O'Brien biomed@uccsocieties.ie
_______________________________________________________________________________________
Join our stellar line up of speakers and hear what they have to say
Monday 22nd February
Paul Reid - CEO of the HSE
Dr Cillian de Gascun - Medical Virologist and Director of the National Virus Reference Laboratory
Louise Barry - Chief Medical Scientist at CUH

Tuesday 23rd February
Dr Oisin O'Connell - Respiratory Consultant & Pulmonologist
Prof Liam Fanning - Director of Molecular Virology Diagnostic & Research Laboratory
Prof Patricia Kearney - Prof of Epidemiology, UCC School of Public Health and ISAG member

Wednesday 24th February
Dr Christina Dold - Senior Postdoctoral Research Scientist at the Oxford Vaccine Group
Aisling O'Donnell - Pharmacist, Boots Ireland, discussing the rollout of pharmacy-based COVID-19 testing

Thursday 25th February
Dr Angela Flynn - UCC School of Nursing and Midwifery and frontline worker
Dr John MacSharry - Deputy Director of Graduate Entry Medicine at UCC, discussing the Covid Saliva test

Friday 26th February
Brendan O'Reilly - Operations Manager at CUH
Dr John Kenny - Senior Research Officer at the Teagasc Food Research Centre/The Irish Coronavirus Sequencing Consortium