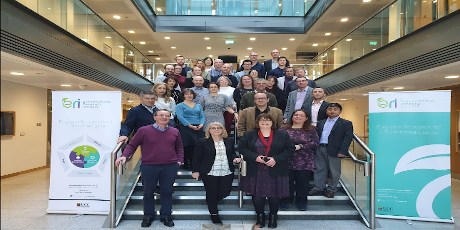 In 2019, UCC's Environmental Research Institute received a total of €22m in research funding, due in large part to the tireless efforts of researchers preparing and submitting research grants to national, EU and international funding agencies. In March this year, the ERI acknowledged the hard work of its research community with a series of presentations from successfully funded recipients, highlighting the scope of the research that will be carried out over the next 2-4 years as a result of this funding.
Introducing the presentations, the ERI's Funding Coordinator Dr Sonia Monteiro framed the event as a moment to recognise the time, effort and success of researchers from many different disciplines.
Professor Anita Maguire, the UCC Vice President for Research and Innovation and constant champion of the ERI, observed that even coming together as a group to mark this success was a measure of the strength of the ERI community of researchers, "very few places in the University take the time to acknowledge success and the hard work of the ERI is really appreciated at a University level," and reminding all that "the road to funding is also paved with unsuccessful submissions which take just as much work".
Prof Maguire went on to note that "The work that is required to achieve this level of success is a huge shared task, from the point of view of the University the ERI is a remarkable organisation. The ERI really lives up to the transdisciplinary collaboration ideal, genuinely bringing together people from different backgrounds to tackle problems. Public awareness of green issues is growing and the UCC green agenda is down to the ERI."
Prof Maguire encouraged all present to "Ride the wave of this surge in funding and attention, the next 5-10 years will be very exciting in this field and the tremendous leadership team in the ERI will lead this. The ERI are a group of people who choose to work together with no core award, which shows the strength of the group, sustainability is built into that. The €22m funding draw down last year is a significant proportion of the total funding of UCC in 2019. MaREI being embedded in the ERI is key to the success of MaREI II and to the serious long-term partnerships with the SFI and EPA."
ERI Director Professor Sarah Culloty, who is also Head of the College of SEFS, noted that Prof Maguire is a ceaseless advocate for the ERI and thanked her for her constant support. "In a world with a lot of negativity at the moment, there is value in taking the time to pause and reflect on successes and the energy that goes into these successes."
Prof Culloty highlighted specific awards such the IRC Laureate Prof Colm O'Dwyer and the EU funding received by Dr Jimmy Murphy of MaREI and LIR, and went on to note that the ERI, which celebrates its 20th anniversary this year is "now considered one of the largest institutes in the University and we want to acknowledge the ERI team who are committed to its mission and values. €22m is an incredible amount of money, and represents a whole new period for us, this is the time to be in our line of research. We bring capacity and another level of ambition to recognise the value of getting out of our research discipline silos. I am heartened that this is one Institute that has researchers from 20 different academic units and 4 colleges. This is what is takes to get to that other level of ambition."
Amongst the projects recognised at this event were:
For a full list of all of our research projects please visit Our Research Projects database