News & Announcements
News & Announcements
Dr Dan O'Sullivan presented with a Lifetime Contribution Award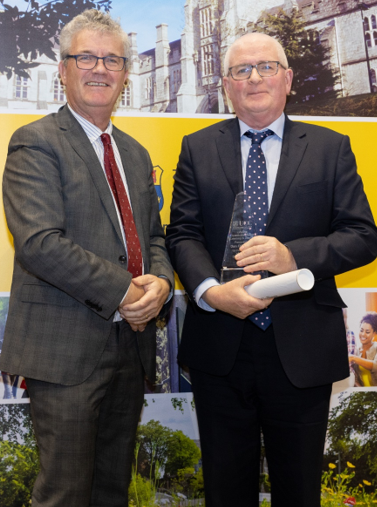 On Wednesday 7th December, our colleague Dr Dan O'Sullivan was honoured at the university's Teaching Excellence Awards where he received a Lifetime Contribution Award for his outstanding contribution to teaching and learning over the course of his long and distinguished professional career.
Dan is a native of Beal átha an Gaorthaidh and represents a Gaeltacht community of scholars and teachers, a place where teaching and teachers are understood for the value and importance they bring to society and culture. Dan began his career in teaching by qualifying as a primary school teacher from St. Patrick's College Drumcondra in 1977 before taking up post in St. Joseph's BNS in Cobh before moving to St Mary's on the Hill National School in Knocknaheeny where he taught from 1982 -2001. Dan's last primary school posting was with the then newly opened Scoil Niocláis in Frankfield. Like many of his colleagues, Dan did not stand still and in tandem with his busy teaching career, his academic career flourished also, achieving the rare status of becoming dual-qualified as a primary and a post-primary teacher in 1981. A Master's degree followed, and Dan's academic career then culminated with the award of his Ph.D. in 2014 for a wonderful thesis on the experiences of beginning teachers.
By 2007, Dan had taken up post as a permanent Lecturer here in the School of Education in University College Cork where his teaching career entered its latest phase. Dan excels at postgraduate level, leading the Post-graduate Diploma in Special Education and making exceptional contributions at Master's level and through doctoral education in the School of Education. Most commendably, Dan has always been comfortable in balancing the roles of teacher and researcher through his consistent displays of academic excellence in specialist areas such as Inclusive Education, Special Education and Teacher Education.
Above all else, Dan is an inspiring teacher and colleague, after 45 years (yes, 45 years!) of classroom practice, he continues to engage in teaching with contagious enthusiasm, exceptional good humour, and above all else a tireless commitment to quality. Dan has mastered the art of good teaching through building good relationships and through exceptional compassion and empathy for his students, whether they are junior infants or Ph.D. candidates.
Dan embodies all that is good about teaching, and here in the School of Education, we are delighted and proud that Dan has received this Lifetime Contribution Award – it is so very well-deserved. Comhghairdeas Dan, táimid ana bhródúil asat!