Careers
Careers
The employability of Anthropologists has expanded as the world becomes more globalized. Anthropologists are trained to gather and interpret data about human societies, skills that can lead to employment with government and non-government agencies, academia, industry and community bodies. Career options include working as an archaeologist and forensic anthropologist, in arts administration and creative industries, social media organizations, community work, museums and heritage centres, journalism, librarianship, market research, human resources, and the media.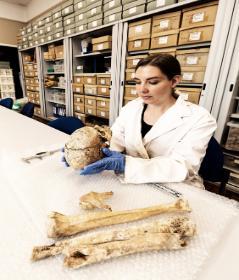 Anthropology graduates work in State bodies providing public services, and with international agencies and non-governmental organizations in development, human rights and environmental areas. A degree in Anthropology is also attractive to employers in other area that require an ability to think in a critical manner, supported by good communication skills, literacy and digital competence.
Anthropology students have many career training options at postgraduate level. UCC offers a one-year taught masters in Anthropology, as well as more specialized MA courses in areas such as sociology, criminology, ethnomusicology, archaeology, human remains analysis, museum studies, among others. This additional year of study leading to a second degree will provide job-specific training for your chosen career.
Anthropology students have the option of a professional work experience module (PX3001) to support their career development.