About
About
UCC is an internationally competitive research-intensive university where the excellence and impact of our research outputs is a priority and plays a key role in developing Ireland's knowledge-based economy. Whilst also informing learning and teaching within the university, strategic development of research is focused on the creation and development of world-leading clusters of researchers, building on the research strengths of the university and in alignment with key strategies of the Irish Government. The quality and range of research activities carried out at UCC can be evidenced by the level of publications output, recognised citation metrics for significance and impact, as well as the internationally recognised expertise of research staff.
UCC's research activity has seen a consistent rise over the last ten years in terms of the number of its research outputs with 2,859 research articles published by UCC researchers in 2021, representing an increase of 20.3% in this period (source SciVal). The performance of these outputs, as measured through journal publisher's field-weighted citation impact scores, demonstrates the significance of UCC research publications internationally. Standing above that global average in this measure, UCC publications delivered the highest citation impact in 2020 compared to other HEIs.
UCC Futures Programme
The UCC Futures Programme is a recent cross-institutional and ambitious research programme that enables "a dynamic enhancement of research, support of innovation and translation of research to tangible solutions to address emerging societal needs and global challenges, to secure a better future for all." The necessary expertise and people will be recruited through a cluster hiring approach. The graphic below illustrates the ten indicative areas identified: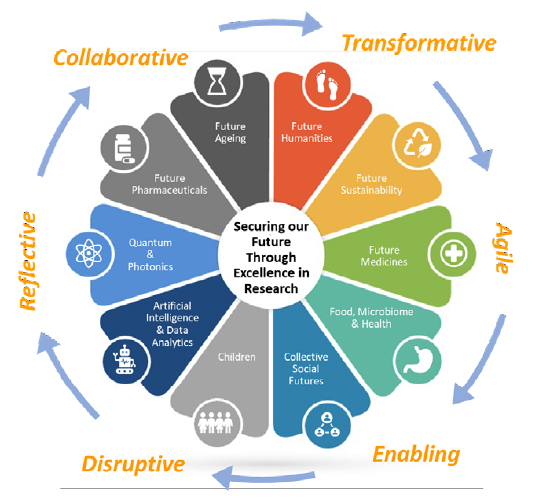 Research Centres of Excellence
UCC is an international university with research excellence, discovery, innovation and impact at its core. The university's focus is on the challenges and opportunities that are shaping the future of our nation and the wider world. Research is prioritised in areas that are recognised as significant at the highest international levels, thus creating real impact and uptake beyond the institution. UCC has established an ecosystem of centres of excellence and scale in the areas where UCC has demonstrated expertise and leads internationally. The success of this approach is demonstrated in the number of centres based in and led by UCC, funded through large national and international funding programmes as well as industry investment and collaboration. Listed below are some of these major centres.
Funding
Rising to the challenge of stagnation in the national research funding envelope, and following the development and implementation of a wide range of supports and supporting policies, 32% of UCC's research income is now secured from non-exchequer sources, primarily Europe and Industry. This is the highest proportion ever achieved from nonexchequer sources.
In the most recent EU funding programme, Horizon 2020, UCC researchers secured over €118 million across 237 awards, representing a 16% success rate for UCC, above the EU average of 12%. This surpassed UCC's already ambitious target of €110.3 million as set out in UCC's institutional Horizon 2020 Action Plan. This will bolster an even more ambitious approach to the next EU funding programme, Horizon Europe.
In 2021, UCC researchers held 7 prestigious European Research Council Grants (3 Starter, 2 Consolidator and 2 Advanced), and have held 33 cumulatively between 2016/2017 and 2021.
UCC's comprehensive research employment and career management structure is internationally recognised as excellent, it received the EU's HR Excellence in Research Award in 2013, 2018 and 2021. UCC now proactively shares its expertise with other universities across Europe in their efforts to attain this same recognition.
Collaborative Research
Research that is relevant and drives impact for both the economy and society is of critical importance at UCC along with the ambition to be an innovation leader. UCC's approach to delivering innovative and impactful research is rooted in interdisciplinarity and active partnership with international, enterprise and societal stakeholders.
Demonstrating UCC's focus on growing and maintaining global reach, UCC researchers now collaborate with over 5,000 research-organisations across 140 countries. From 2017-2021, 56.5% of UCC publications were co-authored with an international collaborator.
Industry Collaboration with Research
In the 2020/21 academic year, a total of 840 postgraduate research students and 244 postdoctoral research staff were engaged in research projects aligned to enterprise and other national needs.
For this same period, industry funding for UCC research amounted to €11.3 million, an 11% increase from the previous year, and saw 476 active research projects with an enterprise partner.
UCC is the leading Irish university for academic-industry research publications, accounting for 6.6% of UCC's total publications (source SciVal).