2016 Press Releases
2016 Press Releases
UCC secures Bronze Athena SWAN award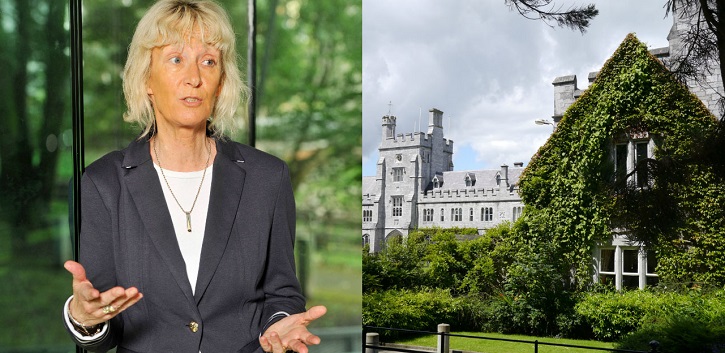 University College Cork (UCC) has become the third university in Ireland to receive the Bronze Athena SWAN award, recognising its efforts to promote gender equality in higher education.
Athena SWAN aims to improve the representation of women in higher education, particularly in science, technology, engineering, medicine and mathematics ("STEMM"). The award to UCC recognises that the University has a solid foundation in place to remove barriers to women's progress in STEMM disciplines.
UCC joins Trinity and UL with Athena SWAN equality award https://t.co/pKuA9zl0Ck via @siliconrepublic @UCC @UCCSU

— AthenaSWANUCC (@AthenaSWANUCC) August 12, 2016
UCC receives Athena Swan award for gender equality commitment https://t.co/Zr3S1923Xh

— The Irish Times (@IrishTimes) August 5, 2016
Led by Professor Caroline Fennell, Senior Vice President Academic and Registrar, a diverse team of UCC staff developed a three-year action plan, which is now being implemented across the university.
"We are very pleased to have earned this award. Gender inequality in senior leadership in higher education is a challenge we face not only in UCC, but across the third-level sector, in Ireland and beyond," said Professor Fennell.
UCC To Be Recognised For Promotion of Gender Equality - Cork's RedFM https://t.co/x1SYUC41bE

— UCC Ireland (@UCC) August 5, 2016
Congratulations to Professor Caroline Fennell and her team as @UCC secures the Bronze Athena SWAN Award. https://t.co/nRLCgWpM8g

— Women Mean Business (@WMBMagazine) August 5, 2016
"This award recognises work underway in UCC to build the right infrastructure and supports so all members of our academic community, and indeed all our staff, can contribute to their full potential."
Congratulations to @UCC for their achievement in gaining an @Athena_SWAN award https://t.co/MrSsxX0l3P

— ECU (@EqualityinHE) August 5, 2016
Congratulating Professor Fennell and the Steering Group, UCC President Dr Michael Murphy said: "As a university, we strive for excellence in research and teaching by promoting values of openness and diversity. Through Athena SWAN, we can translate these values into concrete actions that will help us attract and nurture the most talented staff.
"Our senior management is committed to pursuing the Athena SWAN agenda and delivering the commitments set out in our action plan. This is a long-term commitment with some challenges ahead; however, today's announcement recognises that we have made a significant step forward. I commend Professor Fennell and our Athena SWAN Steering Group for their hard work and success."
UCC diversity effort recognised with Bronze Athena SWAN award https://t.co/KY5LlwwkkX #UCC

— TechCentral.ie (@techcentral_ie) August 5, 2016
The Athena SWAN Charter was established in the United Kingdom in 2005, and is run by the London-based Equality Challenge Unit. With the support of the HEA, it was extended to Ireland in 2015. All seven Irish universities, 14 institutes of technology and the Royal College of Surgeons have committed to the Charter principles.
Very good news, and a good platform to continue working for gender equality in higher ed @UCC @_IHREC @cfennucc https://t.co/sHFk7bulF6

— Siobhán Mullally (@smullallylaw) August 5, 2016
Dr Ruth Gilligan, ECU's Athena SWAN Manager said: "The awards recognise not only commitment to gender equality, but also highlights actions that have a real impact. UCC's work has been highly commended by the awards panel, including their plans for gender targets for leadership positions, a Fathers at Work policy, and an annual Athena SWAN symposium of female alumni to consider achievements and challenges in improving equality on campus, as well as awards to recognise contributions to promoting equality and diversity."
The award, which will be valid until August 2019, will be presented at an event to be held in Dublin on September 20.
Well aren't I proud to be a UCC student today ❤️❤️❤️❤️ https://t.co/2nNgtO02mB

— Claire (@Clayuur_) August 5, 2016
This a remarkable achievement. So proud to be at @UCC @AthenaSWANUCC #gender #equality #Ireland #Cork https://t.co/lh9ClKGbKl

— Amanullah De Sondy (@desondy) August 5, 2016