2015 Press Releases
2015 Press Releases
United Nations General Assembly honours George Boole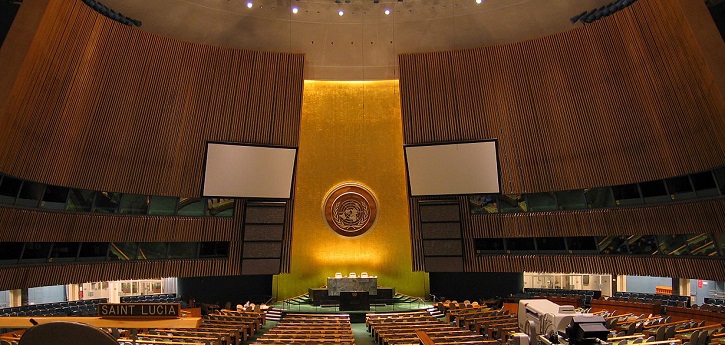 The United Nations recognised the extraordinary global impact of the work of George Boole in its resolution creating a World Statistics Day.
The resolution was carried at a plenary session of the General Assembly in New York as University College Cork (UCC) celebrates his life and legacy with a year of national and international events, conferences and projects.
The General Assembly has designated 20th October, 2015 as World Statistics Day in aresolution introduced by Hungary and co-sponsored by Ireland. The resolution text noted that 2015 marks the bicentenary of the birth of Boole and recognised that his application of the principles of logic as a form of algebra underpins all modern computer science. Fittingly, the theme for World Statistics Day is 'Better Data. Better Lives', given that without Boole's work, large scale data management work would be impossible.
UN declares Oct 20 World Statistics day honoring George Boole 200 @UCC #Bigdata = better lives http://t.co/KhDcseB1eV pic.twitter.com/09yiGMVhZS

— George Boole 200 (@georgeboole200) June 8, 2015
Speaking in New York, the Irish Ambassador to the United Nations, Mr David Donoghue, said
"At the United Nations General Assembly, the singular importance of the work of Boole in enabling modern computing and the operation of electronic technology was worthy of special celebration this year. Boolean logic is a fundamental foundation of the science of Big Data which offers immense opportunities for enhancing the lives of humanity."
What idiots say UN does nothing useful? https://t.co/XyCgoE7Fn1

— irishpollingreport (@dotski_w) June 8, 2015
Welcoming the news at UCC, where George Boole was Professor of Mathematics from 1849 to 1864, President, Dr Michael Murphy, paid tribute to the work of the Ambassador and staff at the Irish Embassy in New York who championed the initiative:
"Boole's work remained known only to specialist pure mathematicians for almost eighty years after his death. Its significance was first recognised by Claude Shannon at MIT in 1938 and even he could not have imagined its ultimate global significance and impact at that time. Our objective this year is to ensure that as many people as possible across the globe become familiar with the story of George Boole, his life, his genius and his legacy", said Dr Murphy.
To see the text of the resolution visit http://www.un.org/ga/search/view_doc.asp?symbol=A/69/L.72 George Boole is mentioned in paragraph 10
About George Boole (www.GeorgeBoole.com)
In 2015, University College Cork (UCC) celebrates the bicentenary of George Boole, 1815-64. Born in Lincoln, Boole was a mathematical genius who was largely self-taught. His appointment as the first Professor of Mathematics at UCC in 1849 provided the opportunity to develop his most important work, An Investigation of the Laws of Thought.
Boole is a pivotal figure who can be described as the 'father of the information age'. His invention of Boolean algebra and symbolic logic pioneered a new mathematics. His legacy surrounds us everywhere, in the computers, information storage and retrieval, electronic circuits and controls that support life, learning and communications in the 21st century.
For more on Boole's legacy and UCC's plans to honour it locally, nationally and internationally, see www.GeorgeBoole.com / Twitter: @GB200 #GB200 /Facebook: www.Facebook.Com/GeorgeBoole200